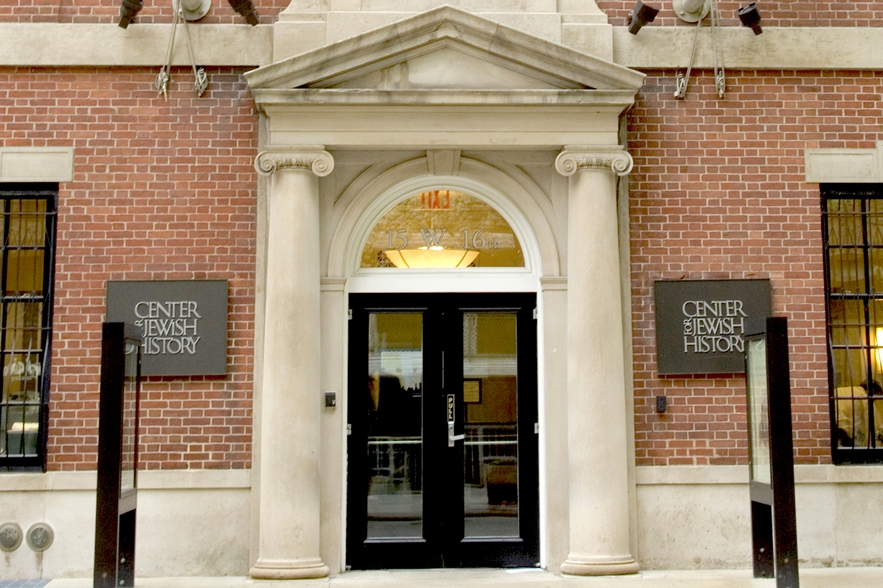 The time has finally come! After 2 years of illuminating Jewish history exclusively in a virtual space, the Center for Jewish History is thrilled to welcome you back in person. Because your health and safety are our priority, there have been some changes to the Center experience. Read on to learn more.
We have resumed receiving materials donations for our collections. Please e-mail us at lbidonations@lbi.cjh.org regarding the scope and size of the intended donation and preferred shipping time. A staff member of the Collections Team will then get back to you regarding when your materials can be shipped.
The Center for Jewish History has also reopened its exhibition spaces and the Lilian Goldman Reading Room to the public (with reservations required). Read on below to learn more.
Please consult the listings for each of our LBI events to find out whether they are being held on Zoom or in person.
Visiting the Center:
To ensure compliance with local health and safety guidelines, proof of full COVID-19 vaccination (at least 14 days after your final vaccine dose) with matching ID is required for all visitors 12 and older. You can provide proof of vaccination by displaying it on your smartphone, by presenting a physical copy, or by using the New York State Excelsior Pass or NYC COVID Safe App (Android | iOS). Other acceptable forms of COVID-19 vaccination proof are the CDC Vaccination Card or NYC Vaccination Record. Mask wearing is mandatory throughout the building. 
The Lillian Goldman Reading Room at the Center for Jewish History is currently open Monday through Thursday from 10:00 am to 4:00 pm for researchers who are interested in accessing non-digitized, unique materials held only at the Center for Jewish History. Visits are by appointment only, and reservations must be made at least 7 days in advance through your research account. If you are not sure whether an on-site visit is necessary for your research interests or for updates, please reach out! The reading room librarians are available at inquiries@cjh.org.  
Exhibitions are open to the public during the following hours, walk-ins are permitted, advance reservations are encouraged through Eventbrite. 
Monday through Wednesday from 10:00am to 4:00pm
Thursday from 10:00am to 8:00pm
Friday from 10:00am to 3:00pm
Sundays from 11:00am to 5:00pm
Please visit our new onsite Theresienstadt exhibition.
The Ackman & Ziff Family Genealogy Institute  is open on Mondays, Tuesdays, Wednesdays, and Thursdays from 10am to 4pm. Walk-ins are permitted, based on availability, though appointments are recommended.
Each of us plays a role in CJH's successful and safe reopening. During your visit you may see our public spaces being cleaned and disinfected frequently. You will also notice hand sanitizing stations located throughout the building. We are working diligently to ensure your safe return. We ask you to do your part by honoring our new safety protocols. We also ask that you stay home if you are not feeling well. Before you visit the Center, please go to the plan your visit section on our website for the latest information so you can make the most of your experience.  
Digital Access:
The CJH catalog at search.cjh.org will remain functional except for scheduled maintenance.
Please feel free to access and use our extensive online collections through search.cjh.org or directly at https://www.lbi.org/collections/digibaeck/
Although the reading room reopened in August 2021, we will still process reference inquiries submitted through our online reference form.
If you need to contact LBI staff regarding any other business, please contact them using the email listed in our staff directory.
LBI staff will be able to check voicemail, but we encourage you to use email for a faster response.
New information will be posted here as the situation develops. Please follow LBI and CJH on social media for the latest news. We thank you for your patience, and we look forward to seeing you again very soon!   Updated 10/17/2022