Hosting the Shared History Project Traveling Exhibition – USA
Available in 2022 and early 2023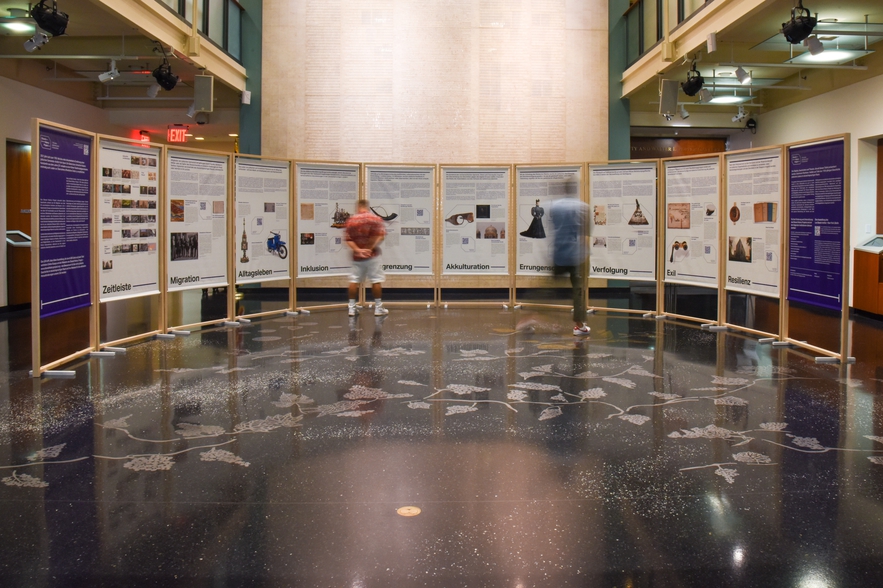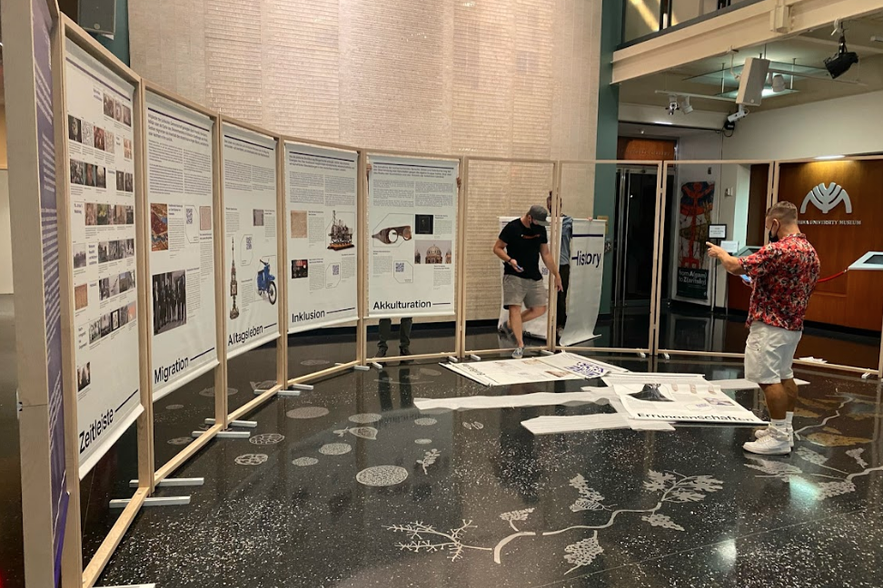 Dates

Thu, Sep 9, 2021 – Mon, May 1, 2023
The traveling panel exhibition Shared History Project: 1700 Years of Jewish Life in German-Speaking Lands uses iconic artifacts to explore how interwoven the lives of Jewish people and their non-Jewish neighbors have been in the 17 centuries since the presence of Jews in the Rhineland was first documented in a Roman Edict from the year 321 CE.
Viewers are encouraged to consider the objects as they relate to recurring themes of Jewish life including migration, inclusion, and acculturation as well as exile, persecution, and resilience. The exhibition expands the view of German-Jewish history beyond the narrow lens of the Holocaust and connects the unique history of the Jewish people to themes that are relevant to contemporary life in all diverse, pluralist societies.
The exhibition is available in 2022 and early 2023 for display at institutions in North America including, but not limited to, congregations, schools, universities, museums, libraries, and historical societies.
There is no fee for the exhibition, but we request that sponsoring venues pay for shipping costs.
To inquire about hosting the exhibition, please contact Sophie Rupp.
Background
The year 2021 marked the 1700th anniversary of a Roman imperial edict authorizing the municipal authorities of the Roman colony at the site of modern-day Cologne to recruit Jews to serve on the municipal council. This document, preserved in the Vatican Library, is the earliest evidence of a Jewish presence north of the Alps, and institutions in Germany and beyond marked the occasion with a year-long festival of exhibitions, events, and commemoration.
The Leo Baeck Institute (LBI), a New York-based library and archive, joined the commemoration with its Shared History Project, an online exhibition of 58 objects drawn from dozens of institutions and accompanied by essays from leading scholars. This traveling exhibition presents a selection of those objects organized according to recurring themes of Jewish life with links to further reading on the "Shared History Project" Website. A German-language version of the exhibition traveled to German State Parliament buildings in 2021 and 2022, and the English-language exhibition has been displayed in several locations.
Physical Details
The modular, free-standing exhibition consists of 12 wooden frames with the exhibition materials printed on vinyl banners that can be installed in the frames. The dimensions of the frames are 43" W x 84" H, and they can be arranged in a variety of configurations to adapt to spaces of different size and shape.
The instruction manual is currently being updated.
Shipping Details
The exhibition ships in a single crate.
Crate Size
50"x50"x34"
Crate Weight
Approximately 360 lbs.
Crate Contents
Crate: Plywood, Aluminum, Steel, Foam.
Frames: Maple, Aluminum.
Panels: Vinyl.