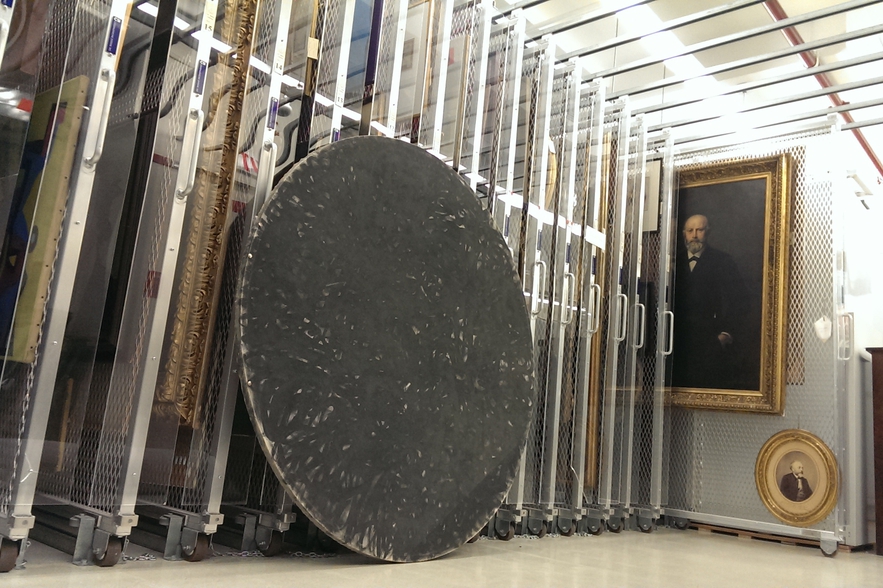 Among the artworks recently donated to LBI are a number of pieces by American artists who were trained in Germany or Austria but whose mature works were created in the fertile post-war American art scene.
One of the latest additions to the LBI Art Collection is Crossing (undated) by the abstract painter Friedel Dzubas. Born in Berlin in 1915, he studied with Paul Klee in Düsseldorf, from whom he absorbed important ideas about color, which would become the most essential aspect of his work. He fled Germany in 1939 and, after an itinerant decade working various jobs in Chicago and Ohio, settled in New York.
In 1948, he answered an anonymous advertisement seeking a summer roommate that had been posted by Clement Greenberg, the influential critic and champion of abstract expressionism. Greenberg introduced him to the vibrant Greenwich Village art scene, including Jackson Pollock, Willem De Kooning, and Helen Frankenthaler, with whom Dzubas later shared a studio. His works during this time reflect the kinetic and dramatic gestures of abstract expressionism, and he became firmly embedded in the New York avant-garde scene when Leo Castelli included his works in the seminal "Ninth Street Show" of 1951.
In the 1960s, Dzubas' style moved toward hard-edged blocks of color, and Greenberg included him in the landmark exhibit, Post-Painterly Abstraction at the Los Angeles County Museum of Art, in 1964. Here his work was presented along side that of peers like Ellsworth Kelly, Frankenthaler, and Frank Stella, in whom Greenberg identified a new direction in abstract art.
Another notable addition to the LBI Art Collection is a large donation of works on paper by modernist painter and sculptor Sacha Kolin. Kolin was born in Paris in 1911, where her Ukrainian-Jewish father was an aeronautical engineer working under Gustave Eiffel. Her family then moved to Vienna, where she attended the Wiener Kunstgewerbeschule (1930) and the Academy of Fine Arts (1931–32).
She was among the few women to exhibit in the annuals of the Vienna Secession and the Künstlerhaus. After her move to Paris in 1933, she became the youngest full member of the Nationale Société des Beaux Arts, in 1935. At the time, she focused on figurative, expressive busts and impressionistic drawings.
Kolin moved to New York in 1936, and within months she was able to secure a solo exhibition at the P.E.D.A.C. gallery. At the 1939–40 New York World's Fair, Kolin was one of 42 European émigrés, including Josef Albers, Laszlo Moholy-Nagy, and Kurt Seligmann, featured in the "New Americans Friendship House" exhibit. Later in her career, a large number of Kolin's works were acquired by university galleries.
Her mature work, especially the pen and ink drawings acquired by LBI, favors bright colors and geometric shapes that echo the aesthetics of space age design as well an interest in the primitive.
Well-known in the art world for her flamboyant and expensive lifestyle, Kolin died in 1981 beset by financial problems.
LITERATURE:
Thaler, Lisa. Look Up: The Life and Art of Sacha Kolin. New York: Midmarch Arts Press, 2008.