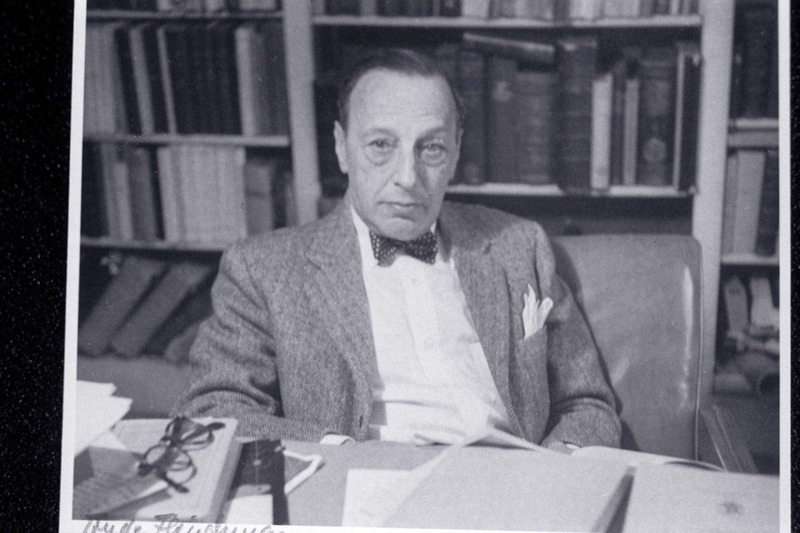 · Click image for high resolution zoom or multiple image views.
· We welcome fair use of this content. Please credit the Leo Baeck Institute in your citation.
Biographical Information
The historian Ernst Kantorowicz - born in Posen (Poznan, Poland) in 1895 – worked primarily on the history and art of the Middle Ages and became most famous for his biographies of Emperor Frederick II, (1194–1250). Kantorowicz received his doctorate at Heidelberg in 1921 and began teaching at Frankfurt am Main in 1930, when he was a member of the intellectual circle around the poet Stefan George. After protesting the antisemitic regulations of the early Nazi government, he was dismissed as a professor, and he emigrated to Great Britain in 1938 and to the United States in 1939. Until 1951, Kantorowicz taught at the University of California, Berkeley, when he left in protest of the "loyalty-oath", requiring all university employees to affirm their allegiance to the constitution and their opposition to Communist and similar organizations. He then served as professor at the Institute for Advanced Studies in Princeton until his death in 1963.
The photographer Trude Fleischmann was born in Vienna in 1895 and opened her first studio in 1920. It was a favorite haunt of artists and intellectuals alike until 1938, when she escaped Nazi regime and emigrated to New York, where she resumed her studio work in 1940. After a sojourn in Switzerland, Trude Fleischmann died in Brewster, NY in 1990.
Reproductions and Permissions
We welcome fair use of this content. Please credit the Leo Baeck Institute in your citation. For usage policies and to request higher resolution images, see Reproductions and Permissions.
Citation
Ernst Kantorowicz seated at his desk / photographed and signed by Trude Fleischmann, Leo Baeck Institute, F 3891F.
Search for This Artist/Creator in the LBI Catalog
This will search DigiBaeck, a subset of the LBI Catalog concentrating on all of its digitized materials that are available online. The search will list all of LBI's digitized materials pertaining to this artist/creator, including artworks (described in the Griffinger Portal and more), archival collections, photographs, rare books, and periodicals.
Search for the Person Depicted Here in the LBI Catalog
Kantorowicz, Ernst H., (Ernst Hartwig), 1895-1963
This will search the complete LBI Catalog, including non-digitized and digitized materials. The Catalog will list all of LBI's holdings pertaining to the person depicted, including all artworks, archival collections, photographs, books, and periodicals.