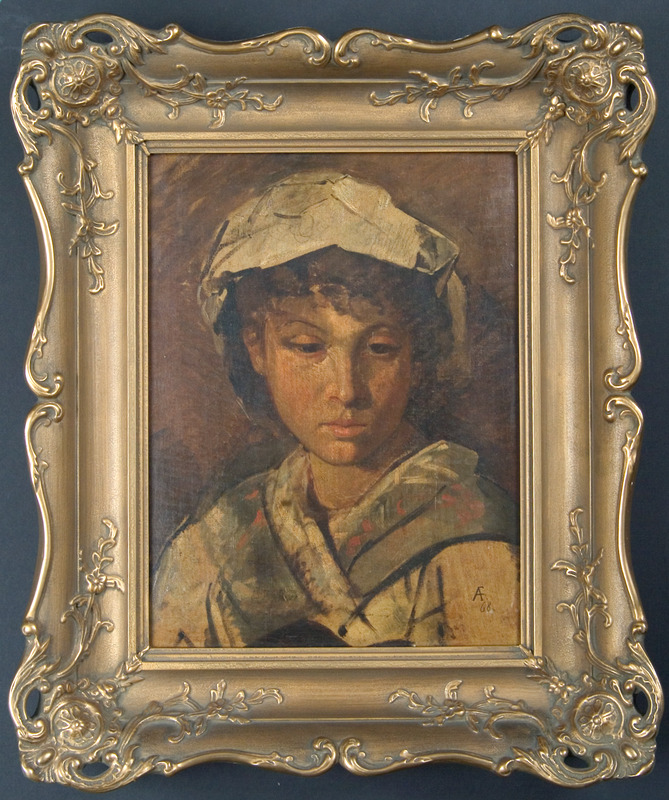 · Click image for high resolution zoom or multiple image views.
· We welcome fair use of this content. Please credit the Leo Baeck Institute in your citation.
Biographical Information
Anselm Feuerbach was a German Neoclassical painter during the 19th century. Born in Speyer, he studied painting at the Düsseldorf Academy under Johann Wilhelm Schirmer, Wilhem von Schadow, and Carl Sohn from 1845 to 1848. In 1850, he transferred to Antwerp to study under Gustav Wappers, a Romantic painter. The following year, he moved to Paris and was a Master Student to Thomas Couture. In 1894, he embarked on a trip to Italy funded by Grand Duke Friedrich of Baden, traveling from Venice to Florence and then Rome, where he lived until 1873. Feuerbach then spent a few years in Vienna to teach at the Acadent of Fine Arts. He eventually moved back to Venice, where he died in 1880.
This Feuerbach painting was part of an art collection owned by Sigmund and Erna Fein of Leipzig, until November 9, 1938 (Kristallnacht), when synagogues as well as Jewish homes and businesses were ransacked and looted. On December 20, 1938, the Fein family fled to Brussels and later immigrated to New York. A shipping company moved part of the Fein property to Belgium, while the rest, including the valuable Feuerbach painting, was confiscated by the Gestapo. Financial authorities in Leipzig auctioned the items in 1940 and 1941 and deposited the proceeds into blocked accounts to which the Feins had no access; the Feuerbach painting was eventually sold to a private art dealer. The Fein heirs filed a claim for restitution under the West-German Federal Compensation Law (BEG). A further claim specifically for the Feuerbach painting was filed with the U.S. Foreign Claims Settlement Commission (FSCC), but brought no results. Finally, efforts by the Stiftung Preußischer Kulturbesitz [Prussian Cultural Heritage Foundation] in conjunction with Central Archives of the Berlin State Museums succeeded in recovering art objects looted by the Nazis and returning them to their rightful owners. In 1974, the Feuerbach painting was donated to the Nationalgalerie in Berlin, which recognized its obligation to return the painting to the heirs of the original owner. The Banking Commission Division of Holocaust Assets in the Governor's office of New York State facilitated the transfer, and the claimants - Ms. Frances Fredrick and her family - gave the painting to the Leo Baeck Institute.
Reproductions and Permissions
We welcome fair use of this content. Please credit the Leo Baeck Institute in your citation. For usage policies and to request higher resolution images, see Reproductions and Permissions.
Citation
Feuerbach, Anselm Friedrich: Portrait of a Young Italian Woman, Leo Baeck Institute, 2004.27.
Search for This Artist/Creator in the LBI Catalog
Feuerbach, Anselm Friedrich, 1829-1880
This will search DigiBaeck, a subset of the LBI Catalog concentrating on all of its digitized materials that are available online. The search will list all of LBI's digitized materials pertaining to this artist/creator, including artworks (described in the Griffinger Portal and more), archival collections, photographs, rare books, and periodicals.