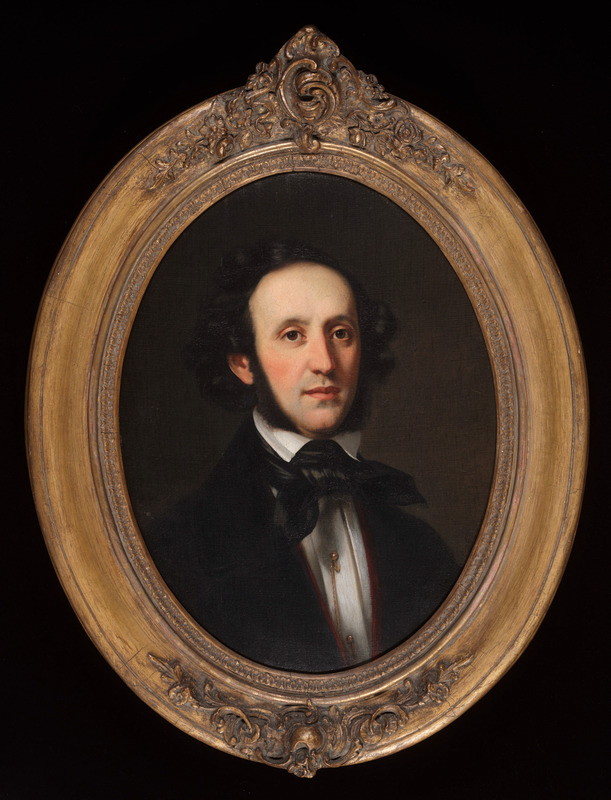 · Click image for high resolution zoom or multiple image views.
· We welcome fair use of this content. Please credit the Leo Baeck Institute in your citation.
Biographical Information
Felix Mendelssohn-Bartholdy was a prominent early Romantic composer and conductor. He was born in Hamburg in 1809, and his family moved to Berlin in 1811, fearing backlash from the French for the Mendelssohn's bank involvement in breaking the blockade of Napoleon's Continental System. From a young age, Felix was considered a musical prodigy. Though both parents were Jewish, the family adopted the Christian faith and adopted the surname Bartholdy. In 1829, Felix Mendelssohn-Bartholdy first visited England to conduct his first symphony at the London Philharmonic Society. While there, he was introduced to a number of prominent figures. He met Cécile Jeanrenaud in Frankfurt in 1835, and the couple married in 1837. They had five children: Carl, Marie, Paul, Lili and Felix. Mendelssohn founded the Leipzig Conservatory of Music in 1843 with Robert Schumann. Following the death of his sister, Fanny - his source of information and a composer in her right – in 1847, his health deteriorated, and he died of a ruptured blood vessel in the same year in Leipzig.
Eduard Magnus was a German painter and professor, born in Berlin. He studied medicine, architecture, and philosophy at the University of Berlin, and he also studied painting at the Berlin Academy of Art with Jacob Schlesinger prior to his first exhibit in 1829. Magnus traveled to France, Italy, Spain, and Egypt for a number of years throughout his life. In 1844, he began teaching at the Academy of Art. Though Magnus never married, he was devoted to his family. Eduard Magnus died of a stroke in 1872.
Reproductions and Permissions
We welcome fair use of this content. Please credit the Leo Baeck Institute in your citation. For usage policies and to request higher resolution images, see Reproductions and Permissions.
Citation
Magnus, Eduard: Portrait of Felix Mendelssohn-Bartholdy, Leo Baeck Institute, 77.3.
Search for This Artist/Creator in the LBI Catalog
This will search DigiBaeck, a subset of the LBI Catalog concentrating on all of its digitized materials that are available online. The search will list all of LBI's digitized materials pertaining to this artist/creator, including artworks (described in the Griffinger Portal and more), archival collections, photographs, rare books, and periodicals.
Search for the Person Depicted Here in the LBI Catalog
Mendelssohn-Bartholdy, Felix, 1809-1847
This will search the complete LBI Catalog, including non-digitized and digitized materials. The Catalog will list all of LBI's holdings pertaining to the person depicted, including all artworks, archival collections, photographs, books, and periodicals.