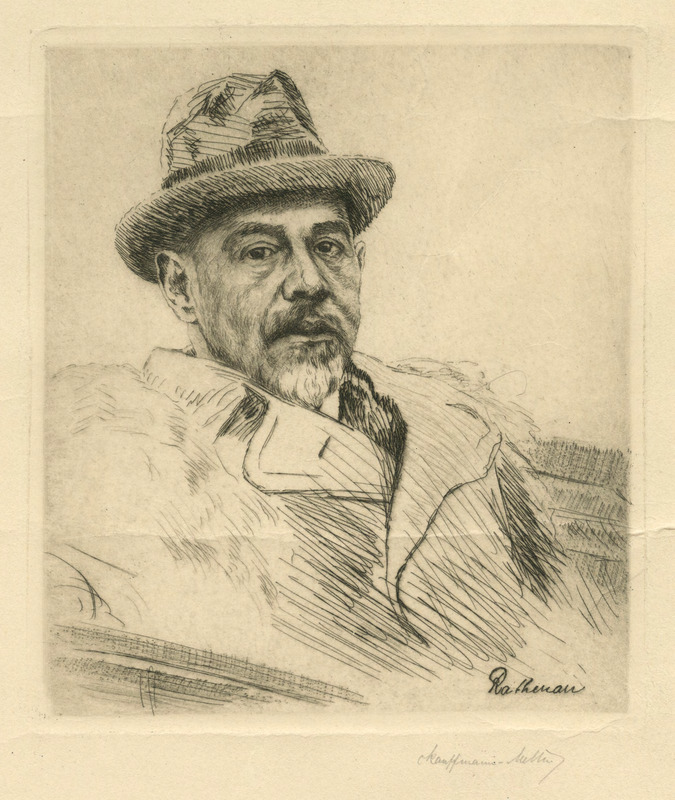 · Click image for high resolution zoom or multiple image views.
· We welcome fair use of this content. Please credit the Leo Baeck Institute in your citation.
Biographical Information
Walther Rathenau (September 29, 1867 – June 24, 1922) was a German industrialist, politician, writer, and statesman who served as Foreign Minister of Germany during the Weimar Republic. He was born into a Jewish family on September 9th, 1867 in Berlin. His father was a businessman who founded AEG, an electrical company, which became very profitable. Walther trained and worked as an engineer, eventually receiving a position on AEG's board. During the First World War, he oversaw the creating of a resource management board, and led it in its mission to conserve resources, and streamline the process to allow for a more efficient military. He also took control of his father's business after his father's death in 1915. He was a left-leaning German nationalist, who was one of the founding members of the German Democratic Party. He rejected government ownership of industry, and criticized the Soviet system, on the grounds of the lack of freedoms, the high death rate in the USSR, and the apparent destruction of the Russian economy. In 1921, he became the minister of reconstruction and in 1922, he became the Foreign Minister, signing the treaty of Rapallo, which forged closer relations between the Soviet Union and the Weimar Republic at the cost of German claims on Russian territory from the First World War, but allowed for covert collaboration between the two, such as greater economic cooperation. Rightist groups immediately denounced this agreement, claiming that the Jew Rathenau, was a communist conspirator. He was gunned down in his car, on June 24th 1922, by O.C. (Organization Consul) terrorists.
Reproductions and Permissions
We welcome fair use of this content. Please credit the Leo Baeck Institute in your citation. For usage policies and to request higher resolution images, see Reproductions and Permissions.
Citation
Kauffmann-Mellin, Clara: Portrait of Walther Rathenau (1867-1922), Leo Baeck Institute, 78.138.
Search for This Artist/Creator in the LBI Catalog
Kauffmann-Mellin, Clara, 1871-?
This will search DigiBaeck, a subset of the LBI Catalog concentrating on all of its digitized materials that are available online. The search will list all of LBI's digitized materials pertaining to this artist/creator, including artworks (described in the Griffinger Portal and more), archival collections, photographs, rare books, and periodicals.