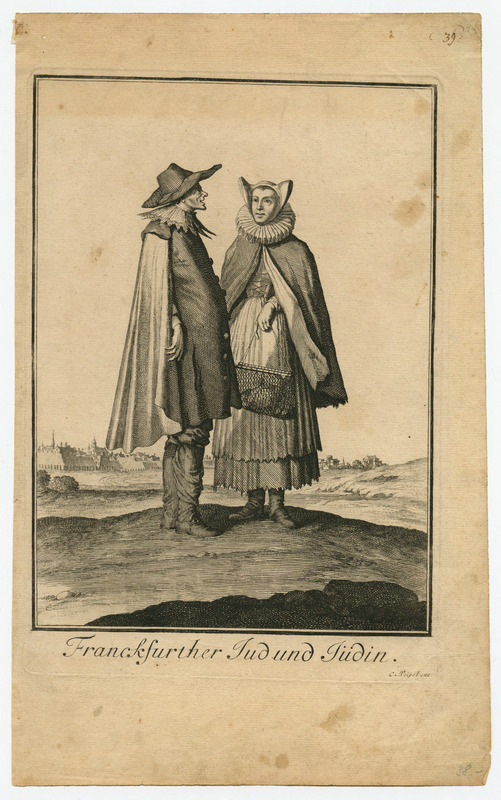 · Click image for high resolution zoom or multiple image views.
· We welcome fair use of this content. Please credit the Leo Baeck Institute in your citation.
Biographical Information
The volume of prints, "Neu-eröffnete Welt-Galleria", featured magnificent portraits of European nobility as well as images of people from a variety of nations. Its introduction was written by the famous preacher Abraham a Sancta Clara. In 1677, Sancta Clara was appointed the Imperial Court preacher in Vienna. He was known for his rabid anti-Semitism as well as his hatred of the "infidel" Turks. In the introduction to the "Neu-eröffnete Welt-Galleria" Sancta Clara stated that one should study this volume so as to be able to differentiate one class from another. Furthermore, Sancta Clara inveighed against those individuals, who dress themselves in the clothes of other nations. Despite Sancta Clara's vituperative attitudes, the images in this volume were decidedly neutral, neither mocking nor caricaturing the subjects. It is conceivable that the artist, Luyken, who was raised in the tolerant city of Amsterdam, did not share Sancta Clara's negative point of view.
Dutch painter and printmaker Caspar Luyken traveled to Nuremberg in 1699, and for the next six years he collaborated with the noted German print publisher and art dealer Christoph Weigel on the production of numerous illustrated books.
Reproductions and Permissions
We welcome fair use of this content. Please credit the Leo Baeck Institute in your citation. For usage policies and to request higher resolution images, see Reproductions and Permissions.
Citation
Luiken, Caspar: Jewish Man and Woman from Frankfurt, Leo Baeck Institute, 78.1397.
Search for This Artist/Creator in the LBI Catalog
This will search DigiBaeck, a subset of the LBI Catalog concentrating on all of its digitized materials that are available online. The search will list all of LBI's digitized materials pertaining to this artist/creator, including artworks (described in the Griffinger Portal and more), archival collections, photographs, rare books, and periodicals.