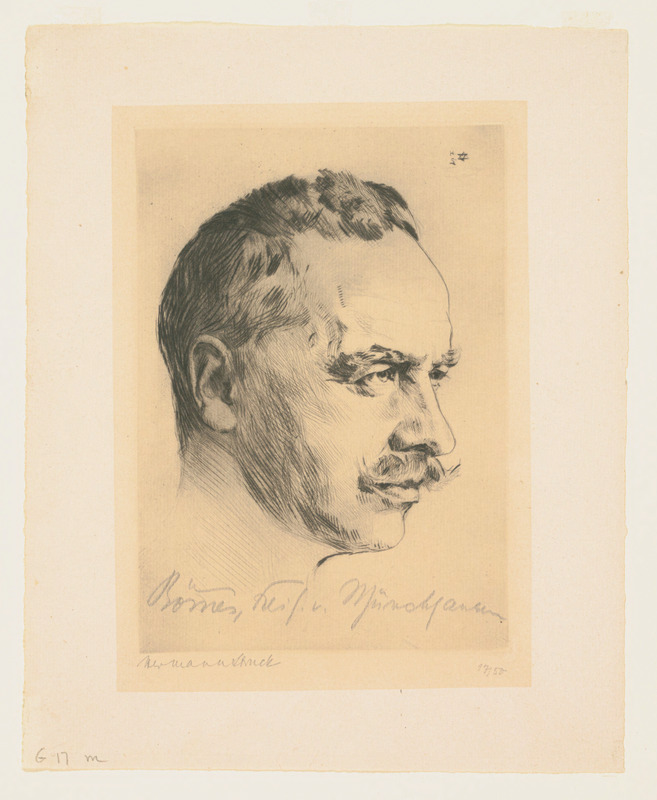 · Click image for high resolution zoom or multiple image views.
· We welcome fair use of this content. Please credit the Leo Baeck Institute in your citation.
Biographical Information
Börries Münchhausen (1874-1945) was a German poet and Nazi activist. He published his first collection of poems in the German Romantic style in 1898. When his popularity dwindled after the First World War, he founded the Deutsche Dichterakademie [German poets academy] in 1930 along with his cousin, Hans von der Gabelentz. In 1933, he was among 88 writers who vowed allegiance to Adolf Hitler. Münchhausen overdosed on sleeping pills in 1945 as Allied troops advanced near his estate, Windischleuba, only a few months after the death of his wife.
Struck was a master of etching and book illustration. He taught the art of printmaking to Marc Chagall, Max Liebermann and Arno Nadel and his monograph on the art of etching is a classic in the field. Struck was both an Orthodox Jew and a Zionist, however, his outlook on the world was decidedly cosmopolitan. This is also evident in his countless portraits, from Friedrich Nietzsche to Sigmund Freud, and impressions from his wide travels. While on service in the German Army during WW 1 he came into contact with the Jewish Communities of Galicia and Lithuania. During this time he created a series of sketches in Eastern Europe, which he lated turned into a book together with Arnold Zweig, titled "The Face of East European Jewry". In 1923 he emigrated to Palestine, where he was among the Bezalel School in Jerusalem.
Reproductions and Permissions
We welcome fair use of this content. Please credit the Leo Baeck Institute in your citation. For usage policies and to request higher resolution images, see Reproductions and Permissions.
Citation
Struck, Hermann: Portrait of Baron Börries von Münchhausen, Leo Baeck Institute, 78.213.
Search for This Artist/Creator in the LBI Catalog
This will search DigiBaeck, a subset of the LBI Catalog concentrating on all of its digitized materials that are available online. The search will list all of LBI's digitized materials pertaining to this artist/creator, including artworks (described in the Griffinger Portal and more), archival collections, photographs, rare books, and periodicals.
Search for the Person Depicted Here in the LBI Catalog
Münchhausen, Börries, Freiherr von, 1874-1945
This will search the complete LBI Catalog, including non-digitized and digitized materials. The Catalog will list all of LBI's holdings pertaining to the person depicted, including all artworks, archival collections, photographs, books, and periodicals.