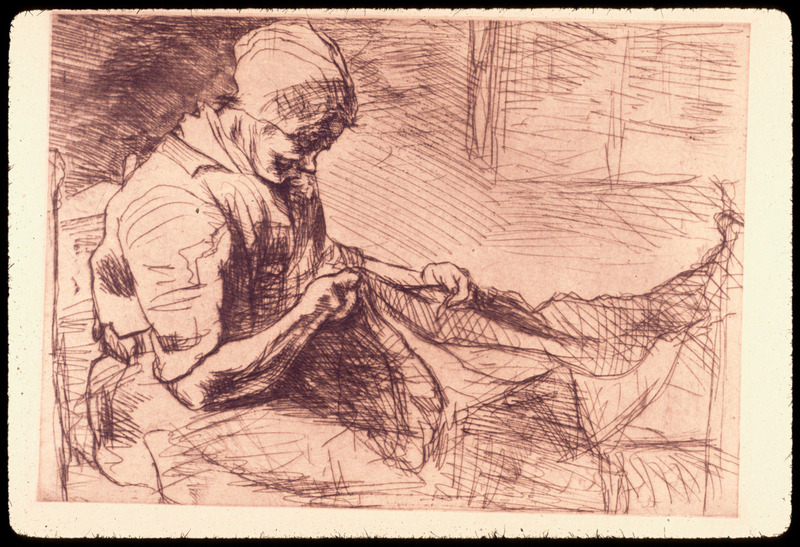 · Click image for high resolution zoom or multiple image views.
· We welcome fair use of this content. Please credit the Leo Baeck Institute in your citation.
Biographical Information
The Dutch painter and etcher Jozef Israëls was born to Jewish parents in Groningen, Netherlands, on January 27, 1824. Israëls, often called the "Dutch Millet", was the leader of the Hague school of peasant genre painting, which flourished in the Netherlands between 1860 and 1900. In Amsterdam he painted somber and moving scenes from the lives of Dutch fishermen and peasantry, for which he soon became famous. In 1870 he moved to The Hague. His dramatic use of silvery-gray light is expressive of the melancholy character of his themes. Israëls was equally proficient in oil and watercolor and was an accomplished etcher. Among his best-known works are The Zandvoort Fisherman, Toilers of the Sea, and David Singing before Saul (all in Amsterdam) and Expectation (Metropolitan Museum). Jozef Israëls died in The Hague on August 12, 1911. - His son, Isaäc Israëls (1865—1934), a painter of the social life of his day, was greatly influenced by the impressionists; his representative works are mainly in The Hague.
Reproductions and Permissions
We welcome fair use of this content. Please credit the Leo Baeck Institute in your citation. For usage policies and to request higher resolution images, see Reproductions and Permissions.
Citation
Israëls, Jozef: Net mending, Leo Baeck Institute, 78.218.
Search for This Artist/Creator in the LBI Catalog
This will search DigiBaeck, a subset of the LBI Catalog concentrating on all of its digitized materials that are available online. The search will list all of LBI's digitized materials pertaining to this artist/creator, including artworks (described in the Griffinger Portal and more), archival collections, photographs, rare books, and periodicals.