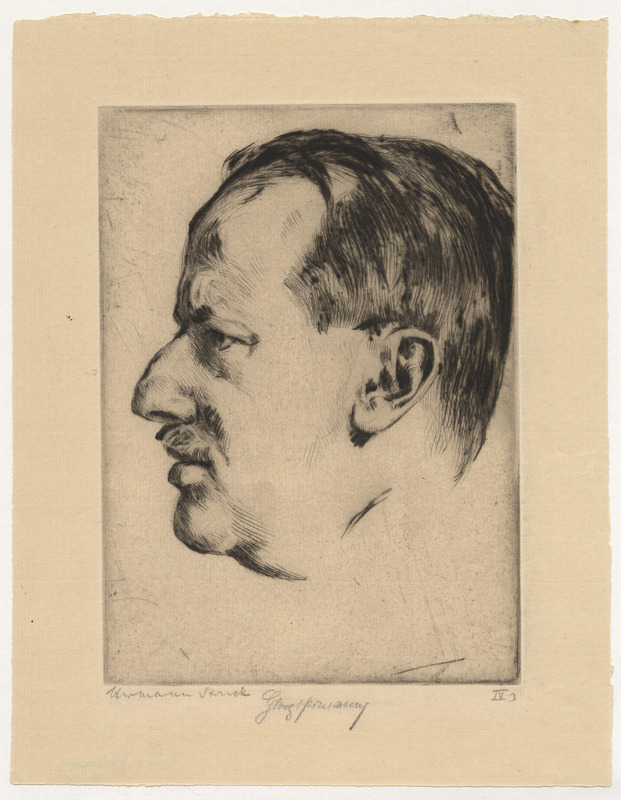 · Click image for high resolution zoom or multiple image views.
· We welcome fair use of this content. Please credit the Leo Baeck Institute in your citation.
Biographical Information
The internationally renowned author of numerous novels, essays, and articles, Georg Hermann, was born as Georg Borchardt in Berlin-Friedenau on October 7, 1871, the youngest of six children in a well-established Jewish family. Later in life he used his father's first name Hermann as his surname when writing. Contrary to the expectations for a young man from a reputable family, Hermann did not pursue the Abitur exam in a Gymnasium (secondary school), but instead received a one-year certificate in 1890, leaving school to become an apprentice salesman at a tie company. From 1896 until 1899 he worked in the Statistical Office of Berlin, at the same time attending literature and art history lectures at the University of Berlin. Afterwards he worked as a freelance writer and art critic.
His first book, 'Spielkinder', was published in 1896, but he did not become well-known until 1906, with the publication of 'Jettchen Gebert', followed by its sequel, 'Henriette Jacoby'. These novels told the story of the life of a young woman living in Jewish Berlin during the Biedermeier period of the 1820s and 1830s. Politically active, Georg Hermann was also a member of the Central-Verein deutscher Staatsbürger jüdischen Glaubens.
Having become known for his pacifist tendencies through his writing, and because of his Jewish heritage, Georg Hermann and his family fled to Holland shortly after the burning of the Reichstag in 1933. Although the rest of his family was saved from the Nazis after their occupation of Holland in 1943, Georg Hermann was sent to the Dutch concentration camp of Westerbork. On November 16, 1943 he was transported to Auschwitz and either died during transport or shortly after his arrival.
Hermann Struck was born Chaim Aaron ben David in 1876 in Germany. He is best known as a master etcher, lithographer and early Zionist. He studied for five years at the Berlin Academy and in 1908 wrote Die Kunst des Radierens (The Art of Etching), while mentoring artists such as Marc Chagall, Max Liebermann and Lesser Ury. His art was included in an exhibition at the Fifth Zionist Congress and he helped establish the religious Zionist movement called Mizrachi. Struck was an Orthodox Jew but believed that culture and religion could thrive cooperatively in Israel. He immigrated to Haifa where he created an artists' community and participated in the development of the Tel Aviv Museum and the Bezalel art school in Jerusalem. He died in 1944.
Reproductions and Permissions
We welcome fair use of this content. Please credit the Leo Baeck Institute in your citation. For usage policies and to request higher resolution images, see Reproductions and Permissions.
Citation
Struck, Hermann: Portrait of Georg Hermann, Leo Baeck Institute, 78.285.
Search for This Artist/Creator in the LBI Catalog
This will search DigiBaeck, a subset of the LBI Catalog concentrating on all of its digitized materials that are available online. The search will list all of LBI's digitized materials pertaining to this artist/creator, including artworks (described in the Griffinger Portal and more), archival collections, photographs, rare books, and periodicals.
Search for the Person Depicted Here in the LBI Catalog
This will search the complete LBI Catalog, including non-digitized and digitized materials. The Catalog will list all of LBI's holdings pertaining to the person depicted, including all artworks, archival collections, photographs, books, and periodicals.