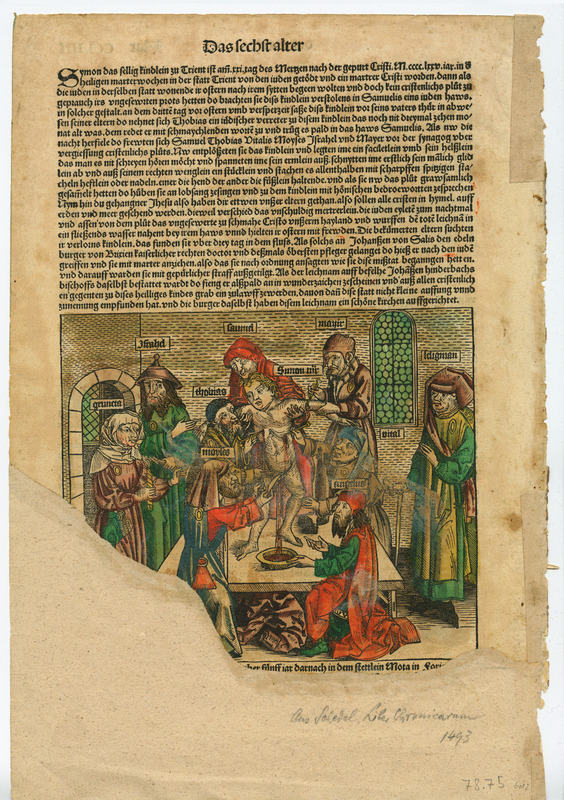 · Click image for high resolution zoom or multiple image views.
· We welcome fair use of this content. Please credit the Leo Baeck Institute in your citation.
Biographical Information
Simon (Simeon; 1472–1475) was a boy from the Tyrolian city of Trient (Trent; Trento, Italy), whose dead body was discovered, and his death was blamed on the local Jewish community. All Jewish men and women were arrested and forced under torture to confess to having murdered Simon to use his blood for ritual purposes. Fifteen of the Jews were sentenced to death and burnt at the stake in 1476.
Michael Wolgemut (1434 – 1519) was a German painter and printmaker who ran a large and important workshop in Nuremberg. He was a teacher of the young Albrecht Dürer. Woodcuts executed in Wolgemut's workshop were not necessarily created by him, personally. Michael Wolgemut's workshop provided more than 1000 woodcut illustrations to the book on world history by the German historian Hartmann Schedel, Liber Chronicarum (Book of Chronicles), later known as "Schedelsche Weltchronik" (Schedel's World Chronicle); Chapter VI describes the world's history in the common era since the birth of Jesus.
Reproductions and Permissions
We welcome fair use of this content. Please credit the Leo Baeck Institute in your citation. For usage policies and to request higher resolution images, see Reproductions and Permissions.
Citation
Wolgemut, Michael: [The Murder of Simon of Trent] : [Page from Schedel's Weltchronik], Leo Baeck Institute, 78.75.
Search for These Artists/Creators in the LBI Catalog
This will search DigiBaeck, a subset of the LBI Catalog concentrating on all of its digitized materials that are available online. The search will list all of LBI's digitized materials pertaining to this artist/creator, including artworks (described in the Griffinger Portal and more), archival collections, photographs, rare books, and periodicals.