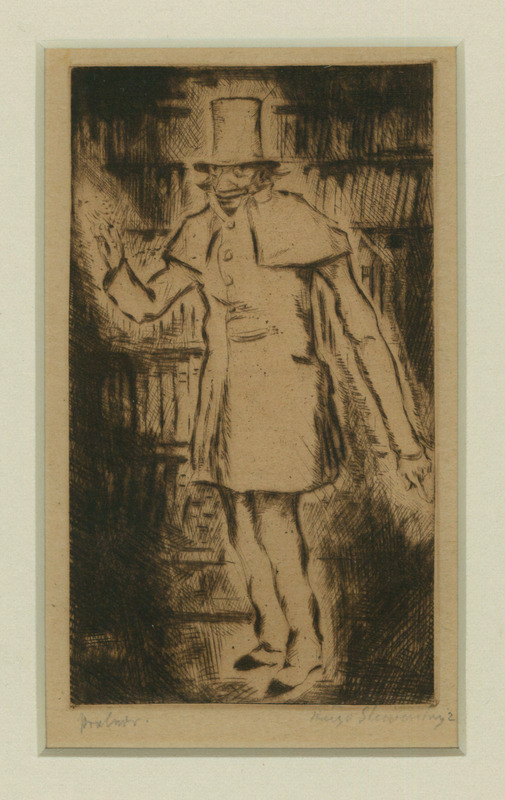 · Click image for high resolution zoom or multiple image views.
· We welcome fair use of this content. Please credit the Leo Baeck Institute in your citation.
Biographical Information
Hugo Steiner-Prag was an internationally acclaimed book artist, known for his illustrations, typography, and book designs. He was also a distinguished painter, stage designer, teacher and art organizer. Born Hugo Steiner in Prague in 1880, he eventually added the name of his native city to his last name to distinguish himself from other artists with the same name. He entered the Prague Academy of the Arts in 1897 and enrolled at the Royal Academy of Fine Arts in Munich in 1900 before transferring to the Lehr- und Versuchsstätten in Munich, where he later taught. During this time he worked on the illustration of E.T.A. Hoffmann's "Die Elixiere des Teufels," the success of which cemented his reputation as an illustrator and book designer. Between 1907 and 1933 he was a professor at the Academy of Graphic Arts in Leipzig, until the Nazis ousted him from his position. He also served as art director of the Propylaeen publishing house in Berlin and in 1927, became the president and organizer of the International Book Art Exhibition in Leipzig. He organized various other important book art exhibits in Paris, Cologne, Barcelona and New York. After 1933, Steiner-Prag returned to his native city of Prague, where he established a private school for book arts and graphic design, called the Officina Pragensis. In 1938, he was asked to set up a similar school in Stockholm, which he accepted due to the political situation in Prague. He then immigrated to New York in 1941 after an arduous trip through Russia, and was a professor at New York University. Steiner-Prag died from a heart attack in 1945.
Reproductions and Permissions
We welcome fair use of this content. Please credit the Leo Baeck Institute in your citation. For usage policies and to request higher resolution images, see Reproductions and Permissions.
Citation
Steiner-Prag, Hugo: ["Bibliomaniacs" No. 7] : [Specter in library], Illustration for Charles Asselineau's "Die Hölle des Bibliomanen" (V Der Himmlische Rächer), Leo Baeck Institute, 78.972.
Search for This Artist/Creator in the LBI Catalog
This will search DigiBaeck, a subset of the LBI Catalog concentrating on all of its digitized materials that are available online. The search will list all of LBI's digitized materials pertaining to this artist/creator, including artworks (described in the Griffinger Portal and more), archival collections, photographs, rare books, and periodicals.