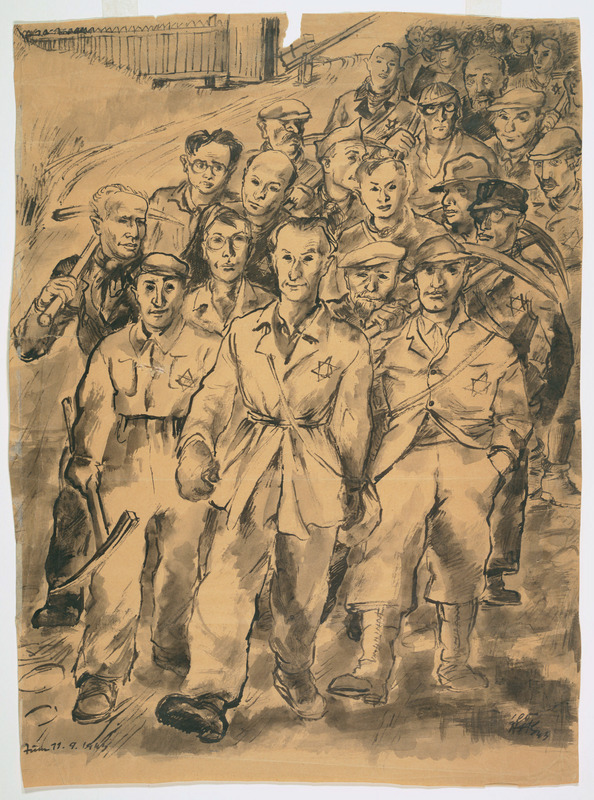 · Click image for high resolution zoom or multiple image views.
· We welcome fair use of this content. Please credit the Leo Baeck Institute in your citation.
Biographical Information
Leo Haas was born in Czechoslovakia. In 1937, his works were designated as "degenerate art" and he was accused of cultural Bolshevism because of the caricatures he had published. In October 1939, he was sent to Nisko near Lublin, where he painted portraits of SS soldiers. The camp was eventually dismantled, but he was transported to Theresienstadt in September 1942. Haas was transferred to the technical-graphic department of the camp, where he became a close friend of Bedrich Fritta. Work in the graphic department enabled them to visit other parts of the ghetto, and they made many drawings documenting all aspects of ghetto life. This work was hidden and some smuggled out. Nazis discovered smuggled works and tortured Haas and Fritta, among others, for information, which they did not give. Haas was interned successively in Theresienstadt, Auschwitz, Sachsenhausen and Mauthausen. In Sachsenhausen, Haas' group was given the job of counterfeiting American money. On May 5, 1945 the prisoners were transferred to Ebensee camp, where they were liberated the next day by the Allied forces. After his liberation Haas returned to Terezin and recovered his entire art collection, as well as many works produced by Fritta. In 1955 Haas moved to East Berlin, where he worked as the editor of a caricature journal called Eulenspiegel and designed movie sets for the DEFA Company and for East German television. He exhibited his works in East Germany, in Western Europe (France, Italy, Austria), and in Israel, China and the United States. Leo Haas passed away in 1983.
Reproductions and Permissions
We welcome fair use of this content. Please credit the Leo Baeck Institute in your citation. For usage policies and to request higher resolution images, see Reproductions and Permissions.
Citation
Haas, Leo: [Work Brigade at Theresienstadt], Leo Baeck Institute, 83.189.
Search for This Artist/Creator in the LBI Catalog
This will search DigiBaeck, a subset of the LBI Catalog concentrating on all of its digitized materials that are available online. The search will list all of LBI's digitized materials pertaining to this artist/creator, including artworks (described in the Griffinger Portal and more), archival collections, photographs, rare books, and periodicals.