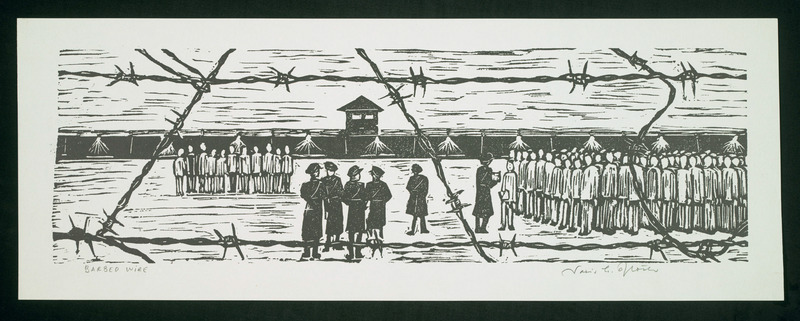 · Click image for high resolution zoom or multiple image views.
· We welcome fair use of this content. Please credit the Leo Baeck Institute in your citation.
Biographical Information
David Ludwig Bloch was born in Floss, Bavaria, Germany in 1910. He began to study porcelain painting in 1925, and was employed in this field until 1934, when he became unemployed because of the world economic crisis. He then began studies at the state school for applied painting in Munich. By this time the artist had all ready taken part in exhibitions of the "Jewish Culture Federation of Bavaria." Bloch became a commercial artist and decorator with the department store Salinger in Straubing, but subsequently was fired for being Jewish. He was excluded from studying in Munich for the same reason. During Pogrom Night (Kristallnacht) Bloch was arrested and was in Dachau for 4 weeks, after which he found work with the master painter Heinz Voges in Munich. On April 3, 1940 the artist escaped to Shanghai where he worked in inks and watercolors. He moved to New York in 1949 where he worked as a graphic artist for 26 years. He visited Germany in 1976 for the first time and after this visit the Holocaust became an intense focus of his art.
Reproductions and Permissions
We welcome fair use of this content. Please credit the Leo Baeck Institute in your citation. For usage policies and to request higher resolution images, see Reproductions and Permissions.
Citation
Bloch, David Ludwig: Barbed wire, Leo Baeck Institute, 83.8a.
Search for This Artist/Creator in the LBI Catalog
Bloch, David Ludwig, 1910-2002
This will search DigiBaeck, a subset of the LBI Catalog concentrating on all of its digitized materials that are available online. The search will list all of LBI's digitized materials pertaining to this artist/creator, including artworks (described in the Griffinger Portal and more), archival collections, photographs, rare books, and periodicals.