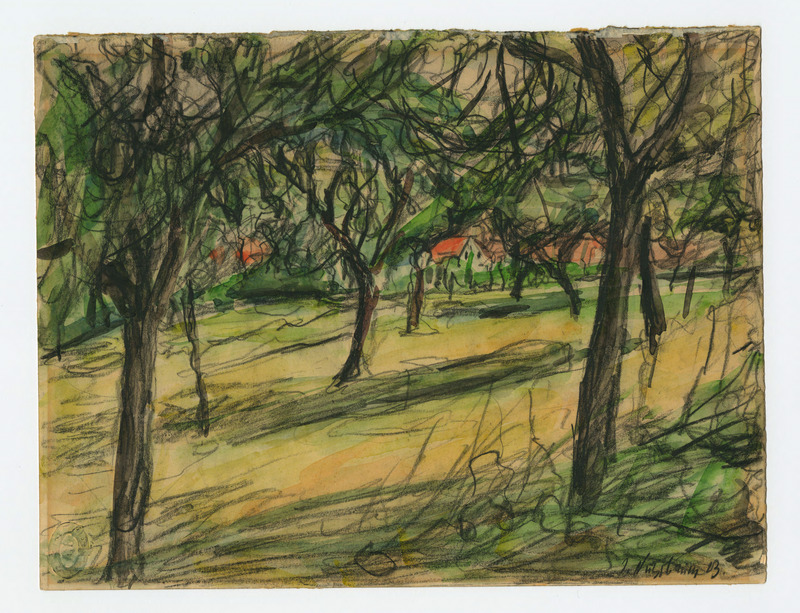 · Click image for high resolution zoom or multiple image views.
· We welcome fair use of this content. Please credit the Leo Baeck Institute in your citation.
Biographical Information
Jakob Nussbaum was born January 8, 1873 in Rhina near Kassel to Baruch Nussbaum and Sarah Nussbaum (born Katz). From 1878 to 1882 he attended the Volksschule in Rhina, then, his family moved to Frankfurt am Main where he was educated for a career in commerce. Anyway, from 1893 to 1896 he studied art in Munich, first at the Private Academy of Arts run by the Hungarian painter Simon Hollósy, later at the Academy of Fine Arts under Gabriel von Hackl. Nussbaum and various other artists went so far as to accompany Hollósy to Hungary, where he intended to establish an artists' colony devoted solely to plein-air painting. The spirit of impressionist plein-air painting remains visible in Nussbaum's work, even after he had turned to expressionism. In 1902 he went back to Frankfurt, where he had a successful career as a painter of landscapes, still lifes, and portraits, such as the one of Georg Swarzenski (1928), then director of the Frankfurt Städel Museum. Nussbaum participated in the Berlin Secession and together with Corinth, Slevogt, and Liebermann became one of the leading representatives of German impressionism. During World War I he was drafted to document the war as an artist. In 1932 he began teaching at the Frankfurt School of Arts and Crafts. He also was elected an honorary member of the Frankfurt Kuenstlerbund but lost all positions after the Nazis came to power in 1933. As a devoted Jew and Zionist he decided to immigrate to Palestine together with his wife and his children soon after 1933, and settled at Lake Kinneret, where he continued to paint expressionist landscapes with distinction till his death in 1936.
Reproductions and Permissions
We welcome fair use of this content. Please credit the Leo Baeck Institute in your citation. For usage policies and to request higher resolution images, see Reproductions and Permissions.
Citation
Nussbaum, Jakob: Trees in front of Houses, Leo Baeck Institute, 2011.006.
Search for This Artist/Creator in the LBI Catalog
This will search DigiBaeck, a subset of the LBI Catalog concentrating on all of its digitized materials that are available online. The search will list all of LBI's digitized materials pertaining to this artist/creator, including artworks (described in the Griffinger Portal and more), archival collections, photographs, rare books, and periodicals.