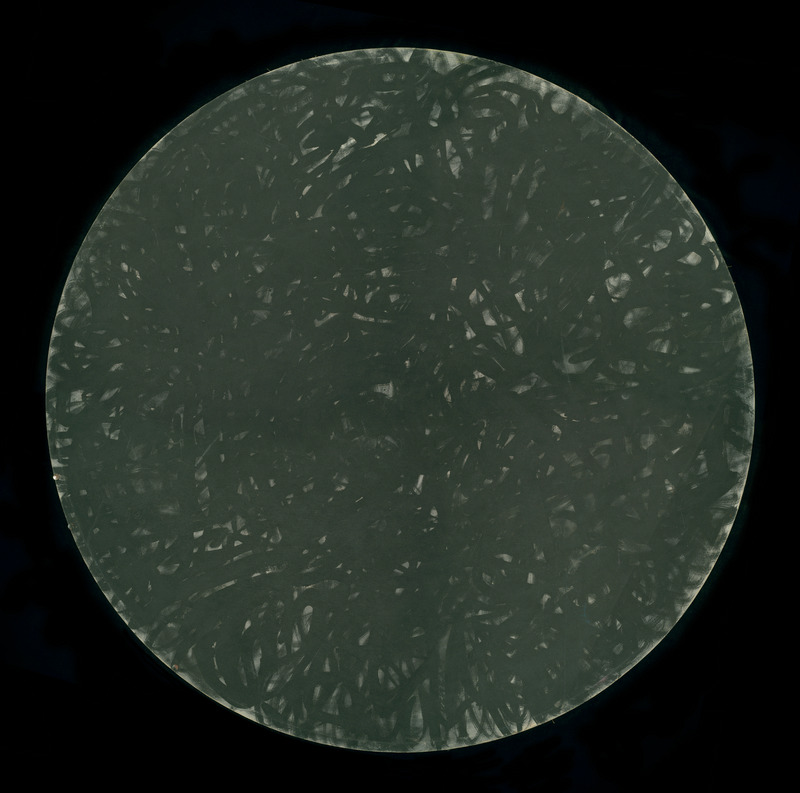 · Click image for high resolution zoom or multiple image views.
· We welcome fair use of this content. Please credit the Leo Baeck Institute in your citation.
Biographical Information
Crossing is one of a series of twenty-one "black drawings" done by Dzubas. He began the series after he had visited Germany for ten months in 1960. Each of these paintings had a religious reference in the title. Dzubas envisioned placing them in "a little chapel … just whitewashed inside. And I would cover this whole Baroque architecture, inside, with those black drawings." Crossing and other paintings from the "black drawing" series were done in either a large circular format (referred to as a tondo) or in a rectangular format. The canvas was painted with crisscrossing vectors through black linear bands against gray washes.
Friedel Dzubas was born in Berlin on April 20, 1915. He studied at the Prussian Academy of Fine Art and under Paul Klee from 1936 to 1939. With a Jewish father and a Catholic mother, Dzubas was subject to German race laws. In 1939, he emigrated to New York City with the assistance of the Reichsvertretung der Juden in Deutschland and the American Jewish Committee (AJC), though his parents and brothers stayed in Germany. In America, Dzubas worked a number of odd jobs before landing a position in Chicago as a graphic designer. His works in the 1940s primarily were watercolor landscapes. He returned to New York in 1945, where he was roommate with the art critic Clement Greenberg. Greenberg introduced Dzubas to Jackson Pollock and other artists, such as Helen Frankenthaler, with whom Dzubas shared a studio. In the early 1950s, he began exhibiting his Abstract Expressionist works at the Ninth Street Show in New York City in 1951, and in group exhibitions at the Leo Castelli Gallery; the Stable Gallery; and the Tibor de Nagy Gallery, among others. In the 1960s he became associated with color field painting and lyrical abstraction. Dzubas was included in "Post-Painterly Abstraction," a 1964 exhibition curated by his friend, Clement Greenberg. During the last three decades of his career, Dzubas had more than sixty solo exhibitions around the world and taught at various institutions.
Reproductions and Permissions
We welcome fair use of this content. Please credit the Leo Baeck Institute in your citation. For usage policies and to request higher resolution images, see Reproductions and Permissions.
Citation
Dzubas, Friedel: Crossing, Leo Baeck Institute, 2012.199.
Search for This Artist/Creator in the LBI Catalog
This will search DigiBaeck, a subset of the LBI Catalog concentrating on all of its digitized materials that are available online. The search will list all of LBI's digitized materials pertaining to this artist/creator, including artworks (described in the Griffinger Portal and more), archival collections, photographs, rare books, and periodicals.