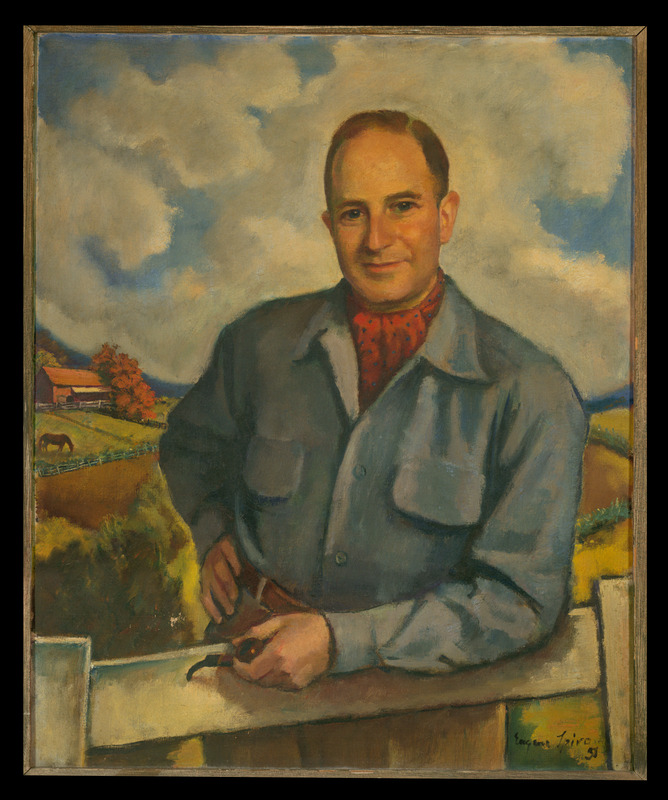 · Click image for high resolution zoom or multiple image views.
· We welcome fair use of this content. Please credit the Leo Baeck Institute in your citation.
Biographical Information
Max Georg Lowenherz (May 28, 1909 – September 13, 2003) was born in Coburg, Germany to a Jewish family. His father was David Löwenherz, a businessman, and his mother was Clara Löwenherz. In 1933, Max and his brother Walter fled Germany, shortly after being arrested during mass incarcerations of Jews in Coburg; Max and Walter joined their brother Heinz in Amsterdam, working for a picture agency. Max and Walter were able to migrate to New York in 1937, where they set up a similar picture agency business. Because Heinz and his family were later transported to Germany and killed during the Holocaust, the picture agency in New York was named "Three Lions, Inc", after thee three brothers and in homage to their last name (which means "lion-heart" in German). Three Lions, Inc. was a successful picture agency that licensed works by international photographers, often photos of celebrities and other notable people. Of particular note, Three Lions, Inc. commissioned a series of photographs by Orlando Suero in 1954 of Senator John and Jacqueline Kennedy at their home in Georgetown. Max Lowenherz also established Lion Heart Autographs, after developing an interest in letters and autographs. In 1938, Max married Eva Cohnreich, a young photographer who had worked with the Three Lions, Inc., and herself a recent German Jewish émigré to New York. Eva and Max had two children, but later divorced around 1965. Three Lions, Inc was sold in 1983, and in 1989, Löwenherz donated the agency's archive of Kennedy photographs and negatives, most taken in 1954, to Johns Hopkins University. He died in 2003.
Eugene Spiro is well recognized for his landscapes, life sketches, and portraits, particularly of famous conductors and musicians). He was a member of both the Munich and Berlin Secessions. Spiro was born in Breslau, Germany (now Wroclaw, Poland) in 1874, the son of a synagogue cantor. He studied art both in Breslau (under Albrecht Bräuer), Munich (under Franz von Stuck), and also in Italy. He was also briefly married to the actress Tilla Durieux in 1904. After an extended stay in Berlin from 1906-1914, Spiro settled in Paris, where he belonged to a group of artists meeting at the Café du D"me. He received a professorship at the Académie Moderne, was elected to the Académie Des Beaux-Arts and co-founded the Salon d'Automne. The outbreak of WW I forced him to return to Germany, where he soon became a popular portrait painter. From 1915 to 1933 Spiro was on the executive board of the Berlin Secession and a professor at the Staatliche Kunstschule. The Nazi takeover forced Spiro into emigration. The sixty-one-year old went to Paris in 1935, where he founded the Union Des Artistes Libres in 1936. He met his wife Lily Jacoby at a French internment camp in Gurs during this time. After the German occupation of France in 1940, Spiro and his wife emigrated to America and then to New York in 1941. Spiro worked as a teacher of the Wayman Adams School in Elizabethtown, New York and at Dartmouth College. He participated in exhibits in the United States for the rest of his life and died in New York in 1972.
Reproductions and Permissions
We welcome fair use of this content. Please credit the Leo Baeck Institute in your citation. For usage policies and to request higher resolution images, see Reproductions and Permissions.
Citation
Spiro, Eugen: [Portrait of Max G. Lowenherz], Leo Baeck Institute, 2017.21.
Search for This Artist/Creator in the LBI Catalog
This will search DigiBaeck, a subset of the LBI Catalog concentrating on all of its digitized materials that are available online. The search will list all of LBI's digitized materials pertaining to this artist/creator, including artworks (described in the Griffinger Portal and more), archival collections, photographs, rare books, and periodicals.