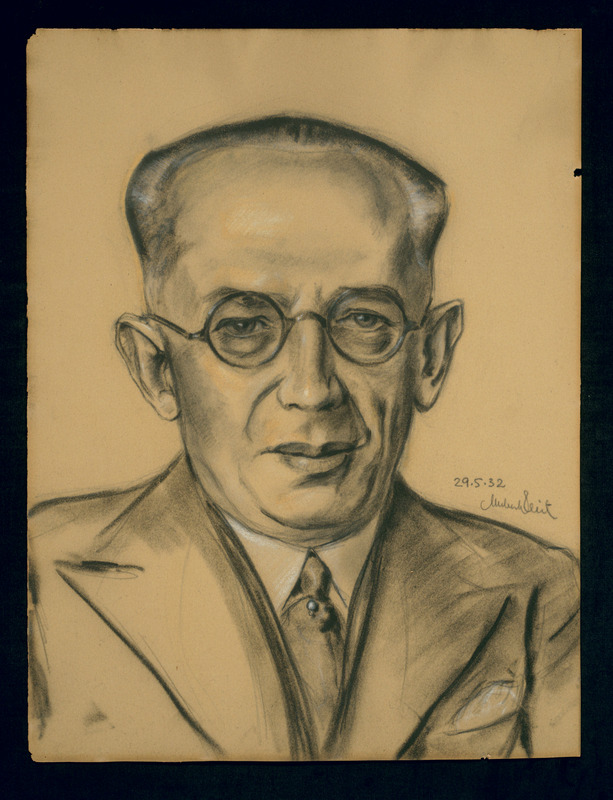 · Click image for high resolution zoom or multiple image views.
· We welcome fair use of this content. Please credit the Leo Baeck Institute in your citation.
Biographical Information
Herbert Feist (1903-1981) was born in Mannheim, Germany to Dr. David Walter Feist (1864-1921) and Auguste Feist née Herschel (1878-1930). Herbert was an artist in Germany, selling his sketches of people to various publications. In 1934, he married Edith née Gruenthal (born 1912). After their immigration to the United States in 1936, Herbert started a business (Polytect Corporation) and also became a patent attorney. In the 1960s, Feist started an art gallery on the upper east side of Manhattan, where he remained until his death in 1981. Herbert Feist expressed his life-long love of music not only in his many sketches of musicians, but as an amateur musician – he played viola in a string quartet. He also painted, creating many abstract works during his years in the United States.
A photograph of this drawing can be found in the Edith and Herbert Feist family collection (AR 25468). The photograph has "S. Gruenthal" written on the bottom. The sitter is probably a relative from the artist's wife's family.
Reproductions and Permissions
We welcome fair use of this content. Please credit the Leo Baeck Institute in your citation. For usage policies and to request higher resolution images, see Reproductions and Permissions.
Citation
Feist, Herbert: [Portrait of S. Gruenthal], Leo Baeck Institute, 2018.05.
Search for This Artist/Creator in the LBI Catalog
This will search DigiBaeck, a subset of the LBI Catalog concentrating on all of its digitized materials that are available online. The search will list all of LBI's digitized materials pertaining to this artist/creator, including artworks (described in the Griffinger Portal and more), archival collections, photographs, rare books, and periodicals.