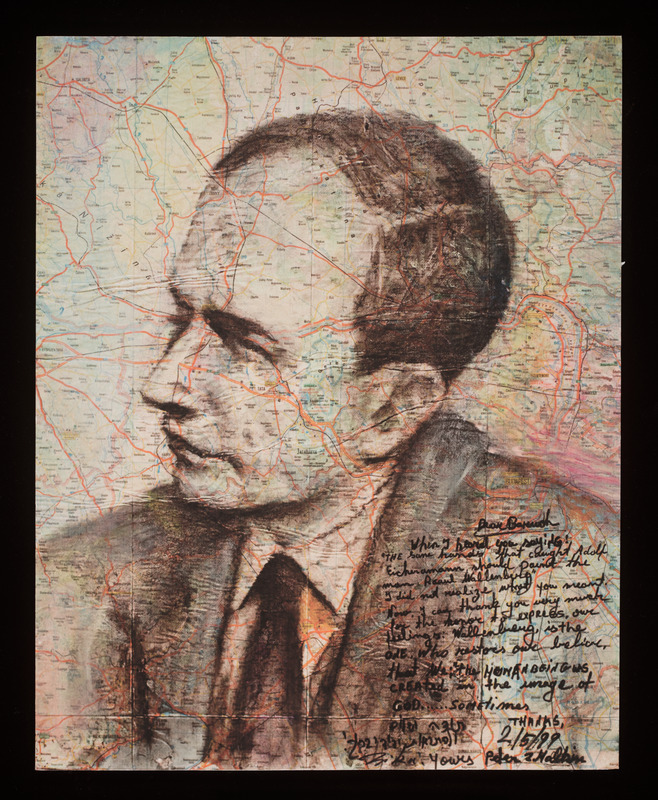 · Click image for high resolution zoom or multiple image views.
· We welcome fair use of this content. Please credit the Leo Baeck Institute in your citation.
Biographical Information
Raoul Gustaf Wallenberg (4 August 1912 – disappeared 17 January 1945) was a Swedish architect, businessman, diplomat, and humanitarian. He is widely celebrated for saving tens of thousands of Jews in Nazi-occupied Hungary during the Holocaust during the later stages of World War II. While serving as Sweden's special envoy in Budapest between July and December 1944, Wallenberg issued protective passports and sheltered Jews in buildings designated as Swedish territory. On 17 January 1945, during the Siege of Budapest by the Red Army, Wallenberg was detained on suspicion of espionage and subsequently disappeared. He was later reported to have died on 17 July 1947 while imprisoned by the KGB secret police in Moscow.
Peter Zvi Malkin was born in Zolkiewka, Poland, in 1929. In 1936, he and his parents escaped Poland to Palestine; his sister and other relatives were not able to escape and met their deaths in Poland's concentration camps. As a teen, Malkin joined the Jewish Underground, eventually becoming a high ranking member of the Mossad, the Israeli Intelligence Agency. As a member of the Mossad, he worked to capture Adolf Eichmann, a high ranking official in the Nazi SS, in Buenos Aires, Argentina in 1960. During this four-month mission to capture Eichmann and bring him to Palestine, Malkin used his artistic talents as a cover. Although never formally trained as an artist, and because of the nature of his critical mission, Malkin was compelled to express himself directly and quickly, onto whatever surface he had in front of him. As a result, some of his works are painted on maps, drawn on newsprint, and on the pages of guidebooks. Peter Z. Malkin died in New York in 2005.
Reproductions and Permissions
We welcome fair use of this content. Please credit the Leo Baeck Institute in your citation. For usage policies and to request higher resolution images, see Reproductions and Permissions.
Citation
Malkin, Peter Z.: [Portrait of Raoul Wallenberg], Leo Baeck Institute, 2018.62.
Search for This Artist/Creator in the LBI Catalog
This will search DigiBaeck, a subset of the LBI Catalog concentrating on all of its digitized materials that are available online. The search will list all of LBI's digitized materials pertaining to this artist/creator, including artworks (described in the Griffinger Portal and more), archival collections, photographs, rare books, and periodicals.