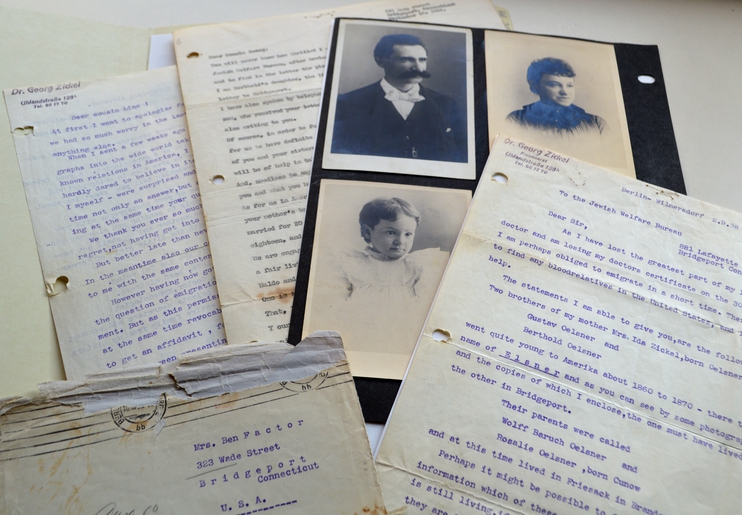 New Archival CollectionsNew Archival CollectionsNew Archival CollectionsNew Archival CollectionsNew Archival CollectionsNew Archival CollectionsNew Archival CollectionsNew Archival CollectionsNew Archival CollectionsNew Archival CollectionsNew Archival Collections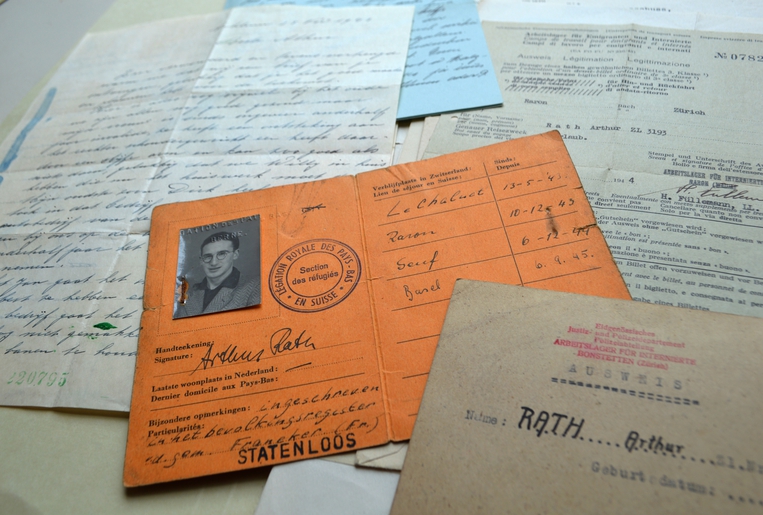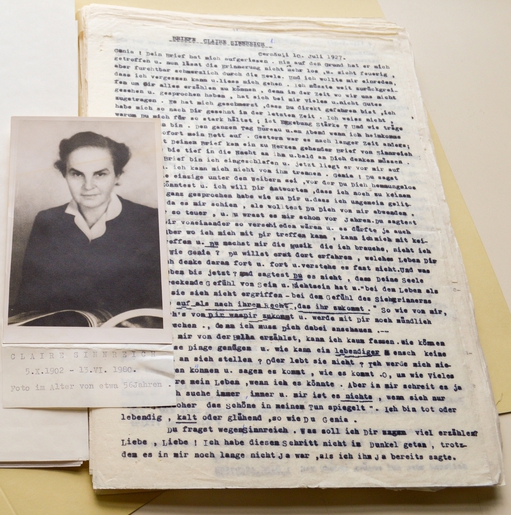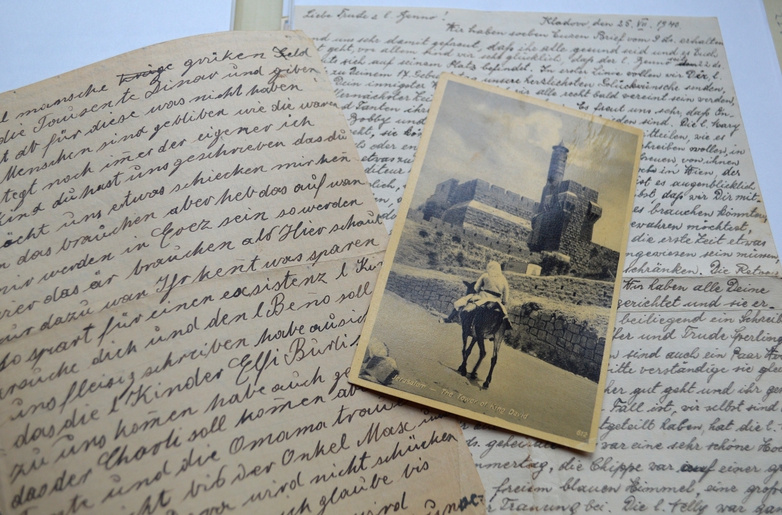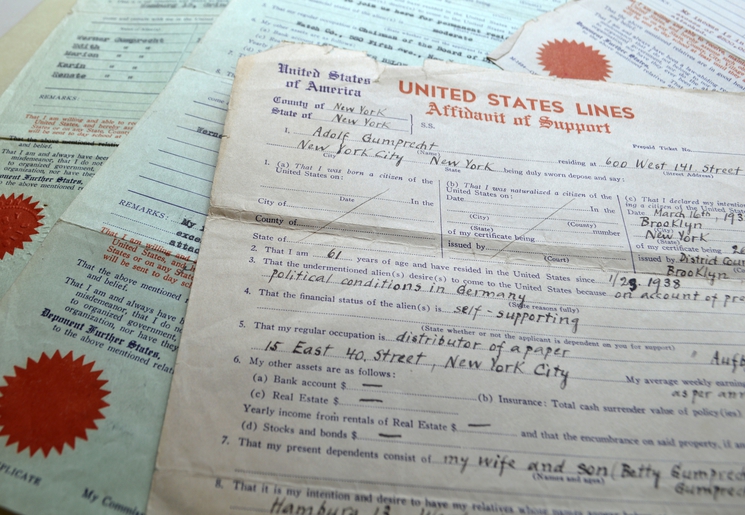 New Archival Collections at the Leo Baeck Institute
The Leo Baeck Institute is continually collecting new archival materials related to the history of German-speaking Jews. Please see in the following a list of recent acquisitions, each with a short synopsis. Clicking on the title will link to the item's bibliographic description; items that have already been digitized will also have a link to their digital form. Please contact head archivist Hermann Teifer for access to collections that are not digitized yet.
---
Hans Heller Collection, AR 25858
Catalog record
Artist, author, businessman and thinker: the papers of Austrian born Hans (John) Heller (1896-1987) describe his rich career in Austria, England and in the United States. Between the World Wars, Heller worked in his family's famous candy business, "G.&W Heller", and at the same time his home was a center for liberal intellectuals, artists, and Freudian psychologists. Heller contributed to periodicals such as 'Die Weltbuehne', and published one of the first anti-Nazi novels, "A Man in Search of His Homeland" in 1936. He fled Austria after the Anschluss, ultimately arriving in the US, where he reestablished the Heller Candy Company, producing hard, filled candies. The collection contains Heller's memoirs and manuscripts of his literary oeuvre, as well as papers documenting the Heller Candy Companies in Vienna, Liverpool, New York City, and Paterson, NJ.
Rudolph E. Friedman Collection, AR 25803
Finding aid with links to digital objects
The Rudolph E. Friedman Collection holds the papers and correspondence of the businessman Rudolph Ernest Friedman. Born in Danzig, Germany (today Gdańsk, Poland) in 1914, Rudolf Enst Friedmann was inducted into the American Army shortly after his arrival in the U.S. as a Hitler-refugee. He served in Europe, first as part of the 'Interrogators of Prisoners of War (IPW) Team 164', and then fighting in the front line in France and Germany. The collection includes extensive correspondence that also provides information on his extended family, as well as official documents, personal papers, and his American military papers.
Samton family collection, AR 25764
Finding aid with links to digital objects
The collection documents the life, emigration and acculturation of Hans Szamatolski and Margot née Fiegel from Berlin, who later became Henry and Margot Samton in the USA. Personal, legal, and professional correspondence; official certificates; photographs; vital records; and financial documentation – all provide insight into their private history as well as their professional career that was tied to the paper industry, first in Germany and then in America. Family trees and genealogical research materials shed further light on Margot Samton's paternal and maternal families, Fiegel and Schraff.
Erna and Gustav Katz family collection, AR 25818
Finding aid with links to digital objects
Personal and official documents, correspondence, biographical manuscripts, photographs and other archival materials focus primarily on the lives of Erna, Fred and Henry Katz from Cologne in Germany and in the United States, but the collection also provides information on the extended Katz and Lyon families and their ancestors.
Nikolaus Bela Braun : 1900-1951, MS 1105
Read it online
Two very short manuscripts shed some light on the life of the German artist Nikolaus Braun. Born in Berlin in 1900, Nikolaus Braun studied with Arthur Segal at the Kunstschule in Berlin and joined the Novembergruppe, a loose union of radical artists, which was created in December 1918 in Berlin under the impression of the November revolution. In 1938, he and his first wife, the artist Anne Ratkowski destroyed their paintings, before escaping Nazi Germany with their little son Andy. Nikolaus Braun and his wife, the opera singer Ilse Asch survived the Holocaust in Budapest, before immigrating to New York City, where he died shortly after his arrival. – A third manuscript is part of the Anne Ratkowski-Wanger Collection, AR 6326, folder 9.
Landau family collection, AR 25806
Finding aid with links to digital objects
Correspondence and photographs, as well as legal, financial, and genealogical documents pertain to the family of Marianne Landau, née Ehrlich, and specifically to her restitution claims for her estate and its property at Pariser Platz 6a in Berlin.
Marianne Olga Ehrlich, born on January 23, 1886, was the daughter of German Nobel Prize-winning chemist, Paul Ehrlich (1854-1915) and the wife of the mathematician Edmund Georg Landau. They had four children: Herbert, Charlotte, Susanne, and Matthias. After the war, their granddaughter Elizabeth Brody (daughter of Charlotte Schoenberg, née Landau) helped attain reparations from the German government for lost property and disseminated the funds amongst members of the Landau family. Elizabeth was also active in genealogical research to determine the familial relatives of Paul Ehrlich; her genealogical research is documented in the Pinkus Fränkel Ehrlich genealogy research collection, AR 25807.
Ernst Heumann family collection, AR 25752
Finding aid with links to digital objects
Personal correspondence; official and personal certificates; immigration and legal papers; family writings, such as poems, essays and short stories; travel memorabilia; and family trees document the lives of the businessman Ernst Heumann and his wife Hedi née Messer, from their youth in Germany; their immigration; and how they established themselves in the United States and built their family.
Arnold and Werner A. Stein Collection , AR 25821
Catalog Record
The collection combines documents about businessman Werner A. Stein (1925-2017) originally from Berlin with those of his father, publisher Arnold Stein (1890- 1974). It includes photographs, correspondence, and other papers about the family's emigration from Germany; Werner's US army service and his longtime involvement with the German-Jewish newspaper Aufbau; as well as original materials, documenting Arnold's printing business in Berlin. - See some Stein assets in LBI's Art and Object Collection.
[Wilmersdoerffer/Wilmers Family Collection], AR 25888
Catalog Record
The twins John Geoffrey Wilmers (né Hans Max Wilmersdoerffer) and Marianne Gourary were born in Munich in the 1920s and emigrated to England and the United States, respectively. Family trees and other original papers, as well as various biographical materials give insight into the genealogy of their parents, Ernst Wilmersdoerffer (1890-1933) and Marta née Schimmelburg (1892-1930). Published materials pertain – among other topics – to the Swiss silk company Abraham AG, which had evolved from 'Königsberg, Schimmelburg & Cie.', founded in Zurich in 1893.
Eric Kruh collection, AR 25816
Finding aid with links to digital objects
Personal and professional correspondence, official documents, curricula vitae and résumés illustrate the life of the Austrian-American academic Eric (Erich) Kruh, from his early years in Austria; his lives in England, Canada, and New York; to his work as a professor at various universities, mostly at Southampton College, where he taught literature, history, German and French, from 1964 to 1992. – Also included are Professor Kruh's correspondence and documents, related to restitution and pension payments.
Deutsch-Edel family collection, AR 25826
Catalog Record
Family correspondence as well as memoirs by the physician George Deutsch and others are in the center of this collection, documenting the lives of George; his wife Sabine, née Edel; their children Thomas and Elizabeth; and other family members, originally from Vienna, Austria. The papers, together with education and immigration records tell about the plight of "Racial Jews" in Vienna, their escapes to France or England, and their successful acculturation in Ohio. Vignettes on religion, Austria-Hungary, composer Arnold Schoenberg, and other topics help to enrich the picture.
Kern-Martin family collection, AR 25815
Catalog Record
Extensive correspondence, as well as family photographs, education documents, writings and diaries, official documents, obituaries, and other papers make up the Kern-Martin family Collection, documenting the lives and fates of three Temple siblings – Gucka (Therese); Rudi (Rudolph); and Susanne (Susan) – and their children in Vienna; England; the United States; and South Africa, but also in Auschwitz, throughout the 20th century and beyond.
Renate Bridenthal family collection, AR 25810
Finding aid with links to digital objects
The collection focuses on Renate Bridenthal's mother, Irene Rubin née Quittner (1902-1963) in Germany and in the United States, holding her vital records, personal and restitution correspondence, as well as drafts of her spiritual writings. Also present are documents related to Renate's father Elchunon Rubin and to Renate's and her brother Harribald's early lives and emigration.
Ruth Jacobsen collection, AR 25902
Catalog record
The collection contains photographs, manuscripts, correspondence, notebooks, collage books and works of art relating to the artist and author Ruth Jacobsen (1932-2019), a Hidden Child of the Holocaust, born in Frankenburg, Germany; hidden in the Netherlands; living and creating in New York. Much of the collection is dedicated to Jacobsen's attempt to cope with her past and sharing her testimony with others through her art. - See more about Ruth Jacobsen – A life told through art on LBI's website.
Marianne Steinberg Ostrand collection, AR 25745
Finding aid with links to digital objects
The Marianne Steinberg Ostrand Collection documents the education, emigration, and early professional life of the physician Marianne Steinberg Ostrand as well as the lives of members of her family, especially her husband, engineer Arnold Ostrand, and her mother and siblings, with much documentation of the emigration or attempted emigration from Germany of her family members. About half the collection is correspondence. In addition it contains many educational certificates, official documents, diaries, notebooks, notes, and a friendship album, travel memorabilia, and newspaper clippings and articles.
Mühlfelder and Roeckert Families Collection, AR 25844
Catalog Record
Various original documents, correspondence, and photographs illustrate primarily the life and career of Charles Milford, who was born as Klaus Mühlfelder in Berlin in 1927, the son of the physician Simon Mühlfelder and his wife Hedwig née Roeckert. After having to endure the Nazi terrors as a "Mischling of the first degree", Charles Milford completed his studies in Berlin and immigrated to the US in 1950, adding two more MA degrees from American universities. He worked as a librarian for almost 40 years, when he also researched extensively his father's genealogy and the family history of Simon Mühlfelder's first wife Martha Kassel, assembling his notes and letters as well as related published materials. Charles Milford was married to the librarian Patricia Elizabeth Shannon (1921-1989). The Leo Baeck Institute also holds Milford's porcelains, sculptures, and other objects.
Rabbi Henry Joseph Messing collection,  AR 25813
Catalog Record
A collection of original writings, mostly handwritten sermons by Rabbi Henry Joseph Messing (1848-1913), who was born in Poland, but at age 19 immigrated with his two brothers to the United States, where they all three became congregational rabbis. Henry J. Messing spent more than 30 years as Senior Rabbi at the United Hebrew Congregation in St. Louis, Missouri. In 1880, he opened the Hebrew Free and Industrial School Society, the first Jewish community school in the city. Also included are non-liturgical texts, newspaper clippings, and notebooks.
Walter Zvi Bacharach collection, AR 25814
Catalog Record
Personal and professional documents; certificates; correspondence; and published materials allow insight into life and work of the Israeli, German born academic Zvi (Walter Adolf) Bacharach, a professor for antisemitism and Holocaust studies. The collection also touches on his life in Germany and the Netherlands, his harrowing captivity during the Holocaust with his father and brother, and his academic career in Israel.
The Library of the Leo Baeck Institute in New York holds selected writings by Zvi Bacharach.
Herbert and Kaethe Hirsch family collection, AR 25699
Finding aid with links to digital objects
This collection centers on the correspondence of the businessman Herbert Hirsch (1898-1982) in Berlin and London with his immediate family and friends. After Herbert's son, Robin relocated to the United States in 1967, most of the correspondence comes from Robin and his parents, Herbert and Kaethe Hirsch. The letters and other records document Herbert Hirsch's service as an artilleryman for the German army in World War I; his activities with the Jewish rowers' club IVRIA in Germany; travels in the 1930s in Europe and Palestine; and the history of the Hirsch family. In addition, there are newspaper clippings about anti-Semitism and Jewish resistance in the 1930s from the German and English press, collected by Herbert Hirsch. Also included are documents about the work of the theater director and lecturer, Robin Hirsch.
Suzanne Schrag collection, AR 25833
Finding aid with links to digital objects
Much of the collection focuses on the lives of family members of the Schrag and Fuchs families, especially as documented in their extensive family correspondence, education certificates, photographs, family trees, and other papers. – Prominent are also the memoirs and other writings of Paul Schrag and the short stories of his uncle, Nathan Sulzberger, who wrote under his nom de plume, D.R. Enness.
Lila and Leo Marx Collection, AR 25690
Finding aid with links to digital objects
Family correspondence; official, educational, and employment records; as well as restitution correspondence and a detailed biographic typescript document Lila and Leo Marx's lives in Germany; the effects of Nazi persecution; their emigration; and the fates of their family members. - Leo Marx (1918-2001) and Liselotte (Lila) Weil (1915-2008) met in Karlsruhe. He left for New York to join his brother, and shortly after Lila followed. He was a dishwasher, she worked at an assembly line, but they got married and lived in Washington Heights. In 1944, they opened a Refrigeration Sales and Service Company, which only closed in 1976, when Lila and Leo moved to California. - Leo's mother and his older brother managed to escape Nazi Germany in 1940, but Lila's parents and her grandmother perished in the Holocaust.
Flora Morstadt collection,  DM 348
Finding aid with links to digital objects
Flora Morstadt née Andorn, a woman of Jewish descent, was married to Valentin Emil Morstadt, a Gentile. With some outside help, they managed to survive the persecutions in Nazi Germany and the war. The bulk of the collection is made up of wartime correspondence between Flora and her sister, Hilde, who had escaped to the U.S., as well with her parents, who were deported to Theresienstadt in 1942 and perished during the Holocaust. Also included are various family documents and a handwritten recipe book for German cooking.
The past is a foreign country, DM 341
Read it in DigiBaeck
These are memoirs of the British magistrate and reformer of the National Health Service in Bristol, England, Edith Körner née Löwy (1921–2000), recalling her Jewish family in Bohemian Znaim (Znojmo, Czech Republic). When the Nazis occupied Czechoslovakia in 1939, Edith escaped to the United Kingdom, but her family remained behind, with only her brother and few cousins surviving the Holocaust.
The German Judaica collection of Yosef Goldman, AR 25802
Finding aid with links to digital objects
The German Judaica Collection of Rabbi Yosef Goldman (1942-2015) - a scholar of American Jewish history and a leading dealer of rare Jewish and Hebrew books and manuscripts - contains printed Judaica, such as books, decrees, pamphlets, and newspaper clippings, ranging from 1519 to 1934. A large part consists of materials that were originally held in the library of Leopold Zunz, founder of Wissenschaft des Judentums.
Addenda to the John (Hans) and Trude Schiff Collection, AR 25730
Webpage
Photographs by John D. Schiff depicting a wide array of artists' portraits and their works, such as Sidney Alexander; Shusaku Arakawa; Rafaello Busoni; Ludwig Bemelmans; Adolf Dehn; Katherine Dreier; Marcel Duchamp; Marisol Escobar; Richard Vernon Goetz; Theo Hios; Lester Johnson; Daniel-Henry Kahnweiler; Harold Kanowitz; Bella Kaufman; Dikran Kelekian; Sol LeWitt; Louise Nevelson; Lionello Venturi; Abraham Walkowitz; William Carlos Williams; William Zorach; and others. Also included – next to some written documents - are photonegatives depicting art exhibits, artworks, as well as plants and animals.
Louis S. (Ludwig Salomon) Wolf Family Collection, AR 25883
Finding aid with links to digital objects
Encompassing family trees, official and personal documents as well as a broad compilation of photographs pertaining to the genealogical research of the Eckhaus and Wolf families, reaching back to 1803. The collection centers on Louis S. Wolf, his mother Alice, his father Wilhelm (Willi) Wolf and their immediate family members.
Harriet Hermine Spielberg Collection, AR 25880
Catalog Record
The life of Harriet Spielberg (née Schottländer, widowed Schwarz) in Austria and in the US is documented by an array of official documents; certificates; correspondence; passports; photographs; and – last but not least - two handwritten cookbooks featuring Austrian cuisine. There are also reports from her older son, Eric Schwarz.
Joshua O. Haberman Collection, AR 25870
Catalog Record
Correspondence, handwritten notes, notebooks and drafts of later-published works on philosophical research and conference lectures document the professional life and scholarship of Rabbi Joshua O. Haberman (1919-2017), a refugee who escaped Austria after the Nazi Anschluss in 1938. Rabbi Haberman had a distinguished career as both a champion of theological education and a spiritual leader throughout the United States.
Lilo Goldenberg Family collection, AR 25799
Finding aid with links to digital objects
This collection tells the story of Liselotte (Lilo) Thekla Lamm; her parents Leo Lamm and Margarete (Gretel) Lamm née Falk; husbands Norbert Goldenberg, Hans Gerhard Ollendorff, and William (Bill) Thurnauer; their children and grandchildren; and members of their extended families. The families' lives in Germany, immigration to the United States, and professional, political and philanthropic activities are documented through vital documents, photographs, correspondence, writings, articles, and clippings.
Denise Wilde Family collection
Finding aid with links to digital objects |
The original collection, AR 25189 and its addenda, AR 25877 combine vital records; educational documents; correspondence; photographs; restitution papers and family trees of members of the Wilde and Szymanski families, originally from Berlin – particularly of Bertha Wilde (née Slupecki) and of her son, Herbert Wilde (father of Denise). And because Bertha's husband Alfred was a friend of the artist and author Heinrich Zille, many of Zille's books from 1925 to 1927 are held in the Denise Wilde Family Clippings Collection, AR 25189 C.
[On the tracks of Buchenwald-detainee Robert Böhmer], DM 337
Catalog Record | Watch it in DigiBaeck
In this documentary movie from Vienna, Austria, Robert Böhmer's son tells the story of his father's internment in the Nazi concentration camps Dachau and Buchenwald, from May 1938 to April 1939.
Reinheimer family collection, DM 338
Watch it in DigiBaeck
Two very short but treasured snippets of homemade movies from the 1950s, depicting family and religious life in the Washington Heights section of New York City, the refuge and home of German Jewish émigrés since the 1920s.