Donate Historical Materials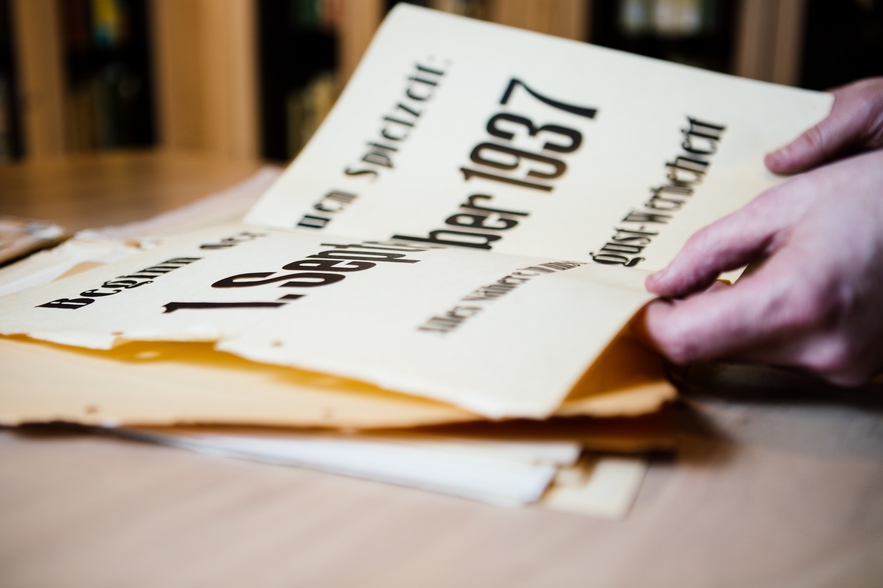 Our collections are at the heart of our mission to preserve the German-Jewish past and to keep that past present for future generations. The majority of the collections were entrusted to LBI by individuals, families, and organizations seeking a safe permanent home for materials they had saved from plunder and destruction in Europe. Even six decades after the founding of LBI, new materials are still being discovered, and we welcome donations of books, archival materials, art, and objects related to German-Jewish history.

Covid-19 Pandemic 2020/2022: Since fall 2021, we have been able again to accept new physical material again since our staff works in the building on selected days. We can always accept collections in digital form (e.g. memoirs). Please reach out to us for advice how to prepare physical collections for future donations. Please monitor our Coronvirus Updates.

In our facilities at the Center for Jewish History in New York, donated materials are physically preserved, processed, cataloged, and digitized according to best practices. Most importantly, they remain accessible to future generations and are situated in the context of German-Jewish history and the global Jewish history represented by our partners at the CJH.
Library Books & Periodicals
The LBI Library welcomes donations of books that fall within the scope of our Library Collection Development Policy. The LBI library focuses on the following major subject categories: historical, philosophical, religious, social, cultural, political, and economic expressions of the German-Jewish tradition. The time frame of the collection extends from the beginning of the German-Jewish settlement to the present. The main languages of the collection are German, and English, with a lesser emphasis on Hebrew. Other languages are added if they fall within the subject scope on a selective level. Translation from German into English or from other languages to either English or German are collected selectively.
Donated books that we already possess or that do not fall within the scope of the collection will be exchanged with other libraries and research institutions or, in last resort, sold to private book dealers. In order to ensure that your donation will become a treasured addition to our collection, send us a list of books you are planning to donate, if possible, before shipping the books themselves.
To discuss donating library books to the Leo Baeck Institute please contact Renate Evers, Director of Collections.
Archival Materials
The LBI Archives collects documents and artifacts of German-speaking Jewish life and culture from throughout the long history of German-speaking Jews in Central Europe and in the diaspora. The Archives seeks not only to collect and preserve materials related to well-known personalities, but accepts material from any and all individuals, families, communities, and businesses of German-Jewish origin. The Archives collects, arranges, describes and preserves this material, and provides researchers and visitors with access to it, especially through comprehensive digitization of archival holdings.
The goal of the Leo Baeck Institute is to continue to expand its existing archival collections. The next few years will be decisive in this regard. The LBI calls upon all German-Jewish immigrants and their descendants to consider donating letters, photographs, correspondence, memoirs, manuscripts, ephemera and other unpublished materials as described in our Archival Donation Guidelines document. The LBI, in turn, will carefully care for and preserve these materials so that they will serve as a research and information resource on German-Jewish history for future generations.
The Leo Baeck Institute Archives seeks not only to collect and preserve materials related to well-known personalities of German-Jewry, but accepts material from any and all individuals, families, communities, and businesses of German-Jewish origin.
If you are interested in donating materials, please contact Dr. Frank Mecklenburg, Director of Research, or Renate Evers, Director of Collections.
Art & Objects
The Leo Baeck Institute Art Collection reflects the multi-faceted legacy of German-speaking Jewry. Paintings, drawings, prints, bookplates and objects document the rich material culture that is part of our heritage.
In addition to organizing several exhibits each year, the LBI is a major lending organization to other museums and galleries in the U.S. and abroad.
Our goal is to present the legacy of Central European Jews in all its facets, including the role of Jews as creators of art, music, fashion, design, architecture, and the crafts.
Donated artwork must be relevant to the Institute's mission, and prospective donors should submit the following information.
Contact information
Artist/maker, title, medium dimension of the work, year of creation
Description of artwork or object
Provenance information
Photo of item to be donated
All donations are permanent, and must be in good (i.e., exhibition-ready) condition. If a donor is willing to contribute financially to the preservation of an item, exceptions might be made.
Donated items become the property of the Leo Baeck Institute, to be displayed, stored, loaned, or, in rare instances, deaccessioned at the discretion of the Institute.
If you would like to donate a work of art to the Leo Baeck Institute, please contact Renate Evers, Director of Collections.