The Blood Libel
New Media and Conspiracy Theories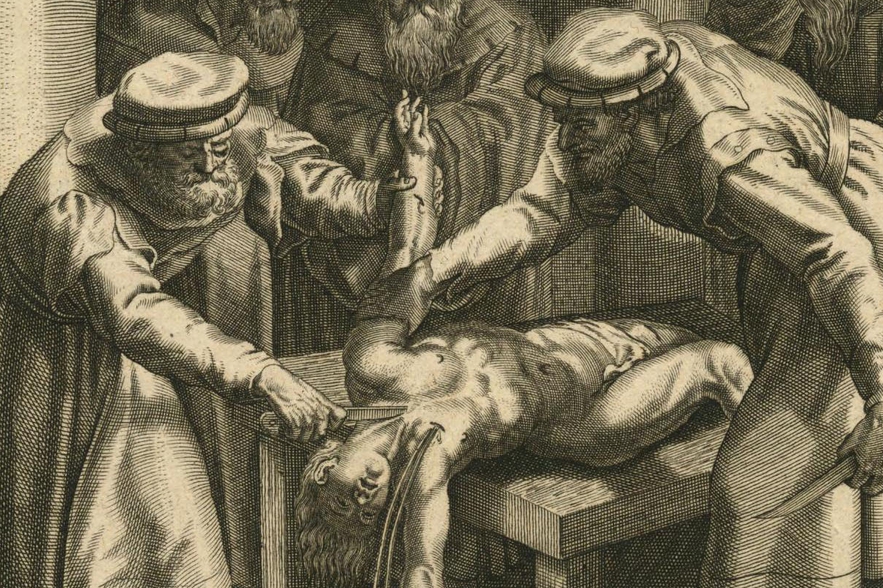 Date/Time

–

Venue

Online (register for link)

Admissions

General: Free
More than six hundred years ago, a conspiracy theory about the murder of children went viral in a brand new medium, and it has circulated in ever-changing forms to the present day, inspiring vigilantism, mob violence, and state persecution.
Magda Teter (Fordham University), whose new history of the "blood libel" tracks its origins and spread, will join fellow historian David N. Myers (UCLA) to discuss the story of Simon of Trent as a case study in how a new medium – print – accelerated the spread of conspiracy theories.
Simon was a toddler whose dead body was found on Easter Sunday in 1475 in a canal under the home of a Jewish family in the city of Trent, then part of the Holy Roman Empire (now Italy). The town's Jews were accused of killing Simon as part of a supposed Jewish ritual that required the blood of a Christian child, and the trial resulted in the destruction of Trent's Jewish community and the creation of a cult with little Simon at its center. As historian Magda Teter notes in her essay on the incident for Leo Baeck Institute's Shared History Project, "The trial had a long-term impact on Jewish history, Catholic history and canon law, and the history of antisemitism. Its reverberations are still felt today."
While this incident was not the first or last trial of Jews accused of killing a Christian child, it took on a life of its own because it happened soon after the advent of the printing press. This allowed for the first time a broad dissemination of stories, inspiring literary and artistic productions that became increasingly detached from reality as they spread.
This history matters more than ever today as mis- and dis-information spread in another new medium destabilize institutions and inspire violence.
About the Panelists
Magda Teter is Shvidler Chair in Judaic Studies and Professor of History at Fordham University. Her work focuses on early modern religious and cultural history, with emphasis on Jewish-Christian relations, the politics of religion, and transmission of culture among Jews and Christians across Europe in the early modern period. She published numerous articles and books in English, Polish, Italian, and Hebrew. Magda Teter was recently appointed the 2020-2021 National Endowment for the Humanities Senior Fellow at the Center for Jewish History, and she will be working on her current research project, The Dissemination and Uses of the Jewish Past: The Role of The Present in The Production and Politics of History.
David N. Myers is the Sady and Ludwig Kahn Professor of Jewish History at UCLA, where he serves as the director of the UCLA Luskin Center for History and Policy. He is the author or editor of fifteen books in the field of Jewish history, including a forthcoming book with Nomi Stolzenberg on the Satmar Hasidic community of Kiryas Joel, New York. Myers serves as President of the New Israel Fund.