Europäischer Merkur (Les Editions du Mercure de L'Europe)
Peter de Mendelssohn and Paul Anton Roubiczek founded Europäischer Merkur in Paris in 1933. They published anti-Nazi literature and pamphlets, including works by Lion Feuchtwanger, Heinrich Mann, and Arnold Zweig. They also published their own writings. Altogether, they published nine books before declaring bankruptcy in 1935.
Both Mendelssohn and Roubiczek arrived in Paris in 1933 and left after their publishing company went bankrupt. Mendelssohn emigrated to London in 1936, as did Roubiczek in 1939, after briefly living in Vienna, Prague, and the Netherlands.
Resources
Fischer, Ernst. Verleger, Buchhändler und Antiquare aus Deutschland und Oesterreich in der Emigration nach 1933. Stuttgart: Verband Deutscher Antiquare, 2011.
Kesten, Hermann, and Franz Schoenberner. Briefwechsel im Exil 1933-1945. Göttingen: Wallstein Verlag, 2008.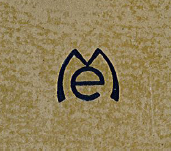 Location: Paris
Period: 1933-1935
Publisher(s): Peter de Mendelssohn (June 1, 1908, Munich - August 10, 1982, Munich); Paul Anton Roubiczek (September 28, 1898, Prague - July 26, 1972, Gmund/Bavaria)
Main Focus: Antifascist literature
Author(s): Lion Feuchtwanger, Grete Fischer, Ernst Glaeser, Albert Grimm, Heinrich Mann, Andre Maurios, Walter Mehring, Peter de Mendelssohn, Alfred Neumann, Rudolf Olden, Paul Anton Roubiczek, Arnold Zweig
Number of Titles Published: 9