Max Tau founded the Neuer Verlag as a subdivision of the Ljus-Verlag in Stockholm in 1944. Tau had editorial independence to publish authors of his choosing. His goal was to publish unknown authors, but his financial situation meant that he was only able to publish established authors like Feuchtwanger, Heinrich Mann and Zweig. The Neuer Verlag was, with Heinemann & Zsolnay in London, the only new German publishing house founded in Europe during World War II. Overlal, the Neuer Verlag published twenty-seven titles.
Tau had first gained publishing experience during his academic studies. From 1928-1936, he was editor-in-chief of the Bruno-Cassirer-Verlag. He immigrated to Norway in December 1938 and fled to Sweden in 1942. He started work as an editor at Ljus-Verlag in 1943.
Resources
Fischer, Ernst. Verleger, Buchhändler und Antiquare aus Deutschland und Österreich in der Emigration nach 1933. Stuttgart: Verband Deutscher Antiquare, 2011.
Krohn, Claus-Dieter. Exilforschung: Ein internationales Jahrbuch. Zürich/ München: K. G. Saur Verlag, 2006.
"Max Tau." Friedenspreis des deutschen Buchhandels. Web. 03 Dec. 2012.
"Max Tau." Wikipedia. Wikimedia Foudnation, Inc. Web. 03 Dec 2012.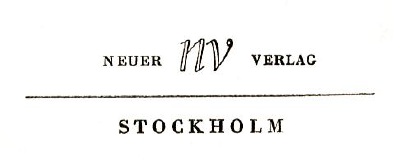 Location: Stockholm
Period: 1944-at least 1950
Publisher(s): Max Tau (January 19, 1897, Beuthen/Upper Silesia (today Bytom/Poland) - March 13, 1976, Oslo)
Main Focus: German exile literature, Russian and Swedish translations
Author(s): Johannes R. Becher, Lion Feuchtwanger, Alexander Granach, Thomas Theodor Heine, Heinrich Mann, Alfred Neumann, Arnold Zweig, Friderike Zweig
Number of Titles Published: 27