Return of the Basket Weavers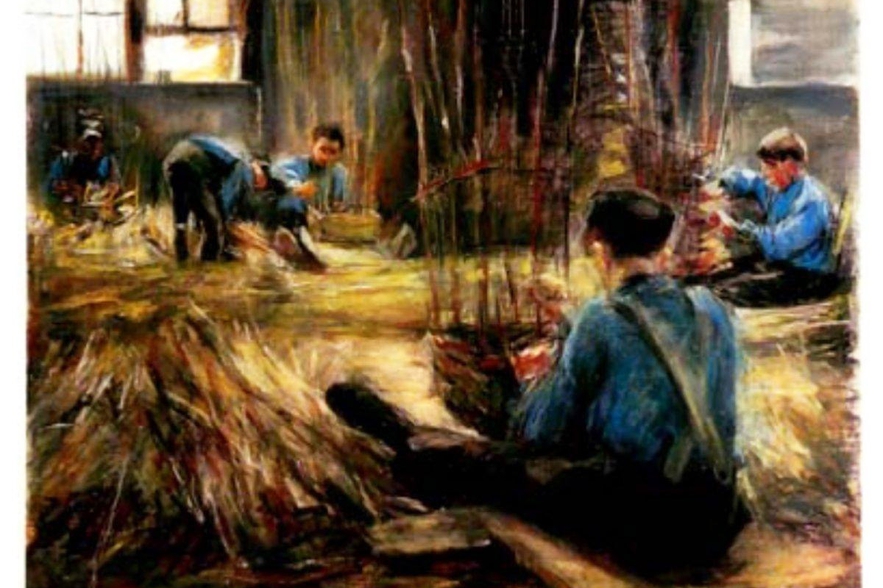 On March 18, 2018, David Toren, a retired New York attorney who was born in 1925 and escaped Germany on a Kindertransport to Sweden in 1939, joined his son Peter for a discussion of how their family recently recovered looted artworks in a unique and ongoing restitution case.
One of the recovered works was on display at the Center for Jewish History after being missing for decades. German Impressionist Max Liebermann's The Basket Weavers was part of the extensive art collection of David Toren's great uncle David Friedmann in Breslau, Silesia, Germany (now Wroclaw, Poland). Liebermann painted this picture around the turn of the century during one of his annual trips with his family to the Netherlands.
The Basket Weavers is one of 306 pieces of art, furniture and antiques that the Nazis took from Friedmann's Breslau villa in 1941. Among more than 50 still missing art works are paintings by Pissarro, Corinth, and Rafaeilli. The Basket Weavers was acquired by Hildebrandt Gurlitt, who despite being a "mischling" (his maternal grandparents were Jewish), became one of the leading art dealers under the Nazis. Upon Gurlitt's death in 1956, his daughter apparently inherited the work. She then sold it at auction in 2000 to an anonymous collector. The Torens sued the auction house in an effort to force it to disclose the name of the buyer. Eventually, they hired a private investigator who identified the buyer, a Holocaust survivor living in Israel, and the buyer agreed to sell the painting back to the Torens at the price paid at auction.
In addition to The Basket Weavers, the Toren family was able to regain ownership of another Liebermann painting, "Two Riders on the Beach", which was one of the thousands of artworks that were discovered in the apartment of Hildebrandt's son, Cornelius Gurlitt in 2013. The German government created a task force to determine the provenance of these works and return them to the rightful owners. The task force claimed in 2014 that is would take one year to complete its job, however to date only five works from Gurlitt have been returned to their owners.