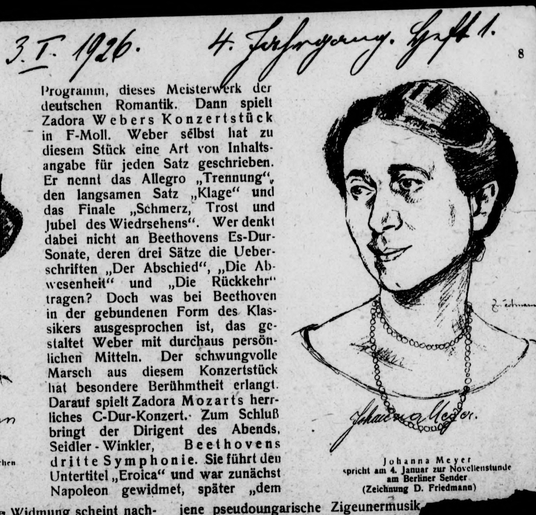 Johanna Meyer: The Radio PrincessJohanna Meyer: The Radio PrincessJohanna Meyer: The Radio PrincessJohanna Meyer: The Radio PrincessJohanna Meyer: The Radio PrincessJohanna Meyer: The Radio PrincessJohanna Meyer: The Radio PrincessJohanna Meyer: The Radio PrincessJohanna Meyer: The Radio PrincessJohanna Meyer: The Radio PrincessJohanna Meyer: The Radio Princess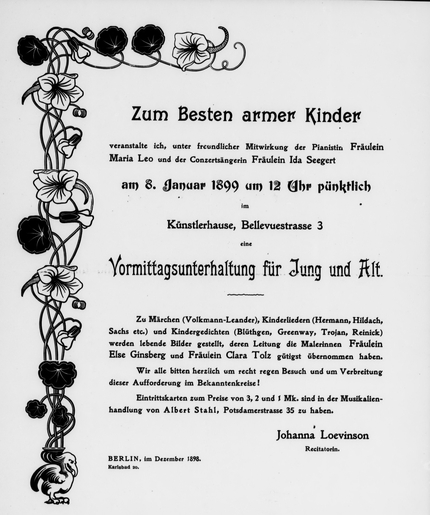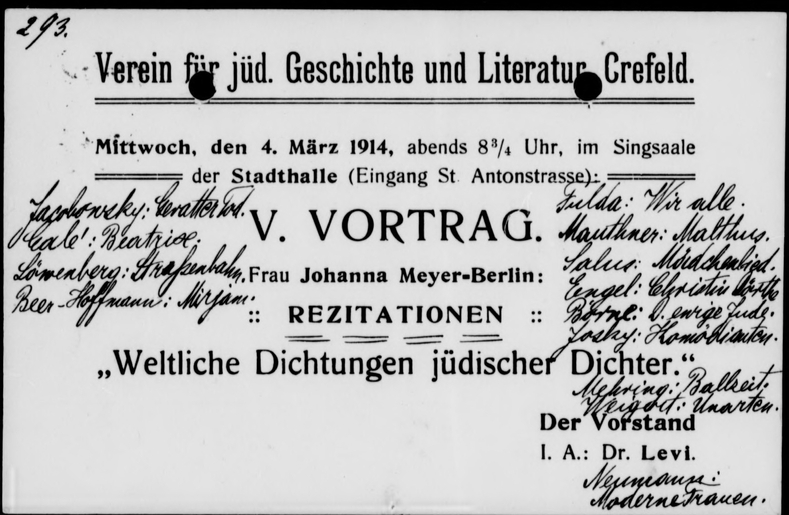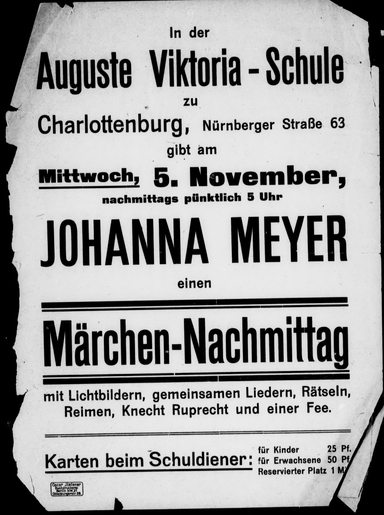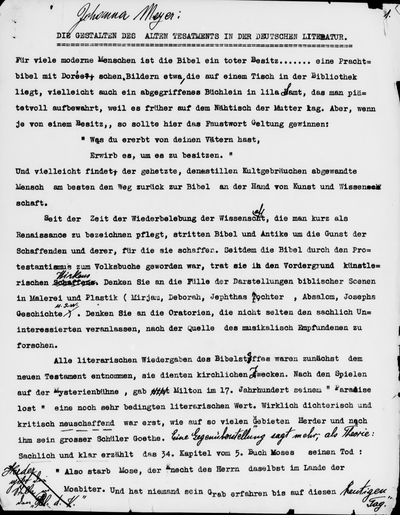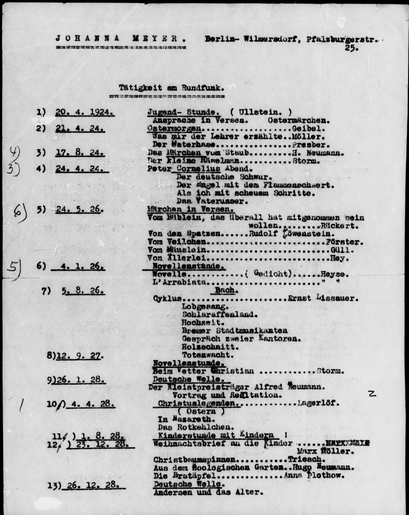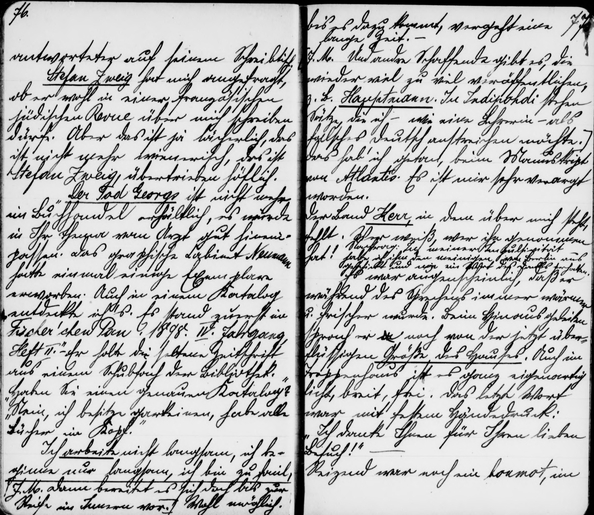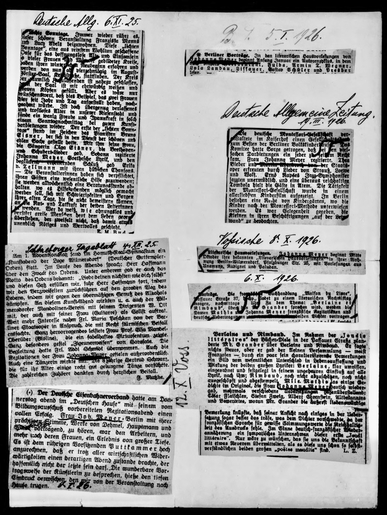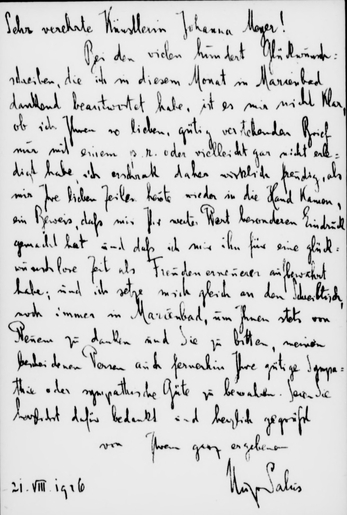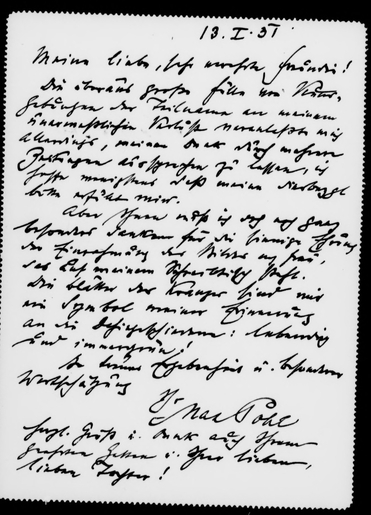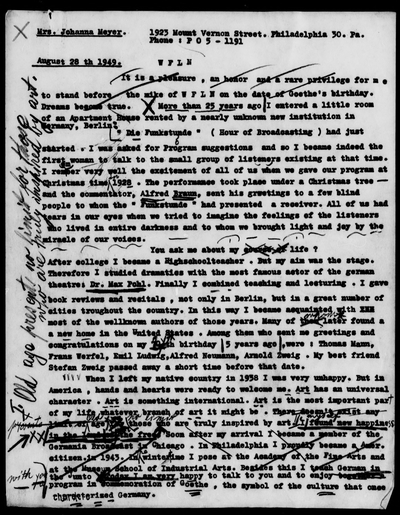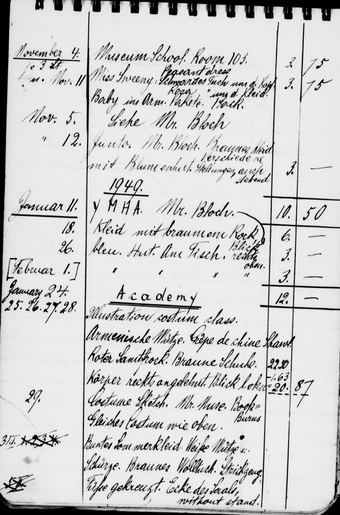 Johanna Meyer was a German-Jewish woman who lived from the end of the nineteenth century through the middle of the twentieth, with a love of literature and acting and a talent for vocal expression. During this era, prior to the development of radio and television, literary readings and recitations were popular entertainment. Following financial difficulties Johanna Meyer used her interests and skills both to support her family and to establish herself as a performer and public speaker, with a career as a reciting artist (Rezitatorin). She later became one of the first women on the radio in Germany and a friend and promoter of German authors and literature.
Johanna was born in Berlin in 1874, the daughter and youngest child of the businessman Siegfried Lövinson and his wife Rosalie. After studying at a teachers' seminary she went to Italy at nineteen to be a governess. Upon her return to Berlin she began taking drama lessons, including studying under the actor Max Pohl. In 1896 she gave her first public performance, a charity event for needy children. In 1901 she married the businessman Eugen Meyer.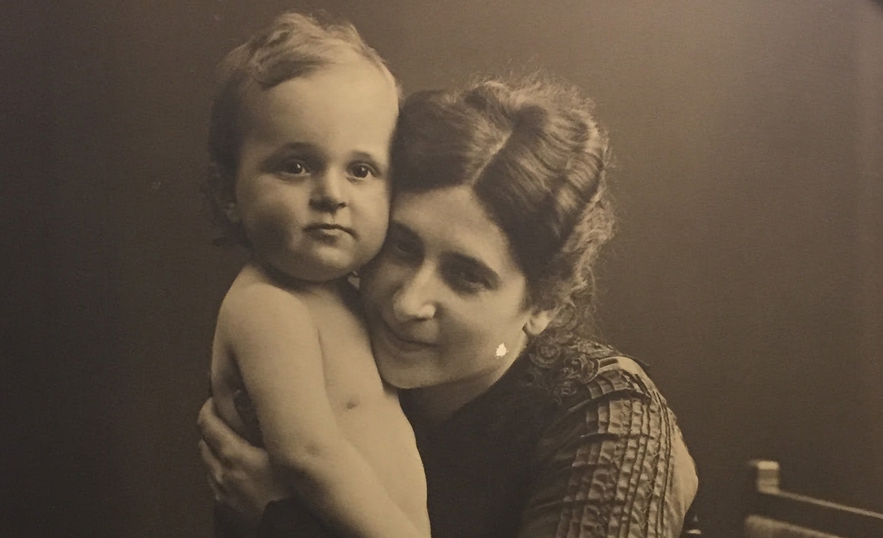 Not long after the birth of their son in 1904 Eugen Meyer's business failed. In order to help support her family, Johanna Meyer first returned to teaching at a nearby school. But she also turned to her literary interests and gave public readings of fairy tales and children's stories at "story hours" in rented halls, including in costumes such as a fairy godmother or grandmother. At other times she would give public recitations of literature, sometimes with music. Such recitations included readings of works of both classical and contemporary German authors. In order to better understand and interpret the works she read and the intents of their creators in their writing, she also corresponded with and developed friendships with authors. Her skill in voice control and projection was especially important in such work, as the microphone was not yet in use. As her public performative career grew she gave recitations for events of many kinds, such as benefits, literary events, social groups, labor unions and Jewish organizations, such as Jewish Sisterhoods and the Jüdischer Frauenbund. She gave recitations not only in Berlin, but as she became more popular, throughout Germany and Austria. In addition to her public performances she also formed reading circles, where she gave consecutive readings and book reviews for small groups, which sometimes also included the presence of contemporary authors, thereby assisting them in their early careers.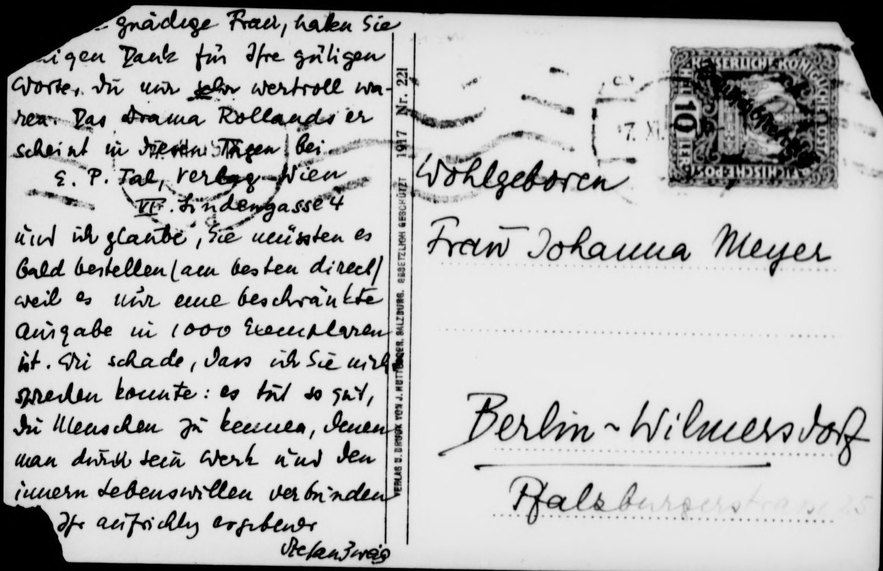 In October 1923 the first radio station in Germany, the Funk-Stunde AG Berlin, had its first broadcast. By 1924 the radio station added literary readings to its initial broadcasts of music, and Johanna Meyer was among its first readers. She read children's stories and literature and lectured on women's issues. The greater audience of the radio allowed her to become even better known, with the result of more public performances and contacts with authors. In 1925 she traveled to Austria, which included a visit with Stefan Zweig, among others.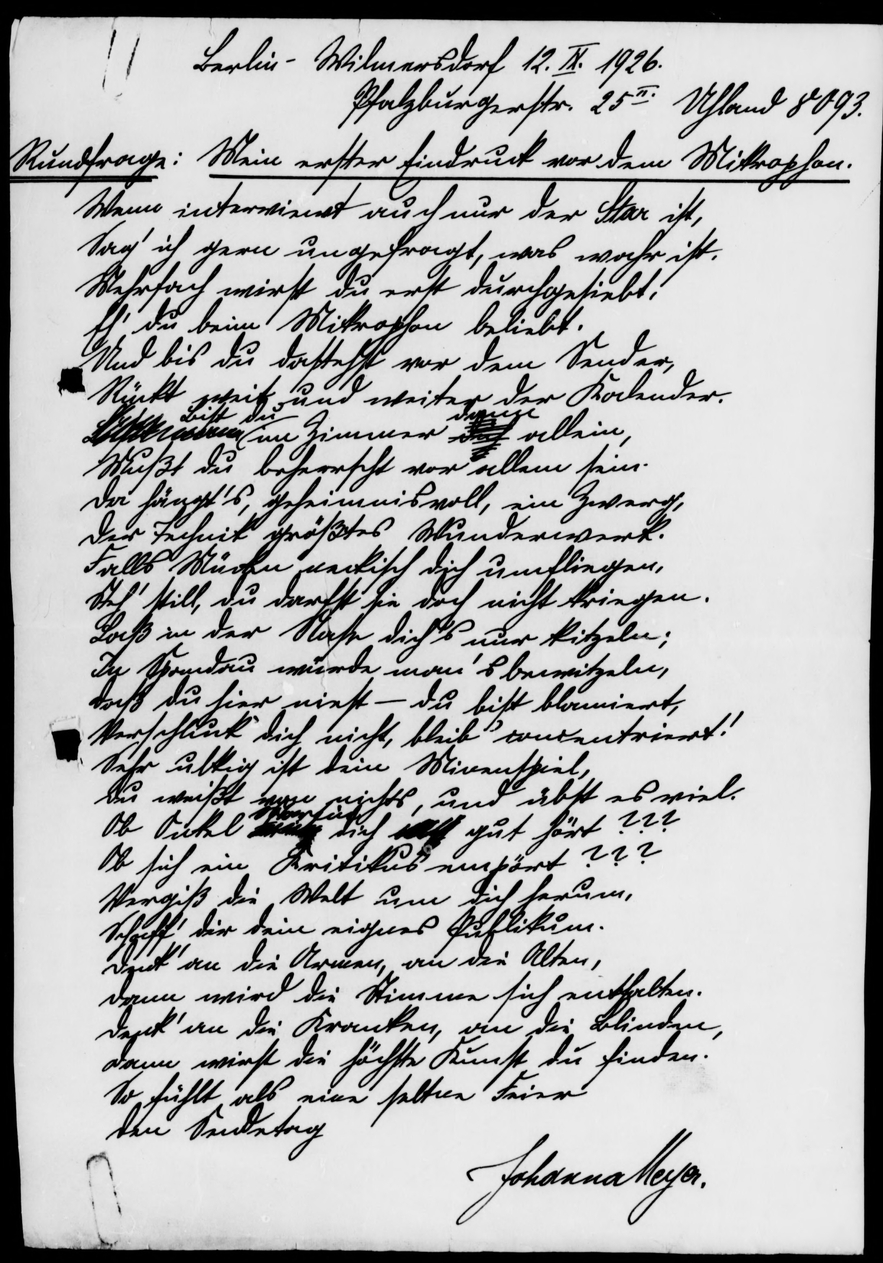 Once the Nazis came to power in Germany in 1933, Johanna Meyer lost her position at the radio station. She continued to perform for the Jüdische Kulturbund until her emigration to the United States in 1938, where she joined her children. In the United States she also appeared on the radio, including on a German-language radio stations in Chicago and Camden, New Jersey and for the Pennsylvania radio station WFLN's commemoration of Johann Wolfgang von Goethe. She also taught German and worked as a costumed model for art students, among many other activities in her later years, continuing to be active until shortly before her death in 1958.
The career of Johanna Meyer is well-documented among the holdings of the Leo Baeck Institute Archives. The Archives include a collection of her personal papers, with documentation of her public performances and preparation for them, writing, personal papers including a diary and memoir, and other papers (Johanna Meyer-Lövinson Collection, AR 299). This collection also holds many papers of her extended family members including her parents, siblings, children, and extended family. In addition, a biography of Johanna Meyer written by her daughter is also included in the LBI Archives Memoir Collection (Velvet and Steel: the Life of Johanna Meyer, ME 271).