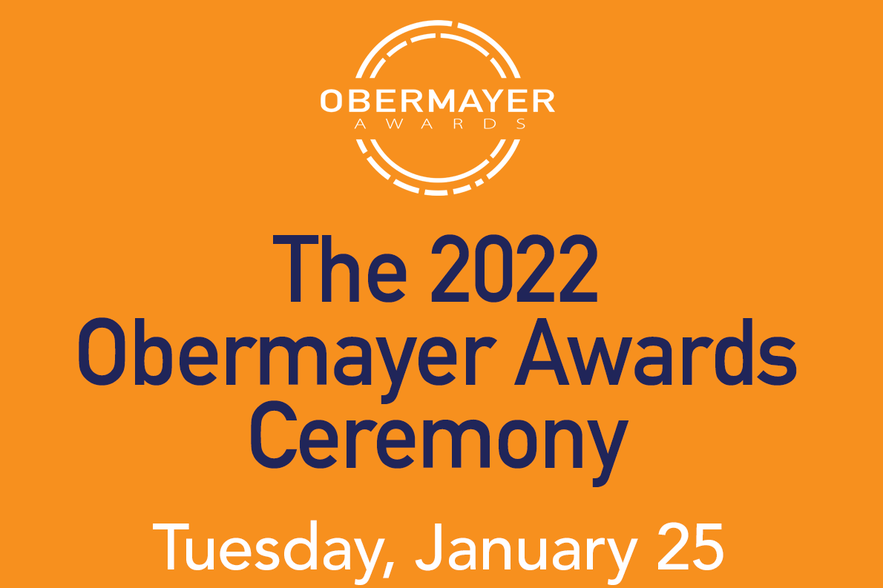 Six winners use the lessons of history to fight prejudice and raise awareness of local Jewish history
Germans who commemorate and raise awareness of local Jewish communities decimated by the Nazis and fight antisemitism and bigotry will receive the 2022 Obermayer Awards. The awards will be presented at a ceremony on January 25, 2022 at the Abgeordnetenhaus, the home of the Berlin Parliament. The annual ceremony is the Parliament's main formal commemoration of International Holocaust Remembrance Day.
This virtual ceremony will be broadcast live over the internet on the web sites of the Abgeordnetenhaus and Widen the Circle at 18:00 CET/12:00 EST on January 25th. It will be re-broadcast (English only) at 8:00 PM EST.
The Obermayer Awards honor German individuals and groups that have illuminated the vital role Jews played in German society for hundreds of years before the Nazi era. They also honor those who use the lessons of history to fight against modern-day prejudice and racism (including anti-Semitism), and who foster the kind of understanding among different groups that prevents prejudice from taking root. 
"These innovative, dedicated Obermayer Award winners set an example not only for Germany, but also for other countries striving to overcome a legacy of violent racism and bigotry," said Joel Obermayer, Executive Director of Widen the Circle, which administers the awards program. "We are particularly happy that so many of this year's awardees are working with young people, because the commitment of a new generation is essential to creating a better future."
Dennis Buchner, the President of the Berlin Parliament, said, "The current Covid pandemic shows how quickly people return to searching for scapegoats to blame for societal problems. Unfortunately, there has also been a massive rise in antisemitic incidents and crimes.  I am glad that, with the Obermayer Awards, we are setting an example of tolerance, understanding and respect.  I congratulate all the awardees on their great historical and cultural contributions."
The 2022 Obermayer Award winners are:
This museum tells the complex history of the "Föhrenwald "in Bavaria. Originally built to house workers at a nearby armaments factory, including forced laborers, Föhrenwald became a temporary home for Jewish Holocaust survivors ("displaced persons"), then a refuge for Germans expelled from nearby countries after World War II. Founded in 2012 despite considerable local opposition, volunteers for the museum's association—which now has 540 members—spent almost 40,000 hours renovating the building and creating innovative exhibitions in the camp's bath house, including video testimonials from many former Föhrenwald residents. Under the direction of Dr. Sybille Krafft, it actively engages young people as leaders and volunteers, and hosts a wide range of performances, workshops and conferences. During the pandemic, its projects included a film in which young Germans interviewed three generations of Föhrenwald residents and descendants in Israel. Read the Badehaus story.
This initiative uses puppets to teach Germans about Jewish culture, traditions and festivals, countering stereotypes and expanding knowledge, especially among people who have never met Jews or are learning about Jewish culture for the first time. Founded by Shlomit Tripp, the daughter of Jewish immigrants from Istanbul, its target audience is mainly children, but the mobile puppet theater shows have also been popular with non-Jewish adults, including immigrants and refugees. They have been staged in a broad range of intercultural and interfaith settings. In addition to the leading puppet, a Jewish boy named Shlomo, the puppets include Ayse, a Muslim girl who is his best friend. Some performances have included Arabic and Turkish. During the pandemic, Bubales produced videos about Jewish topics and began live performances again in late 2021. Read the story of Bubales and Shlomit Tripp.
Since its founding in 1989 after the restoration of the synagogue in Laufersweiler, the Förderkreis has actively commemorated and educated its neighbors, especially young people, about a once-thriving local Jewish community in Rhineland-Palatinate. Mr. Pies, a founding member and now Chairman of the Förderkreis, was instrumental in transforming the synagogue building into a place for lectures, readings, and concerts. In 2014, the "Forst-Mayer Study and Meeting Center for Rural Jewry" was established there, including a library, digital offerings, a youth program, and guided tours, all largely initiated by Mr. Pies and equipped with materials from his research library. Read the story of Christof Pies and Friends of the Laufersweiler Synagogue.
This group focuses on intergenerational work in Döbeln, a town in Saxony where there is significant support for the far right. Despite attacks on its building and violence against staff and participants, it has created a refuge where local visitors, including young people, can develop free from local neo-Nazi influence and work to improve their community. A prejudice prevention program, it creates opportunities for people from very different backgrounds to get to know one another. The activities span from cultural and sports events to educational programs, workshops and educational trips. Its projects include a working group that examines local Jewish history and the Nazi era and connects this history to the current fight against the far right. Read the Treibhaus story.
Ever since he was a schoolteacher in the early 1980s, he has been dedicated to collecting and curating the stories of Jews in small towns in the Rhineland, such as Stommeln and Rommerskirchen. Eventually he became one of Germany's most prolific authors on local Jewish history and has published extensively, including a book on the Jews of Stommeln that was transformed into a widely seen video. He often acts as the guide to Jewish descendants when they visit the region. He also helped to initiate and served as an advisor to a Holocaust memorial in the town of Brauweiler and the restoration of a synagogue in Stommeln, which was transformed into an art center. Read the Josef Wisskirchen story.
This project uses local history to promote democracy and human rights in Mecklenburg-Western Pomerania. It organizes activities and produces school curricula that focus on Jewish history and the history of other persecuted groups in the region. One program raises awareness of the Neubrandenburg concentration camp, a subcamp of Ravensbrück. Zeitlupe strives to create history programs that are directly relevant to the life experiences of participating young people and adults. For example, last spring the organization ran a week-long workshop with apprentices in nursing and other health professions. It focused on medical experiments carried out at Ravensbrück as well as resistance to these experiments. Read the Zeitlupe story.
The Obermayer Awards were founded in 2000 by Dr. Arthur S. Obermayer (1931-2016), an American entrepreneur, activist, and philanthropist, and his wife, Dr. Judith Obermayer. The Awards are administered by Widen the Circle, with sponsorship and organization of the ceremony in Berlin by the Berlin Parliament. They are also cosponsored by the Leo Baeck Institute (New York). For information about the Awards and profiles of awardees from past years, go to Widen the Circle or WidenTheCircle.org/obermayer-awards.
Text taken from the Obermayer Awards website.