Burning Words – A History Play by Peter Wortsman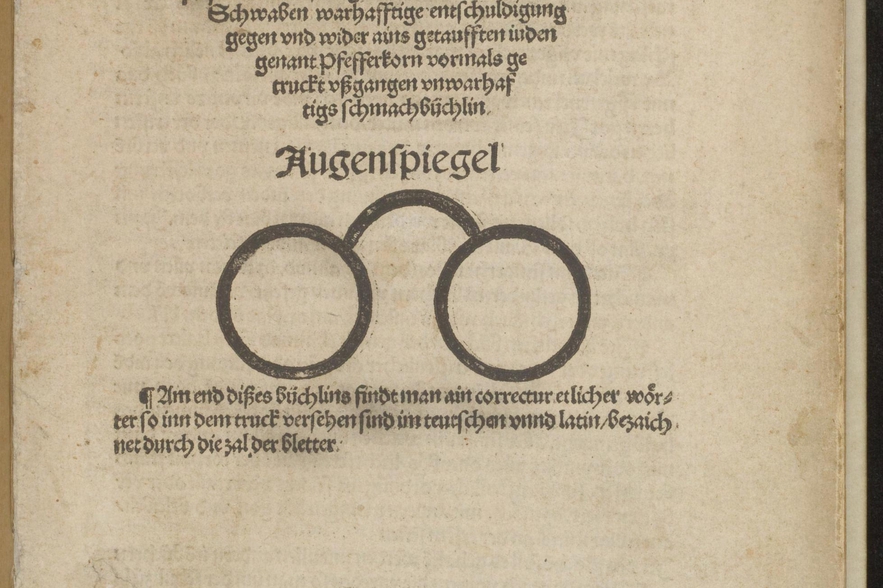 In the early 16th century, one of the first public controversies carried out on the relatively new medium of the printed page concerned whether the people of the book should be allowed any of their books at all. In a series of increasingly vitriolic pamphlets, Johannes Pfefferkorn, a Jewish butcher who had converted to Christianity, argued that Jewish religious texts were hostile to Christianity and should be confiscated and destroyed. Though he nearly convinced the Holy Roman Emperor of his case, his libelous writings also elicited a response from the Christian scholar Johannes Reuchlin that was a remarkably effective and eloquent defense of tolerance and a landmark statement of the values of Renaissance Humanism. In his Augenspiegel (1511) Reuchlin, among the only Christians who could read Hebrew at the time, argued that not only should Jewish texts be tolerated as a matter of fairness, reason, and due process, but also that they should be actively studied as fundamental to the origins of Christianity.
Burning Words is a dramatization of the head-on collision between the humanist scholar Reuchlin and Pfefferkorn, a willing tool of the Dominican Order in their campaign against the Jews. Reuchlin accuses Pfefferkorn of betraying his people. Pfefferkorn accuses Reuchlin of selling his soul for a fistful of silver shekels. While it is a history play, Burning Words has a clear resonance with contemporary issues of a changing media landscape, censorship, fundamentalism, and tolerance.
This performance and dialogue directed by Max Shulman will feature actors reading selected scenes from the play along with scholarly and artistic commentary from Magda Teter (Fordham) and the author, plus a multimedia element featuring the books, artworks, and music of the period. In the David Berg Rare Book Room at the Center for Jewish History, an companion exhibit that takes its name from the play will feature extremely rare volumes from the LBI Library by Pfefferkorn, Reuchlin, and others.
Peter Wortsman (Playwright) is the author of work in multiple modes, including fiction, drama, travel writing, and translation. His first play "The Tattooed Man Tells All" was a finalist in the Dorothy Silver Playwriting Competition, JCC Halle Theatre, Cleveland, OH, in 2000. His travel memoir Ghost Dance in Berlin won a 2014 Independent Publishers Book Award (IPPY). A former fellow of the Fulbright and Thomas J. Watson Foundations, he was a Holtzbrinck Fellow at the American Academy in Berlin in 2010. Burning Words was inspired by Wortsman's translation of Reuchlin's defense of Hebrew books, Recommendation Whether to Confiscate, Destroy and Burn All Jewish Books, published by Paulist Press, in 2000. The play was first produced by the Hampshire Shakespeare Company at the Northampton Center for the Arts, in Northampton, Mass. in 2006, and thereafter, in German translation, at the Kulturhaus Osterfeld, in Pforzheim, Germany, in 2014.
Magda Teter (Commentator) is a scholar of early modern religious and cultural history and Professor of History at Fordham University, where she also holds the Shvidler Chair in Judaic Studies. Her research interests include Jewish-Christian relations, the politics of religion, and transmission of culture among Jews and Christians across Europe in the early modern period. She is the author of Jews and Heretics in Catholic Poland (Cambridge University Press, 2006) and Sinners on Trial (Harvard University Press, 2011).
Max Shulman (Director) is a doctoral candidate in theatre history at Tufts University. This is his fourth project at the Center for Jewish History, prior projects include Kurt Hirschfeld: The Artists in Letters and Jews and the Great War: A Reflection at the Centennial. Other recent directing work includes a remounting William Wells Brown's 1858 abolitionist melodrama The Escape; Or, a Leap to Freedom. His scholarship can be found in Theatre Topics, The Drama Review, Studies in American Jewish Literature, Modern Drama and the collection Working in the Wings.
Made possible by support from the Adler Family Foundation.