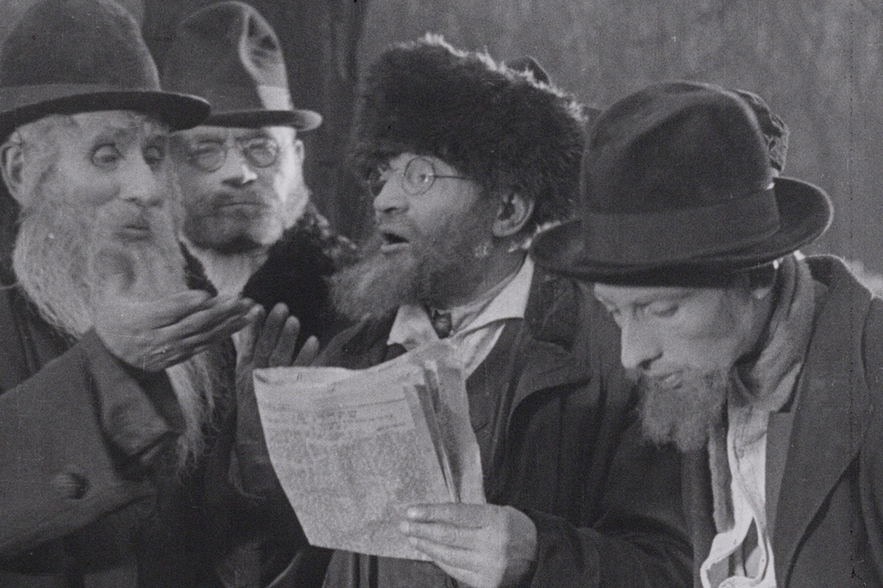 Date/Time

–

Venue

Forchheimer Auditorium (map)
Center for Jewish History
15 West 16th St.
New York, NY 10011

Admissions

LBI/CJH/Partner Members, Students, Seniors: $5
General: $10

Cosponsors
Jews are hounded by mobs and driven from Vienna in this 1924 expressionist film based on the satirical novel by Hugo Bettauer. The sensational film that anticipated the Holocaust and cost Bettauer his life was rediscovered in 2015. With commentary by film scholar Noah Isenberg (UT Austin) and a live score.
Recently restored and featuring a new soundtrack, The City Without Jews is one of few surviving Austrian Expressionist films, and the magnum opus of the great director H.K. Breslauer. Filmed in 1924, it can be seen as a chilling premonition of the Holocaust—the premise is the political rise of the Christian Social Party, which orders all Jews to evacuate Austria. In the ensuing months, the sober reality of a society without Jews sets in, as cultural institutions close and cafes are replaced with beer halls. Eventually, the economy declines and unemployment runs rampant. Based on the dystopian book by Hugo Bettauer and intended originally as political satire, it became the subject of controversy and censorship, especially in conjunction with the rise of Nazism.
Donald Sosin is one of the world's leading silent film composers. A former Manhattan resident, he grew up in Rye, NY and Munich and holds degrees in composition from the University of Michigan and Columbia. He has played for silent films at MoMA for many years, and at Lincoln Center, BAM, the Whitney and Guggenheim Museums, the National Gallery, Yale, Harvard, and major film festivals across the globe from Telluride and Seattle to Bologna and Pordenone, Moscow, Shanghai and Vienna. His dozens of film scores are on DVD or BluRay on the Criterion, Kino, Milestone, Flicker Alley, Lobster Film, Deutsche Kinemathek labels and his scores are heard frequently on TCM. With his wife, singer Joanna Seaton, he writes for film and theater and teaches workshops in silent film accompaniment for all levels of expertise.
He has played his scores for Jewish-themed silent films at the New York, Cleveland, Atlanta, Toronto, San Diego and Washington Jewish Film Festivals. His one-act opera for families, Esther, was performed at the National Yiddish Book Center in Amherst, Mass. Other Jewish music includes a children's opera, A Parakeet Named Dreidel, Yiddish folk song arrangements, and Three Psalms, premiered in 2009 by the Jerusalem Symphony Orchestra. Donald is currently touring with the great klezmer violinist Alicia Svigals, performing their collaborative score for Dupont's The Ancient Law. Commissions include Filmarchiv Austria, MoMA, Deutsche Kinemathek, San Francisco Chamber Orchestra, the Chicago Symphony Chorus and the Colorado Children's Chorus. He created piano improvisations for Alexander Payne's Downsizing and has written for network television and radio. Mr. Sosin and his family live in northwest Connecticut. Website: oldmoviemusic.com