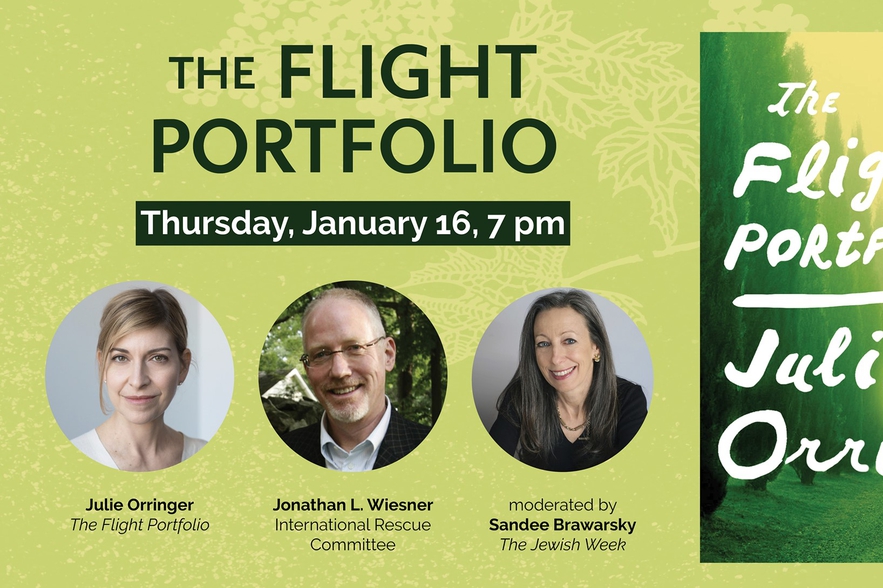 Date/Time

–

Venue

Center for Jewish History (map)
15 W. 16th St.
New York, NY 10011

Admissions

LBI/CJH/Partner Members, Students, Seniors: $10–$12
General: $15–$18

Cosponsors
In 1940, Varian Fry, a Harvard-educated American journalist, traveled to occupied France carrying a little money and a short list of imperiled artists and writers, many of whom were Jewish. Determined to save prominent refugees and their work, Fry spent 13 months procuring false documents, amassing emergency funds, and setting up escape routes for luminaries like Hannah Arendt,  Max Ernst, and Marc Chagall. Inspired by Fry's extraordinary story, bestselling author Julie Orringer (The Invisible Bridge) weaves together fact and fiction in her suspenseful new novel, The Flight Portfolio, and poses a difficult and enduring question: how do we weigh human lives? Orringer speaks with Jewish Week's Sandee Brawarsky and Jonathan Wiesner of the International Rescue Committee.
About the Speakers:
Julie Orringer is the author of the novel The Invisible Bridge and the award-winning short story collection How to Breathe Underwater, which was a New York Times Notable Book. She is the winner of The Paris Review's Plimpton Prize for Fiction and the recipient of fellowships from the National Endowment for the Arts, Stanford University, and the Dorothy and Lewis B. Cullman Center for Scholars and Writers at the New York Public Library. She lives in Brooklyn.
Sandee Brawarsky, an award-winning journalist and editor, is the culture editor of The Jewish Week and writes primarily about books, theatre, art and museums, television, special events, and personalities from all walks of life. She also curates and moderates literary events around New York City. The author of several books, most recently 212 Views of Central Park: Experiencing New York's Jewel from Every Angle (with photographer Mick Hales), her essays and articles have appeared in The New York Times, Los Angeles Times, The Lancet, Hadassah, the Jerusalem Post, and other publications. She is the co-editor of Two Jews, Three Opinions: A Collection of Twentieth Century American Jewish Quotations (with Deborah Mark). For The New York Times, she has written about the neighborhoods of New York City, ethnic festivals and events, historic sites and walking in the city at all hours, and about weddings in the "Vows" column. She lives in Teaneck, New Jersey with her husband, Barry Lichtenberg and their three children.
Jonathan Weisner has served in a leadership capacity on several environmental and humanitarian NFP/NGO boards over the past 22 year and is currently Chair of the NY Advisory Board of the Trust for Public Land (TPL). He has been on the Board of the International Rescue Committee (IRC) since 1995 where he was Co-Chair of the Board and is now Chairman Emeritus. As a Board member, he has visited many of the programs and comments that he is in awe of the refugees that IRC serves because of their courage and optimism.  "Despite being driven from their homes, refugees want nothing more than the chance to rebuild their lives."  As a CEO and owner of a privately held apparel company, he has created a "mission" to adopt sustainable practices and achieved B Corp certification.