German-Jewish History after 1945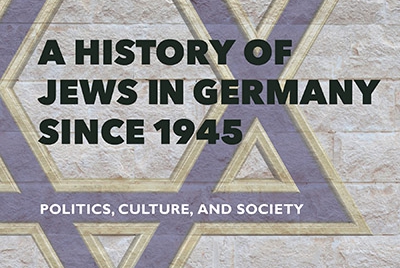 Historian Michael Brenner (American/University of Munich) will discuss contemporary Jewish life in Germany on the occasion of the English-language publication of A History of Jews in Germany since 1945 (Indiana University Press, 2017). Brenner, the volume's editor, will join historian Atina Grossmann (Cooper Union), who contributed a chapter of the book focused on the period 1945–1949.
Originally published in German in 2012, this comprehensive history of Jewish life in postwar Germany provides a systematic account of Jews and Judaism from the Holocaust to the early 21st century by leading experts of modern German-Jewish history. Beginning in the immediate postwar period with a large concentration of Eastern European Holocaust survivors stranded in Germany, the book follows Jews during the relative quiet period of the fifties and early sixties during which the foundations of new Jewish life were laid.
Brenner's volume goes on to address the rise of anti-Israel sentiments after the Six-Day War as well as the beginnings of a critical confrontation with Germany's Nazi past in the late sixties and early seventies, noting the relatively small numbers of Jews living in Germany up to the 1990s. The contributors argue that these Jews were a powerful symbolic presence in German society and sent a meaningful signal to the rest of the world that Jewish life was possible again in Germany after the Holocaust.
This landmark history presents a comprehensive account of reconstruction of a multifaceted Jewish life in a country that carries the legacy of being at the epicenter of the Holocaust.