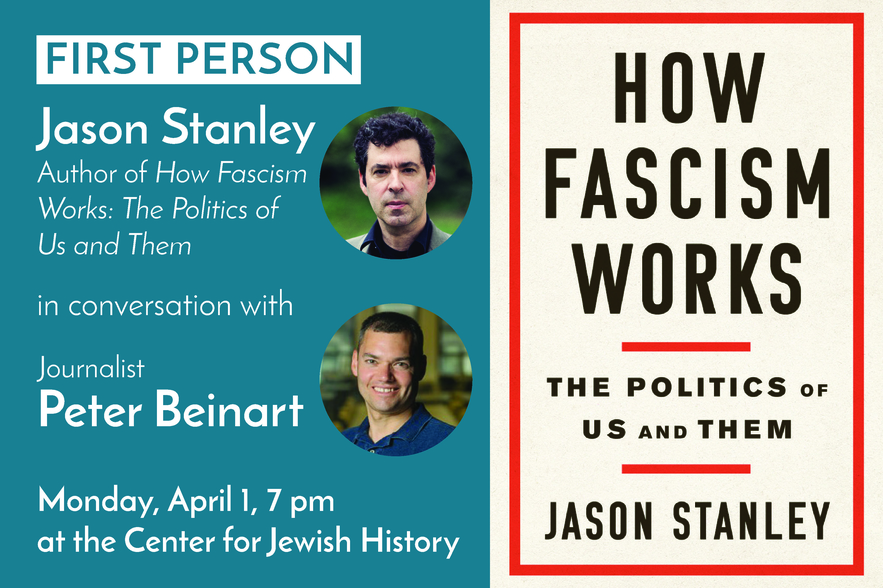 Date/Time

–

Venue

Forchheimer Auditorium (map)
Center for Jewish History
15 West 16th St.
New York, NY 10011

Admissions

LBI/CJH/Partner Members, Students, Seniors: $15
General: $15

Cosponsors
As a professor of philosophy at Yale, a scholar of propaganda, and the child of World War II Jewish Refugees, Jason Stanley understands how democratic societies can be vulnerable to fascism. Alarmed by the pervasive rise of fascist tactics both at home and around the globe, Stanley set out to analyze the language and beliefs that separate people into an "us" and a "them." In his new book, How Fascism Works, The Politics of Us and Them, Stanley knits together reflections on history, philosophy, sociology, and critical race theory with stories from contemporary Hungary, Poland, India, Myanmar, and the United States, among other nations. In a fascinating First Person conversation, Stanley speaks with journalist Peter Beinart about the ten pillars of fascist politics, the recurring patterns he sees, and how his own family history influences his world view today.
A reception, book sale and signing follow the program.
About the Speakers:
Jason Stanley is the Jacob Urowsky Professor of Philosophy at Yale University. He is the author of five books, including How Propaganda Works (Princeton, 2015), winner of the 2016 Prose Award in Philosophy from the Association of American Publishers, and How Fascism Works: The Politics of Us and Them (Random House, 2018), called by historian Jan T. Gross a "must-read for all of us who take seriously our responsibility as citizens." Stanley serves on the board of the Prison Policy Initiative, and writes frequently about propaganda, free speech, mass incarceration, democracy, and authoritarianism for The New York Times, The Washington Post, Boston Review, The Chronicle of Higher Education, and Project Syndicate.  http://www.jason-stanley.com/; @jasonintrator.
Peter Beinart is Professor of Journalism and Political Science at the City University of New York. He is currently a Contributor to The Atlantic, a Senior Columnist at the Forward, a CNN Political Commentator and a Non-Resident Fellow at the Foundation for Middle East Peace. Beinart has appeared on numerous television programs including Meet the Press and The Colbert Report and has written for The New York Times, The Wall Street Journal, the Financial Times, The Boston Globe, and Newsweek among other periodicals . Named Columnist of the Year by The Week Magazine in 2005, he is also author of three books: The Good Fight (HarperCollins, 2006); The Icarus Syndrome (HarperCollins, 2010); and The Crisis of Zionism, (Times Books, 2012). Editor of The New Republic from 1999-2006, Beinart graduated from Yale University and was a Rhodes Scholar.