Perspectives on Jewish Life in Germany Today
Panel Discussion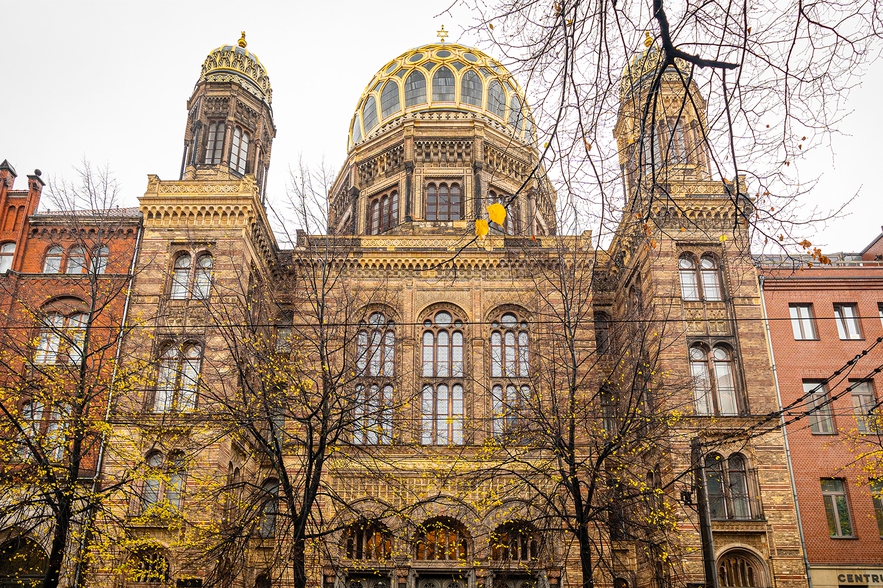 Date/Time

–

Venue

Online (register for link)

Admissions

General: Free
In December 1945, when asked by the German-Jewish emigre journal Aufbau in New York whether he thought there was any future for Jews in Germany, Leo Baeck answered unequivocally: "No! The history of German-speaking Jewry is definitively at its end. There is no turning back the clock."
There was no stopping the clock either. The 15,000 or so Jews who had survived in hiding or in "mixed" marriages were joined by approximately 250,000 Jewish "Displaced Persons" from Eastern Europe seeking the safety of the American Occupation Zone. The vast majority prepared for emigration to Palestine or other countries outside Europe, but some remained to build lives in Germany, and the history of Jewish life in Germany continued.
Throughout 2021, the Shared History Project has traced the intertwined histories of German-speaking Jews and their neighbors across nearly two millennia full of transformations, surprises, and ruptures – none greater than the cataclysm that led Leo Baeck to declare the end of his people's history. The postwar period has also seen dramatic transformations in Jewish life, however, most notably the influx of at least 200,000 people with Jewish backgrounds from the former Soviet Union after 1990.
Since then, the presence of a significant and growing Jewish population, new synagogues and rabbinical seminaries, and a burgeoning Jewish cultural sphere seemed to suggest that the "new" Germany had finally overcome its past. But how are Jewish people defining their own place within German society, within a Jewish sphere that is much more diverse than the rest of Germany recognizes, and within German and Jewish history and memory? In recent years, a vital and sometimes contentious discussion within and around the Jewish community in Germany has addressed questions about Jewish identity and belonging, the relationship between Jews and other minorities in Germany – especially the significantly larger Muslim population – and the uses and abuses of Jewish history in Germany's public sphere.
Our panelists, historians Atina Grossmann (Cooper Union) and Darja Klingenberg (Viadrina University Frankfurt an der Oder) and the poet, theater-maker, and essayist Max Czollek will discuss the terms of these debates and how they emerged from the complex and fractured history of Germany's post-war Jewish community.
About the Panelists
Atina Grossmann is Professor of Modern European and German History, and Women's and Gender Studies at The Cooper Union, New York. Her numerous publications include Jews, Germans, and Allies: Close Encounters in Occupied Germany (2007, German 2012), Wege in der Fremde: Deutsch-jüdische Begegnungsgeschichte zwischen New York, Berlin und Teheran (2012), and Reforming Sex: The German Movement for Birth Control and Abortion Reform 1920–1950. She is a member of the Academic Advisory Board of the Leo Baeck Institute – New York | Berlin and the co-author (with Tamar Lewinsky) of the section on the period 1945–1949 in A History of Jews in Germany since 1945 (Michael Brenner, ed.), a companion to the LBI's four-volume German-Jewish History in Modern Times.
Max Czollek lives in Berlin, where he was born in 1987. After studying political science at the Technical University (TU) of Berlin, he earned a doctorate at the TU's Center for Research on Antisemitism. Since 2009 he has been a member of the poetry collective G13, which publishes books and organizes lectures. Together with Sasha Marianna Salzmann he was initiator of "Desintegration. Ein Kongress zeitgenössischer jüdischer Positionen" (2016) and "Radikale Jüdische Kulturtage" (2017) at Maxim Gorki Theater Berlin, Studio Я. Since 2021 he has been curating the Coalition for a Pluralistic Public Discourse (CPPD) on memory culture in the pluralizing European societies. His lyric books Druckkammern (2012), Jubeljahre (2015) and Grenzwerte (2019) were published at Verlagshaus Berlin. In 2018 his non-fiction book Desintegriert Euch! was published at Carl Hanser, followed by Gegenwartsbewältigung in 2020.
Darja Klingenberg is a Research Associate at the Faculty of Social and Cultural Sciences at the European Viadrina University in Frankfurt an der Oder. Her research interests include migration and mobility, the Russian-speaking diaspora, feminist theory, and the sociologies of food and humor. She earned her PhD in social sciences at the Goethe University in Frankfurt with a dissertation on the sociology of middle-class Russian-speaking immigrants in Germany, which is also the topic of her forthcoming book Wohnen nach der Migration. Materialismus, Hoffnung und Melancholie migrantischer Mittelschichten.