From Swastika to Jim Crow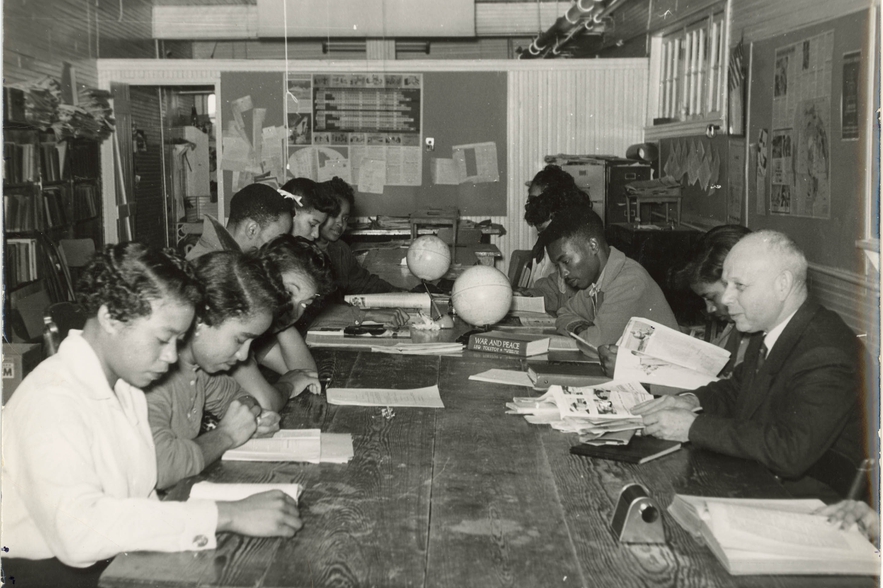 Date/Time

–

Venue

Forchheimer Auditorium (map)
Center for Jewish History
15 West 16th St.
New York, NY 10011

Admissions

LBI/CJH/Partner Members, Students, Seniors: $5
General: $10 ($7 for seniors)

Cosponsors
The recent uptick in antisemitic, anti-immigrant, and racist rhetoric have created a burst of new interest in the acclaimed documentary, From Swastika to Jim Crow. Based on the book by Gabrielle Simon Edgcomb, the film tells the little-known story of two very different cultures, sharing a common burden of oppression. In the 1930s, German universities were some of the first targets of Nazi activity. Jewish professors and intellectuals who were able to immigrate to the United States faced an uncertain future. Confronted with antisemitism at American universities and a public distrust of foreigners, a surprising number sought refuge in a most unlikely place – the traditionally black colleges in the then- segregated South. Securing teaching positions, these scholars came to form lasting relationships with their students, and went on to significantly impact the communities in which they lived and worked.
Nineteen years after the film was originally released, the filmmakers, Steven Fischler and Joel Sucher, feel its message—that more binds us together than separates us—must be heard. They passionately believe that as long as racism and inequality exist in our society, there will be a compelling need to bring From Swastika to Jim Crow to a wider audience. One-hour screening followed by Q&A with the filmmakers and Charles Chavis (George Mason University).
Panelists
Steven Fischler and Joel Sucher founded Pacific Street Films in 1971, and they have produced and directed documentary films for venues as diverse as the United Nations, the BBC and commercial and public television in the United States. These include portraits of Hollywood artists like Martin Scorsese, Oliver Stone and Jessica Lange, as well as investigations of police surveillance and misconduct. They are the recipients of numerous awards, including a Guggenheim Fellowship in Film, Emmy Awards, Cine Golden Eagles, and the John Grierson Award for Social Documentaries. Both the Museum of Modern Art and the Harvard Film Archives have honored Pacific Street Films with career retrospective programs.
Steven Fischler was the director of the 2007 PBS-broadcast documentary, "Beyond Wiseguys: Italian Americans & The Movies" and the producer of "Dressing America: Tales From The Garment Center," broadcast in 2014. Fischler wrote and directed the documentary, "Five Finger Discount: A Crooked Family History," which had its broadcast premiere on Thirteen/WNET in March of 2017.
In addition to his work with Pacific Street Films, Joel Sucher has written and blogged for a number of platforms including American Banker, In These Times, Huffington Post, Observer. com and medium.com/@joelsucher
Charles L. Chavis, Jr. is Assistant Professor of Conflict Analysis and Resolution and History and Director of the Program for History, Justice and Racial Reconciliation, at the School for Conflict Analysis and Resolution at George Mason University. Before joining the S-CAR, he served as the Museum Coordinator for the Lillie Carroll Jackson Civil Rights Museum in Baltimore, Maryland. Dr. Chavis's work focuses on the history of racial violence and civil rights activism and Black and Jewish relations in the American South. His areas of specialization include Civil Rights oral history, historical consciousness, and racial violence and reconciliation. He has received numerous grants, awards and fellowships and is the author of the upcoming book, "'Maryland, My Maryland': The Lynching of Matthew Williams and the Politics of Racism in the Free State" and editor of For the Sake of Peace: Africana Perspectives on Racism, Justice, and Peace in America (Rowman & Littlefield, 2019).
Brian Jones, moderator, is the Associate Director of Education at the Schomburg Center for Research in Black Culture. He recently completed a PhD in Urban Education at the City University of New York Graduate Center and is currently working on a book about the 1960s student uprising at Tuskegee Institute.
LBI, the Center for Jewish History, and the American Jewish Historical Society are grateful to the Schomburg Center for Research in Black Culture for its support as a promotional partner for this program.