"Under Strange Skies" and "Judenrein" with Daniel Blaufuks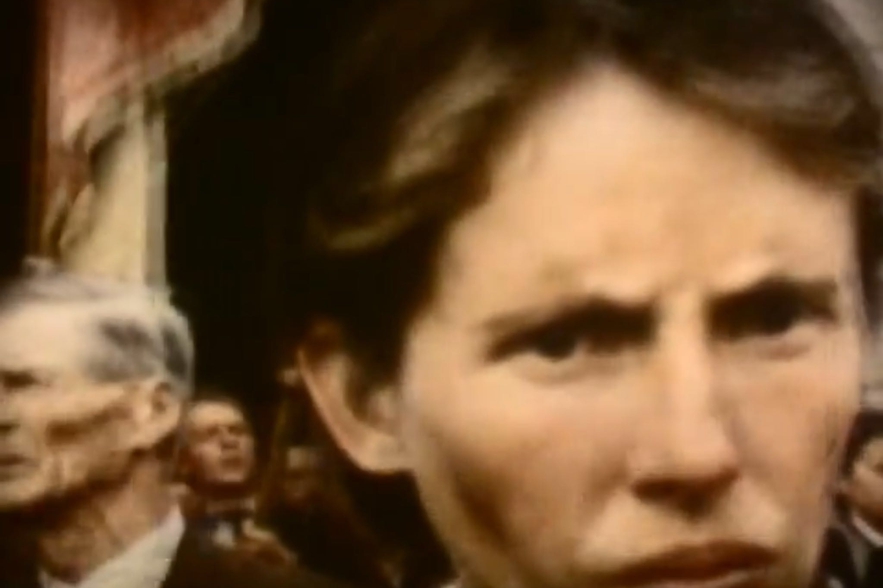 Date/Time

–

Venue

Deutsches Haus at NYU (map)
42 Washington Mews
New York, NY 10003

Admissions

LBI/CJH/Partner Members, Students, Seniors: Free
General: Free

Cosponsors
Deutsches Haus at NYU and the Leo Baeck Institute presents a screening of two films by Daniel Blaufuks, "Judenrein" (2018) and "Under Strange Skies" (2002). Daniel Blaufuks will be present and speak about both films and about his work.
About the films:
"Judenrein." 10 min., sound, video, 2018. Using images from an old reel of amateur film, bought on e-bay, this personal work dwells on a place in Poland, where Jews were once a larger part of the population and have completely disappeared in the aftermath of their return from the concentration camps.
"Under Strange Skies." Documentary, 57 min., video, 2002. During the Second World War, Lisbon was a corridor for refugees going from Hitler's occupied territories to America. This film tells two parallel stories about exile and accommodation. Through a narrated memoir and photographs, the tale of a German Jewish family that decided to stay in Portugal is recounted. The larger, more sociological account of the others, who used Lisbon's escape route is skillfully told as well, using beautifully shot historic footage and written memoirs by some of the era's leading intellectuals, including Heinrich Mann and Alfred Döblin. This film evokes a desperate, intensely romantic period of exile, despair, and, ultimately, freedom.
About the filmmaker:
Daniel Blaufuks has been working on the relationship between photography and literature through works like My Tangier with the writer Paul Bowles. In 2003, Collected Short Stories displayed several photographic diptychs in a kind of "snapshot prose," a speech based on visual fragments that give indication of private stories on their way to becoming public. The relationship between public and private has been one of the constant interrogations in his work. He has shown widely and works mainly in photography and video, presenting his work through books, installations, and films. His documentary Under Strange Skies was screened at the Lincoln Center in New York.
Recent exhibitions include: Calouste Gulbenkian Foundation, Lisbon; Palazzo delle Papesse, Siena; LisboaPhoto; Centro Cultural de Belém, Lisbon; Elga Wimmer Gallery, New York; Museu do Chiado, Lisbon; and Photoespaña, Madrid, where his book Under Strange Skies received the award for Best Photography Book of the Year in the International Category in 2007, the year he received the BES Photo Award as well.
He published his book Terezín with Steidl, Göttingen, in 2010. In 2011, he had a solo show at the Museum of Modern Art in Rio de Janeiro, and in 2014 at the National Museum of Contemporary Art in Lisbon. In 2017, he was awarded the AICA-MC Award for the exhibitions Léxico and Attempting Exhaustion in the previous year. He finished his PhD at the University of Wales on the relationship between memory, the Holocaust, photography, and film as reflected in the works of the writers W. G. Sebald and Georges Perec. Daniel Blaufuks has published more than twenty artists' books, many including his own writings, although his latest, 1+1=1, is his first work without text. He recently finished his film Judenrein, on the disappearance of the Jews from Poland, using his own text and voiceover. He currently teaches at the Faculty of Fine Arts of the University of Lisbon, and at the Catholic University, also in Lisbon. He has given several master classes and workshops at different institutions, including the University of South Wales, the University of Minnesota, and Mount Holyoke College. Recently his work was also the subject of a two-day international symposium at the Department of Comparative Studies of the University of Lisbon.
Please note that Daniel Blaufuks will also participate in the PEN World Voices/Literary Mews event "Terrible Truths: Confronting History and Memory" on May 10.
Attendance information:
Events at Deutsches Haus are free of charge. If you would like to attend this event, please send us an email to deutscheshaus.rsvp@nyu.edu. Space at Deutsches Haus is limited, please arrive ten minutes prior to the event. Thank you!
"Under Strange Skies:" Film Screening and Conversation with Daniel Blaufuks is presented with the generous support of DAAD.