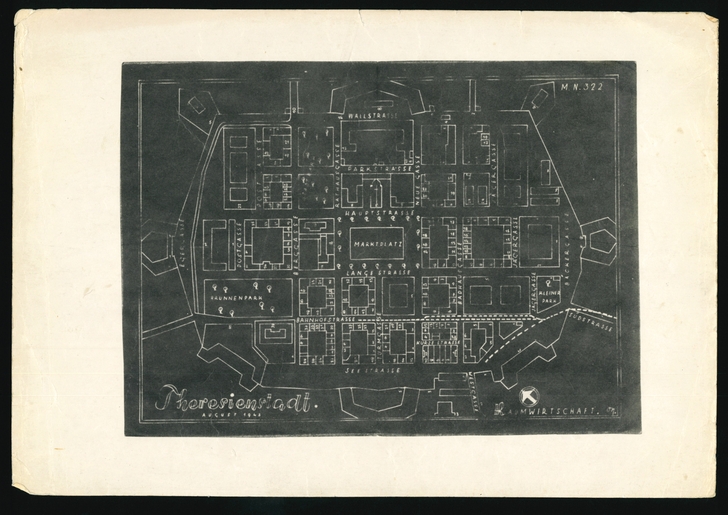 EVERYDAY LIFEEVERYDAY LIFEEVERYDAY LIFEEVERYDAY LIFEEVERYDAY LIFEEVERYDAY LIFEEVERYDAY LIFEEVERYDAY LIFEEVERYDAY LIFEEVERYDAY LIFEEVERYDAY LIFE
September 7, 1943:
It is not easy to sleep in a double bed. Particularly if it's narrow and lacks a separating board. Did you run into the neighbor, the good one? Was he the sinner? No matter, you are creaking. And if he's deaf-mute, the poor neighbor, the only one thing remains, one must become aggressive, until one of you two finally turns over. But this battle demands caution that neither would fly out of bed because the floor is hard and made of stone, and he who hits there surely feels what he's getting.
—Jakob Geissmar, Theresienstaedter Tagebuch [Diary]. LBI, ME 182 b.
The lawyer and judge Jakob Geissmar was born in 1868. He married Elisabeth Hirsch and they had a daughter, Martha, in 1905. On April 17, 1943, all three were sent to Theresienstadt, where Jakob died on the first day of Hanukkah, December 21, 1943.
"For Pesach 1943, I was made a mashgicha, an overseer, over the flour used to bake matzot. This was a fictitious job. In the morning, I checked the flour taken out; in the afternoon I brought a few matzot to Rabbi Ungar, who kept some and also gave me one or two, so that on Pesach I had more than the half kilo each of us received who chose Pesach food for the week. Incidentally, the Pesach food that year was better than the regular fare. We were permitted to eat dry peas cooked into soup and did not get the abominable cockovy polevka (lentil soup)."
—Gerda Marcus, Memories of Transport No. AAR 427. Prague-Terezín. 1988. LBIJER 650.
Gerda Marcus was born in Berlin and moved to Prague in 1932, following her marriage. In 1939, she and her husband were forced to sell their business, and in 1942 they were deported to Theresienstadt. She worked as a typist in the Transport-Evidenz, the office that supervised the transports of Jews arriving at and exiting the camp. She was liberated in the camp in May 1945 and immigrated to New York in 1946.
"In late April or the first days of May in 1945 cattle cars pulled up in Theresienstadt. As the door opened, a mass of humanity, no – almost not human, fell or were pushed out of the car (…). I worked as a nurses' helper at that time. (…) Someone pulled me on my sleeve 'Margot, don't you remember me?' Oh my god no, no who is it – the shadow says 'I am Arnold Kirschberg don't you recognize me?' Yes, I remember a good-looking handsome man, a tenor from the Berliner Kulturbund theater. I did not recognize this sad skeleton. Arnold asked, 'Margot don't you have a piece of bread?' 'Dearest Arnold,' I sadly replied 'I have nothing anymore but I will try to get some."
—Margot Friedländer, Untitled memoir, 2002.
Margot Bendheim was born in Berlin in 1921. While working for the Jewish Kulturbund she met her future husband, Adolf Friedländer. In 1943, she went into hiding after her mother and brother had been deported to Auschwitz. After hiding for a year and three months, she was deported to Theresienstadt, where she was reunited with Adolf Friedländer. After the liberation, they got married in the camp on the day before the last Rabbi left. They spend a year in the DP Camp Deggendorf. In July 1946 they arrived in New York.