ZIONISMUS – The German Roots of Zionism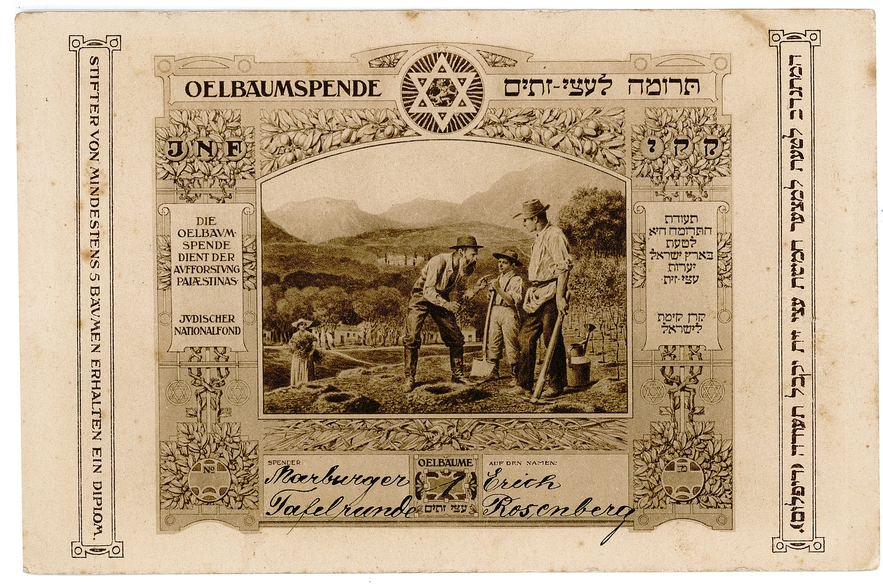 Dates

Tue, Feb 7, 2017 – Tue, Aug 22, 2017

Venue

Katherine and Clifford H. Goldsmith Gallery (map)
Center for Jewish History
15 West 16th Street
New York, NY 10011 U.S.A.

Cosponsors

German Information Center
A Homeland for the Jews?
A refuge from antisemitism and the cruelty of the mob! Relief from grinding poverty. Freedom from the caprices of despots! A place for Jewish religion and culture to flourish!
The dream that Theodor Herzl gave voice to at the end of the 19th century was largely a response to discrimination against Jews and Jewish poverty in Eastern Europe. Yet Herzl himself, and many of his early confederates, emanated from assimilated milieus in cities like Vienna and Berlin, where Jews enjoyed unprecedented rights and prosperity in this period. Indeed, many of the men and women who laid the foundations of the Zionist movement shared an allegiance to Kaiser and fatherland, or Bildung and Kultur, that was often as strong as their attachment to Judaism. Until World War I, German was the lingua franca of the Zionist movement, and German-speaking Europe was the base of its substantial organizational capacity.
The mainstream dismissed Zionism as a utopian folly at best and treasonous at worst. Even among committed German-speaking Zionists, few wanted to forsake their native homeland for an uncertain future in the desert, and Zionism remained a marginal position within German-speaking Jewish communities. That changed with the rise of the National Socialists in 1933, when increasing persecution led significant numbers of German Jews to reconsider the idea of a Jewish homeland. No longer just a dream, Palestine had become a real place of refuge.
The exhibition Zionismus calls on books, periodicals, correspondence, and photographs from the collections of the Leo Baeck Institute (LBI) to trace the transformation of Zionism from a utopian dream to matter of survival for German-speaking Jews. After traveling around the US as a poster exhibition, Zionismus returned to the LBI, where the original objects were placed on display for the first time. The poster exhibition later traveled in Brazil.
---
Professor David Engel spoke at the exhibition opening on February 7, 2017. Engel is Professor of Hebrew and Judaic Studies; Maurice R. and Corinne P. Greenberg Professor of Holocaust Studies; Chair, Hebrew & Judaic Studies at New York University. His books include Between Liberation and Flight: Holocaust Survivors in Poland and the Struggle for Leadership, 1944-1946; Facing a Holocaust: The Polish Government-in-Exile and the Jews, 1943-1945; and In the Shadow of Auschwitz: The Polish Government-in-Exile and the Jews, 1939-1942. His research focuses on Modern Jewish political history, history of the Jews in Eastern Europe and the Holocaust.