Siegmund Kaznelson founded Hozaah Ivrith Ltd. in Jerusalem after his arrival in Palestine in March 1937. Kaznelson had worked for the Jüdischer Verlag in Berlin since 1920; Hozaah had been a branch of the Jüdischer Verlag from 1931 till its forced closure by Nazi officials.
Resources
Fischer, Ernst. Verleger, Buchhändler und Antiquare aus Deutschland und Österreich in der Emigration nach 1933. Stuttgart: Verband Deutscher Antiquare, 2011.
Schenker, Anatol. Der Jüdische Verlag 1902-1938: Zwischen Aufbruch, Blüte und Vernichtung. Tübingen: Max Niemeyer Verlag GmbH, 2003.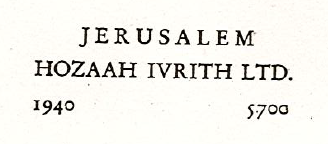 Location: Jerusalem
Period: 1937-at least 1953
Publisher(s): Siegmund Kaznelson (May 17, 1893, Warsaw - March 20, 1959, Jerusalem)
Author(s): Margery Bentwich
Number of Titles Published: unknown