Kurt Wolff founded Pantheon Books in New York in 1942. The publishing house started in Wolff and his wife Helen's apartment before moving to a small office on 6th Avenue. Jacques Schiffrin, founder of Jacques Schiffrin & Cie., joined as a partner and handled the French output as well as much of the early book design. Pantheon Books mainly published English translations of German and French literature from the 20th century. They also published many classical authors, as well as bilingual editions.
Schiffrin died in 1950. In 1960, Kurt and Helen Wolff left Pantheon and joined Harcourt-Brace. Schiffrin's son Andre Schiffrin was then hired as executive editor.
Wolff had begun working in publishing after receiving a doctorate in German literature in 1908. He had been a silent partner of the Ernst Rowohlt Verlag since 1910 and subsequently took it over, renaming it the Kurt Wolff Verlag in 1913. For over twenty years, he published such important writers as Franz Kafka, Karl Kraus, Erwin Panofsky, Joseph Roth and Georg Trakl, among others.  He temporarily gave up publishing in 1930.
Resources
Fischer, Ernst. Verleger, Buchhändler und Antiquare aus Deutschland und Österreich in der Emigration nach 1933. Stuttgart: Verband Deutscher Antiquare, 2011.
"Helen and Kurt Wolff." Goethe-Institut USA. Web. 03 Dec. 2012.
"Kurt Wolff." Immigrant Entrepreneurship, 2012. Web. 03 Dec. 2012.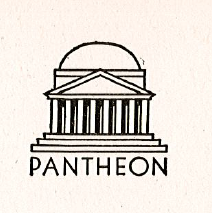 Location: New York
Period: 1942-today
Publisher(s): Kurt Wolff (March 3, 1887, Bonn - October 21, 1963, Ludwigsburg); Jacques Schiffrin (March 28, 1892, Baku/Russia - November 17, 1950, New York)
Main Focus: Exile literature; Translations of German and French literature
Author(s): Hermann Broch, Albert Camus, Stefan Anton George, André Gide, Ivan Heilbut, Franz Kafka, Erich Kahler, Robert Musil, John M. Oesterreicher, Charles Péguy, Art Spiegelman, Paul Valéry, various classical authors (e.g., Goethe, Grimm Brothers, Heine, Hölderlin)
Number of Titles Published: unknown