Rubin Mass Publishing House
Rubin Mass founded the Rubin Mass Publishing House in Tel Aviv in 1933. It became one of the most successful publishing houses in Israel. He was also known for his charitable activities and for his work commemorating the victims of the Shoah.
Mass had worked for various bookstores and publishing companies in Berlin since 1915, including the Menorah Verlag and the Jalkut Verlag and Bookstore. He fled Germany to Palestine in 1933.
Resources
Fischer, Ernst. Verleger, Buchhändler und Antiquare aus Deutschland und Österreich in der Emigration nach 1933. Stuttgart: Verband Deutscher Antiquare, 2011.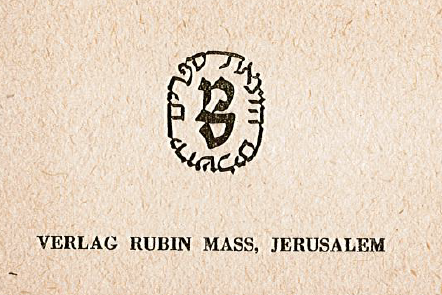 Location: Tel Aviv
Period: 1933-at least 2000
Publisher(s): Rubin Mass (June 10, 1894, Wischtinetz/Lithuania - June 2, 1979?, Jerusalem)
Author(s): Martin Buber, Nathan Feinberg, Ismar Freund, Anatole Goldstein, Antoni Krzewina, Abraham Schlesinger, Jehuda Louis Weinberg
Number of Titles Published: unknown