Schocken Publishing House Ltd.
Salman Schocken founded the Schocken Publishing House in Tel Aviv in 1937. It was the successor of the Schocken Verlag, which was established in Berlin in 1931. The Schocken Verlag had been the most significant publishing house for Jewish writers in Germany, but was forced closed after Kristallnacht. They published the work of, among others, Martin Buber and Franz Rosenzweig.
Salman Schocken immigrated to Palestine via Switzerland in December 1933. He arrived in Jerusalem in 1934.
Gershom Schocken took over management of the Schocken Publishing House in 1939. He also became the publisher and editor-in-chief of Haaretz, the oldest Hebrew daily newspaper in Palestine, which his father had purchased in 1937. Salman Schocken was also an important patron of the writer and future Nobel Prize-winner Shmuel Yosef Agnon, providing him crucial financial support.
Schocken Books Inc. was founded by Salman Schocken and his sons Theodore and Gideon, with the aid of Hannah Arendt and Nahum Glatzer, in New York in 1945 as a subsidiary to the publishing house in Tel Aviv. Among other important works, they published the Gesammelte Schriften of Franz Kafka.
Resources
Dahm, Volker. Das jüdische Buch im Dritten Reich. Munich: C. H. Beck Verlag, 1993.
David, Anthony.The Patron: A Life of Salman Schocken, 1877-1959. New York: Metropolitan Books, 2003.
Elon, Amos. "Kaufhauskönig Salman Schocken: Eine jüdische Heldensaga." Le Monde diplomatique, 2005. Web. 03 Dec. 2012.
Fischer, Ernst. Verleger, Buchhändler und Antiquare aus Deutschland und Österreich in der Emigration nach 1933. Stuttgart: Verband Deutscher Antiquare, 2011. 
Poppel, Stephen M. "Salman Schocken and the Schocken Verlag." Leo Baeck Institute Yearbook 17.1 (1972): 93-113.Oxford Journals. Web. 23 July 2013.
"Salman Schocken." Wikipedia. Wikimedia Foundation, Inc. Web. 03 Dec. 2012.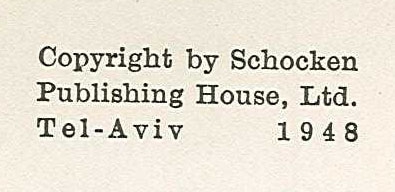 Location: Tel Aviv
Period: 1937-today
Publisher(s): Salman Schocken (October 30, 1877, Margonin/Posen - August 6, 1959, Pontresina/CH); Gershom Schocken (September 29, 1912, Zwickau - December 22, 1990, Tel Aviv)
Number of Titles Published: unknown