Arthur Obermayer Honored those who Honor Jewish Memory in Germany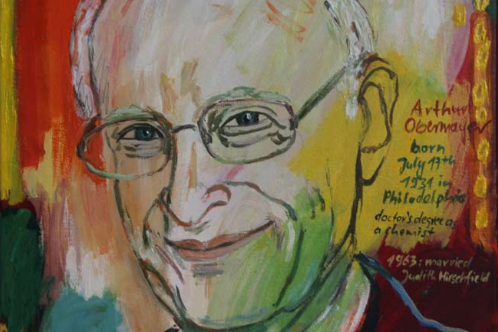 On January 10, 2016, Arthur S. Obermayer passed away. Obermayer, an entrepreneur and philanthropist based in the Boston area, had dedicated the later years of his life to strengthening and honoring German-Jewish relations. In 2000, he founded the Obermayer German-Jewish History Awards. The prize recognizes German non-Jews who have made significant voluntary contributions to preserve Jewish history, culture, cemeteries and synagogues in their own local communities.
Marlis Glaser, Portrait of Dr. Arthur S. Obermayer, oil on canvas, 2015. Photograph courtesy of Karl Branz, Attenweiler.
The inspiration for this work was kindled when Obermayer set out on a personal endeavor to reconstruct his family's genealogy reaching back hundreds of years. The help he received from people during his research in Germany gave him the idea to honor those who dedicate their time and effort to reconnecting with German-Jewish life. In an interview he gave to the Boston news station WBUR just a few weeks before his death, Obermayer explained: "There are thousands of Germans who do this kind of thing, volunteers, and each on their own (…). They don't do it to be recognized. They do it because it's the right thing to do. It's very meaningful to me to be able to recognize their accomplishments. It's important that their peers, their family, their neighbors, the community, their country and the world recognize what they're doing."
In recent years, LBI has cosponsored the Obermayer German-Jewish History Awards. Frank Mecklenburg, director of research and chief archivist at LBI, as well as Karen Franklin, director of family research, are two of seven jurors evaluating the annual awardees.
Arthur S. Obermayer was 84 years old. In 2007, he received the Cross of the Order of Merit of the Federal Republic of Germany. Obermayer was the beloved husband of Judith Obermayer, father to three and grandfather to five.
Find more information in this Tribute to Arthur S. Obermayer and Obermayer German Jewish History Awardees as well as in the Obermayer Family Collection in DigiBaeck: old.lbi.org/obermayer