2017 Obermayer Award Winners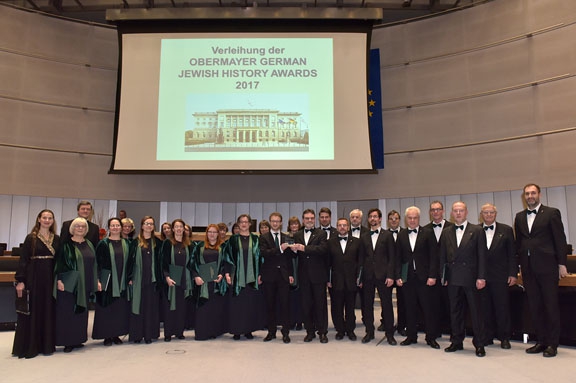 At the Berlin city parliament building in January 2017, six non-Jewish German individuals or groups were presented the Obermayer German-Jewish History Award for their efforts to preserve and document German-Jewish history. The LBI congratulates the winners on this richly deserved honor.
Thilo Figaj was inspired to research and document the history of Jewish life in his hometown of Lorsch after he noticed that a local history book failed to mention Lorsch's most infamous citizen: Heinz Jost, a top-ranking SS commander who oversaw the murder of hundreds of thousands of Jews in the former Soviet Union. Figaj's quest to rectify this omission led him to years of research on Lorsch's former Jewish inhabitants, especially the Morgenthau Family, whose profi table cigar factory in the town enabled Lazarus Morgenthau to emigrate to the US in the 1860s.
Ina Lorenz from Hamburg and Jörg Berkemann from Frankfurt were honored for their extraordinary teamwork. For more than twenty years, the professors of law and history have analyzed over 200,000 documents to give the most comprehensive account to date of the life of Hamburg's Jews under the Nazi regime. Die Hamburger Juden im NS-Staat 1933 bis 1938/39 encompasses seven volumes and is considered a milestone in the history and understanding of Jewish life in Hamburg during the Nazi years.
Bruchsal resident Rolf Schmitt was nominated by LBI Archivist Michael Simonson, whom Schmitt fi rst contacted while doing research to support the laying of the distinctive bronze memorial stones known as Stolpersteine for former Jewish citizens. Schmitt's research on the Oppenheimer family resulted in the renaming of the town square after Otto Oppenheimer, a prominent Jewish resident of Bruchsal.
Since its founding in 2014, the Gröschler House in Jever has served as a home base for rediscovering the Jewish heritage of Jever and the surrounding region. Named after the brothers Hermann and Julius Gröschler, the last individuals to lead Jever's Jewish community before perishing in the Holocaust, Gröschler House stands on the site of Jever's former synagogue, which was burned on Kristallnacht.
Over four decades, the non-profi \t Project Jewish Life in Frankfurt has brought thousands of high school students in contact with the city's former Jewish residents. Founded by a group of young teachers who wanted to foster a more personal approach to Frankfurt's reckoning with its Nazi past, the Project introduced a unique, interdisciplinary method to Holocaust learning that combines research, education, and an expanding global network of Jewish families who have reconnected with the city and its history.
In addition, the Leipzig Synagogue Choir received a Distinguished Service Award for its cultivation of the rich musical heritage that is part of Germany's Jewish past, and— thanks to the choir—its present.