Visit from a Descendant of Wolf Zacharias Wertheimer (1782–1844)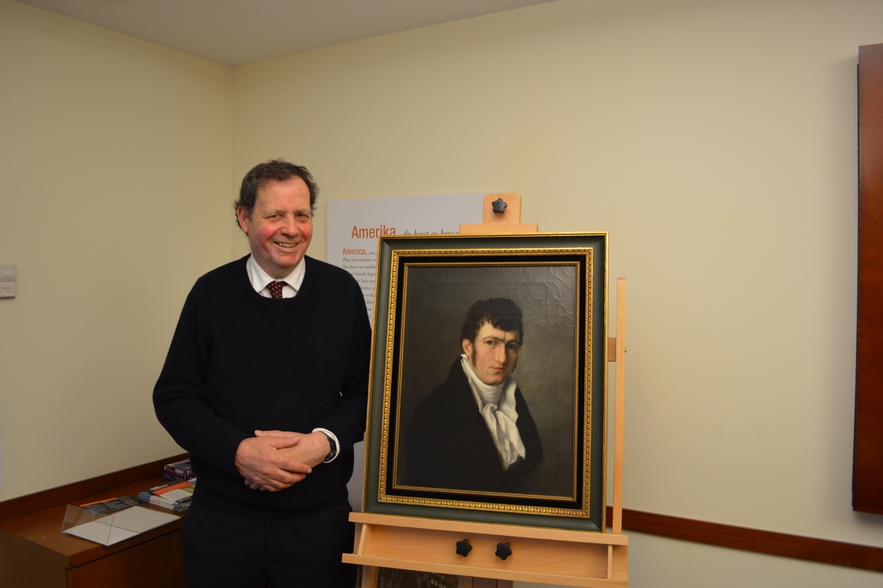 Michael Sturmfels of Australia visited the Leo Baeck Institute to view a portrait of his ancestor Wolf Zacharias Wertheimer (1782–1844) by Moritz Daniel Oppenheim on November 6, 2018. Wolf Zacharias Wertheimer was a banker in Frankfurt and a descendant of the prominent Viennese banking family who worked and lived in Frankfurt am Main. One of his ancestors was the Imperial Court Factor to Austrian Emperor Leopold I, Samson Wertheimer (1658–1724). Wolf Zacharias Wertheimer married his cousin Eleanora in 1803, and they had 14 children. He died on October 17, 1844 in Frankfurt am Main.
The portrait was donated in 1967 by Sturmfels' great aunt Else von Portheim (née Ungar), who was a great granddaughter of Wolf Wertheimer. In 2000, the painting was shown in a large exhibition on Moritz Daniel Oppenheim (1800–1882), the famous portraitist who was the first Jew to attain mainstream success as a painter in the modern era.