1938Projekt: Developing Holocaust Curriculum in a Challenging Environment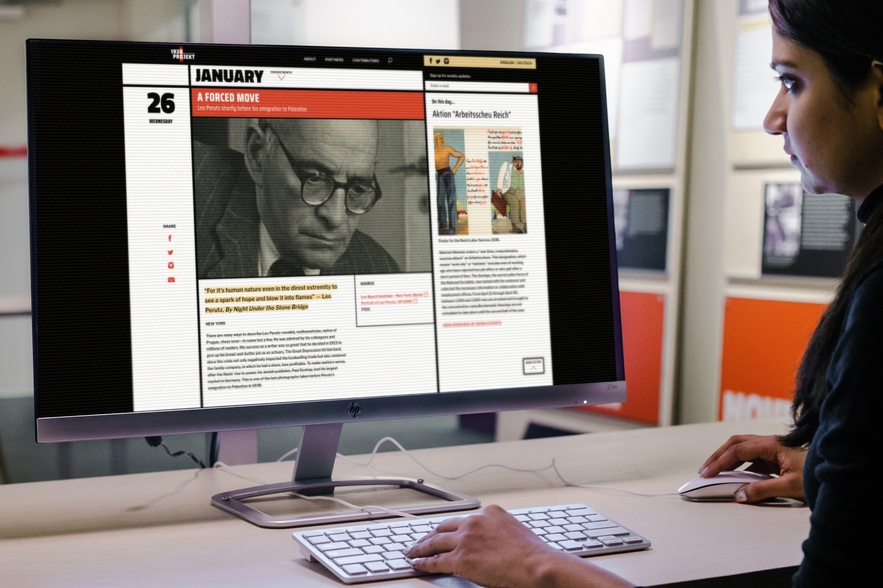 During two professional workshops in early 2020, educators from the New York City public school system explored LBI's online 1938Projekt under the guidance of educational consultants Rebecca Krucoff & Natalie Milbrodt, as well as Dr. Magdalena M. Wrobel, LBI's Project Manager, and Renate Evers, LBI's Director of Collections. The lesson plan project was sponsored by the METRO New York Library Council as part of their pilot project "User Engagement with Digital Collections." 
The goal of this project was to engage students in grades 6-12 with LBI's online 1938Projekt: Posts from the Past as part of a broader mission to expand the use of digital archives and digital source material in schools. The project wanted to introduce teachers to specific educational methodologies that utilize digital archival material and digital settings. The project at the Leo Baeck Institute also aimed at maintaining the memory and importance of the Holocaust in the constantly changing world for both Jewish and non-Jewish students. As the time since WWII increases, more and more young people do no longer have direct contact with the generation who experienced anti-Semitism in Europe before WWII and survived the Holocaust. This reduces the Holocaust to a dramatic but far removed event in history for Jews, and even a lesser known episode in history for non-Jews.
Today right-wing populism gains new followers around the world, and includes an increase in racism and anti-Semitism in both the United States and the world. The Covid-19 pandemic presents further obstacles in how to educate. In the face of these challenges, how does one teach the Holocaust in a way meaningful to students, especially when this teaching now must be handled largely in a digital environment?
Please join us as we discuss the changing landscape of Holocaust education in the face of these challenges, and explore the 1938Projekt lesson modules as one tool that can provide relevance to students. Among other points, we will talk about ways that the lessons of the Holocaust can be made relevant for today's students.
Panelists
Christina Chavarría: Program Coordinator in the Levine Institute for Holocaust Education at the United States Holocaust Memorial Museum (USHMM), where she has worked since December 2006.  She has represented the Museum in the US, Europe, Latin America, Israel, and Japan.  She holds a BA and MA in comparative literature from the University of Dallas.  Her interests lie in Holocaust literature, engaging new audiences and partners, and studying and disseminating information on the impact and history of the Holocaust in the Ibero-American world. Christina currently runs the Conference for Holocaust Education Centers that brings education staff from Holocaust organizations to the USHMM every two years. Prior to coming to Washington, DC, she served as Director of Education at the Holocaust Museum in Houston, Texas.
Dilenny Cisnero: Educator. MS 223, the Academy of Finance and Technology, in the Bronx, New York.
Renate Evers: Leo Baeck Institute Director of Collections.
Rebecca Krucoff: A former social studies teacher and museum educator, Rebecca Krucoff is currently on faculty at Pratt Institute where she teaches courses in education, museum education, and public history. She holds an MS.Ed from Bank Street College and an MS Historic Preservation from Pratt Institute. Alongside her teaching and consultancy work, Rebecca is co-founder and director of Urban Memory Project, Inc., an education non-profit that encourages city residents to explore the vital relationship between their personal history and their city's history.
Jody Madell: Educator. Lyons Community School in Brooklyn, New York.