Lincolns-Prager Publishers Ltd.
Eugen Prager, with the assistance of Kurt Leo Maschler, founded Lincolns-Prager Publishing Ltd. in London in 1940. Almost all of the titles published under this imprint during World War II had political themes, including the Declaration of the Sudeten-German Social-Democrats and Jan Masaryk's Speaking to My Country.
Prager had escaped to London before the Nazi occupation of Czechoslovakia in March 1939. He had been involved in his family's publishing house E. Prager Verlag in Vienna, re-established as "E. Prager Verlag Bratislava Wien Leipzig" in Prague. Maschler was the founder of the Atrium Verlag.
See also: E. Prager Verlag
Resources
Fischer, Ernst. Verleger, Buchhändler und Antiquare aus Deutschland und Österreich in der Emigration nach 1933. Stuttgart: Verband Deutscher Antiquare, 2011.
Hall, Murray G. Österreichische Verlagsgeschichte 1918-1938: Band I-II. Böhlau, 2009. Web. 03 Dec. 2012.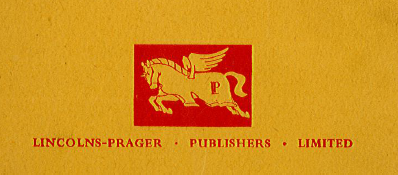 Location: London
Period: 1940-1960s
Publisher(s): Eugen(e) Prager (1894, Budapest - 1967, London); Kurt Leo Maschler (January 19, 1898, Berlin - March 24, 1986, London)
Main Focus: Eastern European Jewry; Socialist books
Author(s): Franz Kobler, Dosio Koffler, Jan Masaryk
Number of Titles Published: unknown