"I call him sensei"—An Appreciation of Grigoriy Ratinov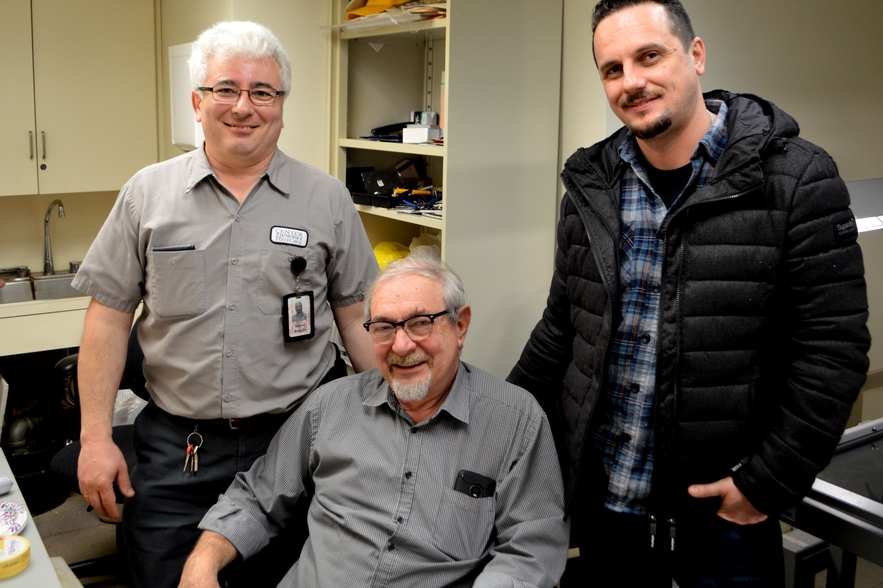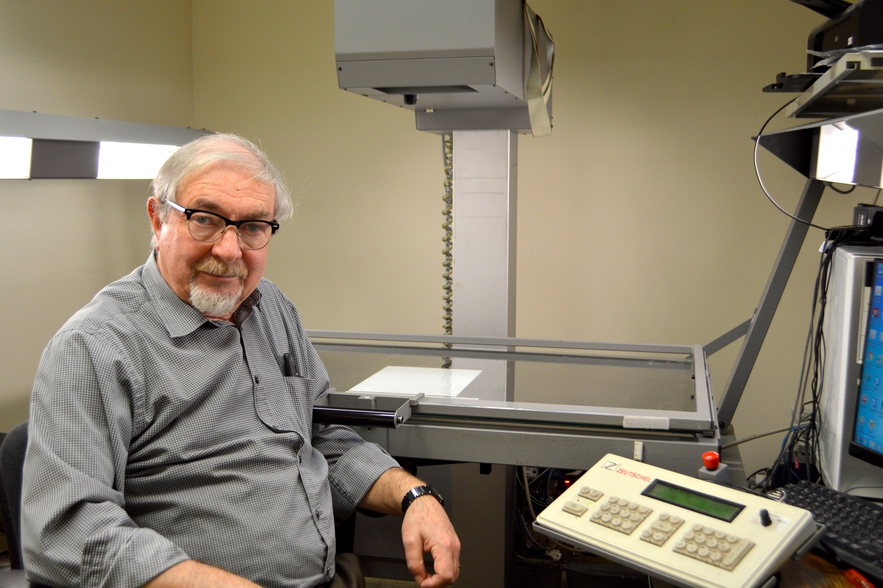 Author

Christopher Rochow

Date

Fri, Nov 1, 2019
Sometime in March 2019, Grigoriy Ratinov retrieved two boxes containing the family papers of Marion and Fritz Biel. He carefully laid each item on the glass bed of an enormous scanning device that takes up about a quarter of the space in a cramped, windowless basement office in the Center for Jewish History (CJH). For each of hundreds of items he took two exposures—one for microfilm and the other for LBI's digital archive.
At the end of that month, Ratinov was celebrating his retirement in the same small office with homemade sausage and brandy. He didn't recall the name of the family, whose papers document Marion's childhood in Berlin and escape to England via the Kindertransport as well as her husband Fritz's return to Germany with the US Army. He remembered the collection's call number, however—AR 25703. "I'm a technical person," said Ratinov, who studied physics in the Soviet Union and began his career in a tank factory in the eastern Ukrainian city of Kharkiv. "I remember numbers."
The images that Ratinov took of the family photographs and correspondence were the last of nearly a half-million pictures he took for LBI. Using a device made by the German firm Zeutschel, Ratinov developed a workflow that helped LBI transition to the digital age. "He managed to create a process that allowed us to efficiently create preservation microfilms and digital copies at the same time," said Renate Evers, Director of Collections for LBI. Before the advent of reliable digital preservation systems, microfilm was the gold standard for preservation. It can be read and copied with relatively simple machines, and it has a shelf life of at least a century, but it can't be accessed around the clock and around the globe like digital media. "As digitization has gradually become the standard for both access and preservation," said Evers, "Grigoriy made it possible for us manage the transition, and to achieve our preservation and access goals in one step."
Ratinov is modest and taciturn, at least when speaking English, but his colleagues in the Center for Jewish History (CJH) practically bubble over with praise for a technical mind they say can penetrate any problem. Mikhail Margulis, an operating engineer on the CJH facilities team, said when he first arrived, he encountered an issue with the boiler that had him stumped. Margulis knew that Ratinov had a top-notch technical education, so he asked for advice, and the problem was soon solved. "Nothing is impossible for this guy," said Leonard Rusi, Lead Engineer. "I call him sensei."
Born in the Siberian city of Omsk in 1946, Ratinov came to the New York area in 1995 at the tail end of a fourth wave of Jewish emigration from the former Soviet Union. A passionate hobby photographer since he received a FED rangefinder camera (a Leica copy made in a factory named for Felix Dzerzhinsky) at the age of seven, he answered an ad for a photography specialist at the YIVO Institute for Jewish Research. Over twenty years later, after stints at YIVO, CJH, and LBI, Margulis said that Ratinov's departure felt, "like losing a piece of myself." A stream of visitors from all of the CJH partner institutions made their way to the small basement office to toast his retirement.
Ratinov said that he looks forward to spending more time with his sons and granddaughter. He will also have more time for his own photography. He's moved on from the FED and the Zeutschel device to a NIKON digital SLR. While the light may be better outside his basement studio, he took some of his most important photographs there—hundreds of thousands of snapshots waiting to be discovered by a curious researcher.