Aronson, Spera, and von Voss-Wittig Join LBI Board of Trustees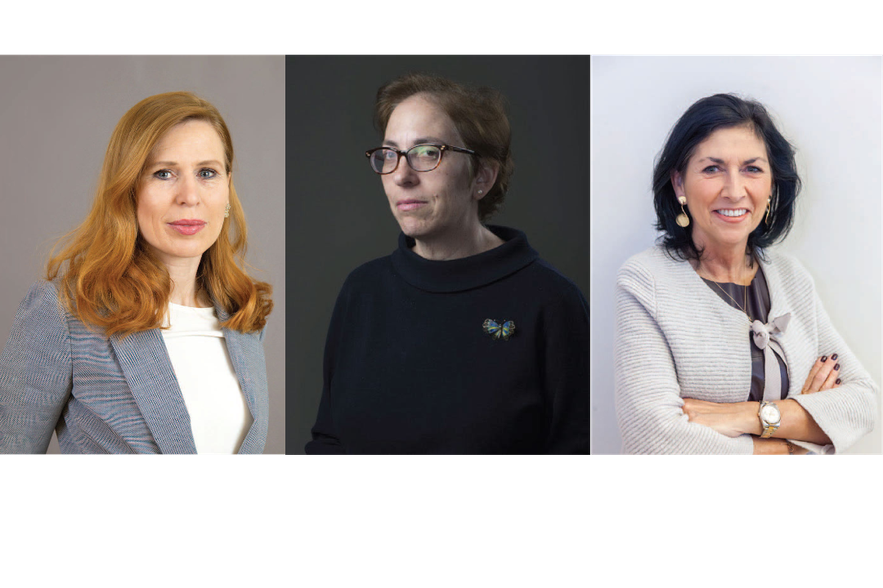 Huberta von Voss-Wittig brings extensive experience in public affairs communications, non-profit management, and transatlantic relations to the LBI Board. As the Executive Director of the Institute for Strategic Dialogue (ISD) Germany, she has helmed the London-based organization's expansion into Germany. The ISD is a non-profit Think & Do Tank, powering solutions against the rising tide of digitally amplified extremism and polarization. Before joining ISD, von Voss-Wittig was the Director of Communications and Public Affairs for the New York-based conflict-resolution organization Seeds of Peace.
Von Voss-Wittig's involvement with the Leo Baeck Institute dates back a decade, to when she wrote a feature story on the Institute for the German magazine Cicero. The Institute also honored her and her husband, former German Ambassador Peter Wittig, with its highest honor, the Leo Baeck Medal, in 2018.
Emary C. Aronson is the Chief Knowledge Officer and Senior Advisor to the CEO for Robin Hood Foundation, which she joined in 1999 as the Managing Director for Education. Robin Hood, created in 1988, is New York City's largest poverty-fighting organization and invests $120 million annually to serve low-income New Yorkers. Robin Hood finds, funds, partners with, and provides technical and management assistance to more than 200 K-12 educational programs and organizations. Aronson also managed the Robin Hood Relief Fund, which was initially dedicated to addressing the needs of those affected by 9/11 and reactivated after Superstorm Sandy. Before joining Robin Hood, Aronson was the Director of Education Initiatives at the Partnership for New York City. She is also the daughter of refugees; Aronson's late father left Germany on a Kindertransport in 1939 and her late mother immigrated from Vienna in December 1938.
Danielle Spera became Director of the Jewish Museum Vienna in 2010 after a distinguished career as a broadcast journalist and author. As Director, Spera oversaw the renovation of the museum's facilities in the historic Palais Eskeles and the development of the permanent exhibition, "Unsere Stadt! Jüdisches Wien bis heute" (Our City! Jewish Vienna until the Present Day), which won the Austrian Museum Prize in 2014. She has also curated numerous successful exhibitions in the Museum's program, including "Arik Brauer. All of my Arts", "Andy Warhol's Jewish Geniuses" and "Lessing presents Lessing". Spera previously served as President of the Austrian chapter of the International Council of Museums.
Previously, Spera worked as a journalist for the Austrian public broadcast network ORF, including posts as Washington Correspondent and anchor for the flagship nightly news program. She studied journalism and politics at the University of Vienna.
From LBI News 112