Into the Woods: Following the Trail of Stephen Sondheim's Ancestors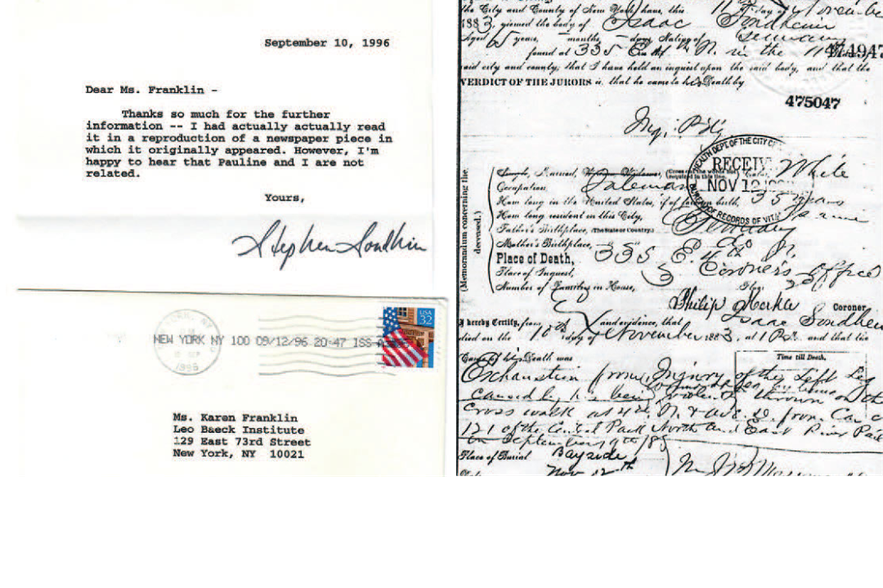 Author

Date

Tue, Mar 1, 2022
The year was 1985, a decade before JewishGen was launched. Ancestry was in its infancy. AOL had just gone online.
But I was already an avid genealogist, and, on a whim, I wrote to Stephen Sondheim. My mother's family name was Sundheim, and some of the branches went by Sondheim. It was a long shot, but Sondheim was game to find his ancestors and started me off with his parents' names.
Sondheim (sometimes spelled Sondheimer) and Gutenstein, the two main names, were uncommon but not unheard of. Alas, at that time, Lars Menk's A Dictionary of German-Jewish Surnames, which would have identified all the towns where the names were known, was 20 years in the future.
The most interesting discovery concerned the composer's great-grandfather Isaac Sondheim, identified in public records as a "salesman" who had come to the United States in about 1848 from "Hesse-Cassel." Isaac died after being thrown out of a carriage at a crosswalk on 4th Street at the age of about 66 in 1883.
Eventually I was able to trace my own Sundheim ancestors back to 1736, but I never found a connection to Stephen's Sondheims. Nonetheless, Sondheim was grateful for the assistance, and in 1987 arranged for us to get house seats to Into the Woods, which had just opened on Broadway.
Later, while scouring old newspapers I discovered a scandal involving the wife of prominent cotton broker, Samuel Sondheim. The 1881 New York Times article caption reads: "Mrs. Sondheim's Flight, An elopement which caused a stir in Jewish circles; career of a woman who has been divorced once and married twice; her history as Mrs. Blackstone and her marriage to Mr. Sondheim." It did not take long to figure out that thefamous cotton brokers were no relation to Stephen Sondheim. He had also seen the story and was pleased to learn that the scandalous Sondheims were no relation.
I regret that I did not follow up with Stephen Sondheim in more recent years. Surely DNA testing would have allowed us to identify just which family and town his ancestors came from. However, for genealogists, the reward is not always the connections we make on family trees, but the unlikely connections we make with people in the today's world.
From LBI News 113